Artist Ruth Nickens is the Force Behind Local Upslide Program
Art, music and her commitment to combatting loneliness is what fuels Nickens in life.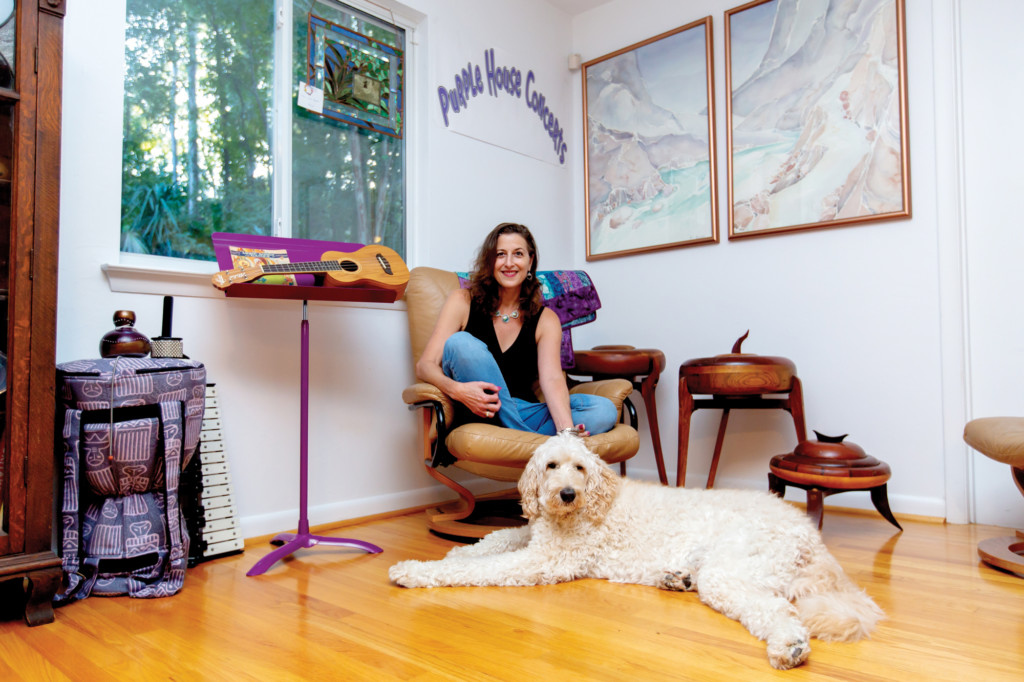 Connections are vital to Ruth Nickens: health and wellness advocate, stained-glass artist and house-concert impresario.
An educator and registered nurse, Nickens has coordinated the Tallahassee Senior Center's health-and-wellness program for nearly 15 years, overseeing services that include screenings, counseling and fitness classes.
"We have something for everybody," Nickens said, noting that the center offers more than 180 programs designed to keep people active, creative, and socially and mentally engaged and connected.
One of Nickens' proudest professional accomplishments is the UPSLIDE program — a new three-year initiative geared to combat loneliness, isolation and depression in the elderly.
"The idea is of sliding up instead of sliding down," she says.
Funded with a $221,000 Florida Blue Foundation grant that she and coworker Laurie Koburger secured, the program identifies socially isolated individuals, assists them to overcome obstacles fostering their isolation and gets them involved in social activities.
"It doesn't have to be at the center," Nickens said. "It can be a lunch-and-learn in their rural community or going back to church.
Or we connect them to other local resources. We have lots of ways to get people engaged." Loneliness and social isolation affect 42.6 million U.S. adults 45 and older, a 2010 AARP study found.
And in England, the government deemed the problem so dire that it recently created a Minister for Loneliness.
"The issue is definitely getting lots of attention," Nickens said.
"There have always been lonely people. But we now know that social isolation can lead to a cycle of chronic decline, the potential for falls, further isolation and a downward spiral. We're trying to break that cycle."
Creative outlet is another way to maintain viability and connectedness, Nickens said.
No matter the hobby or activity, so long as it's fulfilling. "I know if I don't have a project or projects going, I feel empty," she said. "Everybody needs to feel a purpose."
For Nickens, art serves that function, evident by the many stained glass/mixed-media creations of her own making that adorn her signature purple house opposite Lake Jackson.
"My whole life, I've being fascinated by stained glass," Nickens said. "I've always been drawn to beads, crystals, enamels and glass. Anything smooth, shiny, sparkly or glassy — there's something magical about it for me."
Nickens has exhibited and sold her artworks for more than 20 years. Nowadays, she said, she mostly limits her creations to commissioned pieces and those "that come from within and that I just have to create."
Her inspiration can come from anywhere — books, sketches, memories or emotions. Or the artworks simply metamorphose. "I never use patterns," she said. "I just start building and see what evolves."
She will incorporate assorted non-glass materials into her pieces, including found objects, mementos, photographs or anything that strikes her fancy.
"Nothing's sacred," Nickens said. "Anything might end up in my art — jewelry, vintage glass or a special shell that someone brought me or I found. "I used to say my art was about being joyful and whimsical," she said.
"It's still whimsical, but I pour more emotions into it now."
Music also keeps her connected. Her Purple House Concerts, now in their fifth year, began as fundraisers that she admits were partially self-serving, as they featured her favorite musicians.
There followed an epiphany. "I realized I was fortunate to live in this house and enjoy its space and beauty," she said. "I felt it incumbent on me to share it."
Now the concerts, which average about one a month, have taken on a life of their own. The shows are free, but donations to the musicians are encouraged.
Typically featured are artists, such as Tallahassee's own Grant Peeples, who play contemporary music incorporating elements of various American styles, such as country, rock and folk.
For Nickens, the concerts are labors of love, whose rewards include getting to hear distinctive original music and connecting with talented individuals.
Never mind having the satisfaction of knowing she is providing a venue where the genre can flourish.
"It's a listening room, not a noisy smoky bar where no one's paying attention," she said. The concerts also afford an opportunity for people to come together and bond.
"It's the kind of event that anyone can attend alone," Nickens said. "A lot of people find themselves alone, and where are they going to go and meet decent people? So that's been fun too, watching the connections."