An Intimate Drinking Experience
At Sage's bar, people care if you show up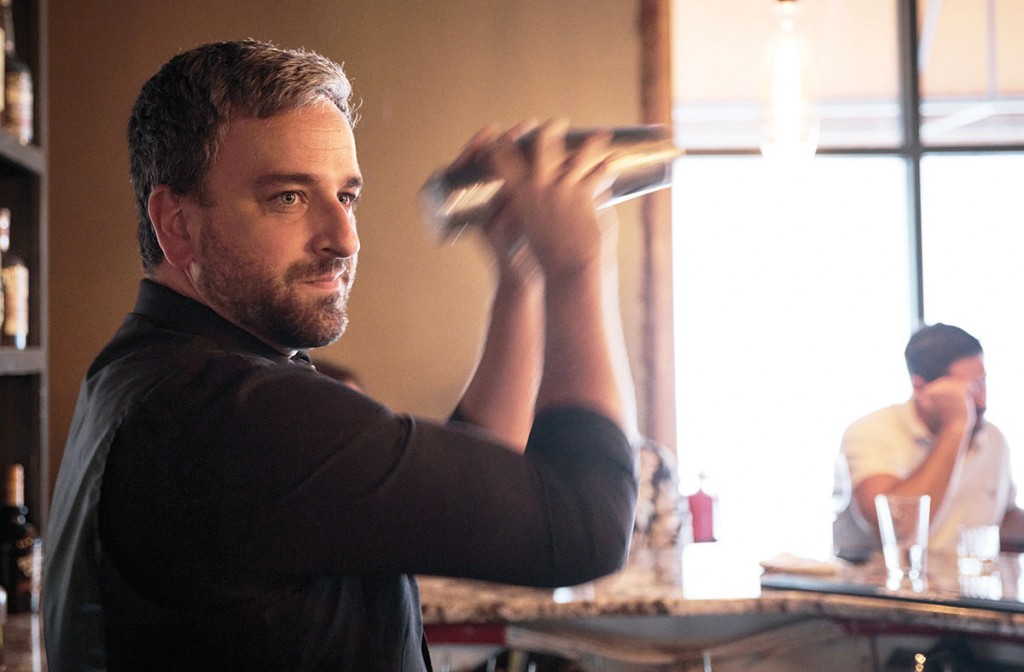 Booter and Lynn Imhof were sitting at the bar at Sage on a summer's night, savoring a glass of Cabernet Sauvignon, chatting with fellow patrons. It's a routine they've enjoyed for more than four years.
"It's a great little bar," said Lynn Imhof. "We enjoy the atmosphere and the people. We've made friends here."
Two of those friends are M.J. Bethel and her husband Bill Thompson. Like the Imhofs, they're longtime regulars at Sage's 10-seat bar in Northeast Tallahassee.
"We catch up every Friday," noted Thompson. "We've met a number of people there."
People come and go during the day and evening, most staying a couple of hours.
"Even if you don't know anyone, after a while you start talking," said Booter Imhof. "It's a friendly bar. We love the bartenders, and the owners are very, very nice, too."
The bar itself helps foster friendships and familiarity, patrons said.
"The bar is smaller, and it creates more intimacy than longer bars. You can easily talk to people across the way," said Bethel.
One couple sitting across the way, Joe and Pam Brannon, usually come to Sage about 4:30 to 5 p.m. on Fridays.
"This is my favorite bar in town," said Joe Brannon. "It feels like family. It's what you want in a bar."
Brannon paid the bar the ultimate compliment.
"It's like Cheers," he said.
Cheers, the mythical TV bar on the beloved 1980s sitcom, continues to be the gold standard for coziness and camaraderie. It's the epitome of the kind of bar many of us love, populated by a cast of characters — people who care if we show up. The quintessential neighborhood watering hole.
Sage is a more refined rendition, of course. It's soothing and subtle, made of wood and stone, offset by pillars and surrounded by bar tables.
"It's very grounded and comfortable," said Craig Richardson, co-owner with chef Terry White of Sage and the downtown Italian steakhouse, Il Lusso. "We wanted it to be a little more casual than the rest of the dining room. There are electrical outlets if people want to work."
The bar menu, however, reflects the fine dining choices Sage is known for, with dishes like oven-baked escargot, smoked salmon and deviled crab crusted redfish.
As for the beverages, "We've turned it into a bourbon-centric bar, but we go very deep with all of the spirits," said Richardson.
Sage features beer from local breweries, including Deep, Proof and Oyster City and spirits like gin, vodka and rum from Ology.
"We're happy that Ology now has its own distillery," said Richardson. "It's nice to have all these options locally that we couldn't have before."
Sage expanded in 2018, adding a second bar when there's an overflow crowd, generally on weekend evenings.
Wherever patrons sit, the bartenders are a star attraction.
"Bartenders know you, they take care of you," said Brannon. "Sage always has good bartenders who know how to make a good drink."
Bartenders Woody Miner and Matthew Schnell were working on a Friday evening when I stopped by, and it was indeed mesmerizing to watch them create classic and contemporary cocktails, mixing and shaking, adding decorative touches of fresh herbs. They are constantly moving.
Miner came to work at Sage nearly three years ago after bartending in Atlanta, Destin and other spots in Tallahassee for nearly a dozen years before starting his current job.
"I had heard of Sage and knew its reputation," said Miner. "It's a great spot, and it's always winning awards for food. I wanted to be more focused on wine and fine dining."
Schnell, also an experienced bartender, had been in training at Sage for about a week when the pandemic shut down businesses. In April 2020, he wrote on Facebook that he was "a brand new employee in a brand new city. I was almost certain that this newfound 'home' would have no other choice but to terminate my employment. They didn't."
When the pandemic hit, Sage had to furlough all hourly employees, but managers worked
when the restaurant was doing takeout, said co-owner Terry White, but Danny Renninger, director of operations for Sage and Il Lusso, had an idea.
"The community really came out and was so gracious, tipping extra and writing checks to help us make ends meet," said White.
So all the managers pooled extra money in a fund for hourly staff, about 80 people at both restaurants, to help pay their bills for things like cell phones, rent and car payments.
"It made a difference," said bartender Miner. "They helped out with our bills to keep collectors off our backs."
His colleague Schnell wrote that Sage "looked out for me as if I had been a part of the team for a decade. Not only have I received phone calls just to check up but also some financial backing in this time of need. I cannot fully express my gratitude and amazement for these people and the community that supports them."
Once Sage began receiving Paycheck Protection Program loans, the restaurant started bringing employees back and giving them work. The cocktails-to-go program kept bartenders busy making batch cocktails, which they still do.
But regulars said they missed actually hanging out at the bar. They were especially cheerful to be back.
"It's a wonderful, wonderful experience," said Pam Brannon.
And yes, there is at least one similarity to Cheers if you listen to the TV theme song.
"… Sometimes you want to go, where everybody knows your name, and they're always glad you came."
Sage, A Restaurant
Lunch: Tues.–Sat.
11 a.m.–3 p.m.
Dinner: Tues.–Thurs. 5:30–9 p.m.,
Fri. & Sat. 5:30–10 p.m.
3534 Maclay Blvd. S. | (850) 270-9396 | sagetallahassee.com