A Taste of Juniper
The piney, citrusy taste of gin has lightened the mood for generations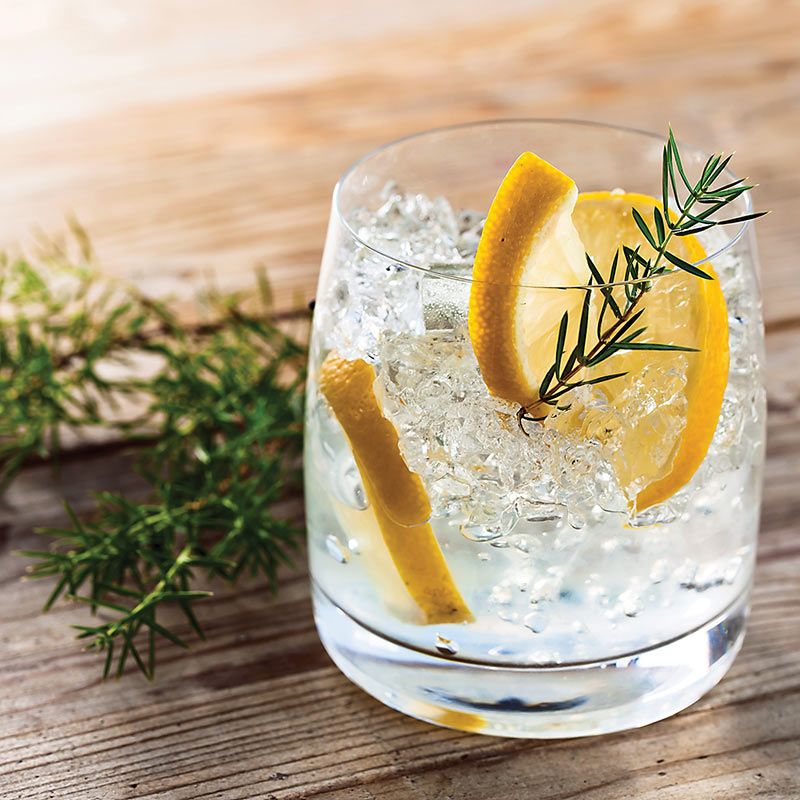 Gin, a common cocktail staple for generations, has a rich and complex history. It started out in 17th century Holland as a medicinal brew sold by apothecaries as a remedy for stomach problems. Juniper, a type of botanical or flavoring ingredient, was added to make its taste more agreeable to the user. It was used to warm the gullet and calm the nerves of Dutch and English soldiers across the battlefields of central Europe during the Thirty Years' War, grew in popularity and refinement in Britain in the 18th century and crossed the oceans on the fabled Cunard ships.
Today, there are more brands and types of gin than you can shake a swizzle stick at.
Essentially, gin is a clear, alcoholic spirit distilled from grain or malt and flavored with juniper berries. According to Cocktail Times, gin "can be described as a flavored vodka." The word "gin" itself is said to come from "genever," an old English word derived from the Latin juniperus. Juniper is the dominant aroma common to all gin products, but other flavoring agents include orange peel, lemon peel, nutmeg, coriander, cinnamon and others. According to Ginvodka.org, high-end gin will contain between six and 10 botanicals.
Eater.com says that the most popular gin styles are London Dry, Plymouth, New Wave, Navy Strength, Genever, Old Tom, flavored gin and grape-based gin.
---
Gin and Tonic
A Gin and Tonic is a highball cocktail made with gin and tonic water poured over ice. It is usually garnished with a slice or wedge of lime. The amount of gin varies according to taste. Suggested ratios of gin to tonic are between 1:1 and 1:3.
Ingredients
1 part gin
3 parts tonic water
Preparation
In a glass filled with ice cubes, add gin and tonic.
Served
On the rocks; poured over ice
Standard garnish
A slice or wedge of lime
Drinkware
Rocks or highball glass
---
The Martini
Ingredients
1 ½ ounce gin
½ ounce dry vermouth
1 dash orange bitters
Directions
Add all ingredients to a mixing glass. Add ice and stir until cold. Strain into a chilled martini glass. Garnish with a lemon twist or green olive.
Recipes courtesy of The Museum of the American Cocktail