Pandemification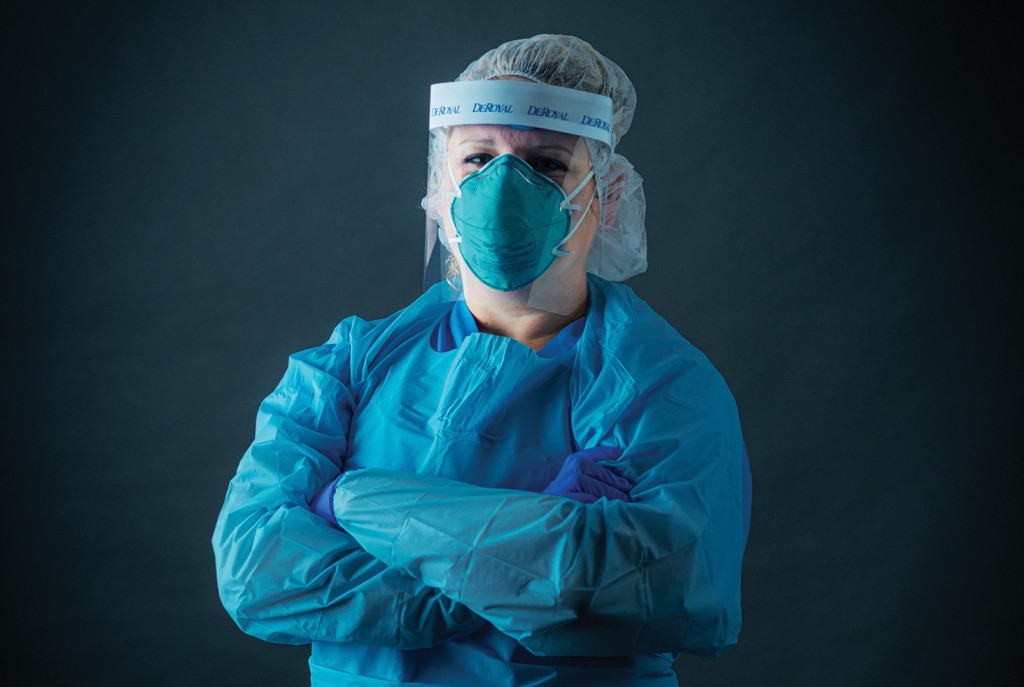 The COVID-19 pandemic will have had effects both immediate and long lasting on the health care industry. Hospital operations, the manner in which services are delivered to patients, and the nature of interaction among health care providers all have been affected. Trends, including a growing reliance on telemedicine, have been accelerated even as doctors and nurses have rediscovered the value of a collegial approach to patient care.
A Survivor's Story
Tallahassee man went from gravely ill to grateful
Gary Cottingham focused on the clock on a wall of his hospital room because he knew that it was real. Other objects, meanwhile, floated in the space above his bed.
So sick was Cottingham that he had become delusional and given to hallucinations. His connection to reality had become tenuous, and he repeatedly commanded himself to breathe.
"I could have let go," he said. "I could have succumbed."
Cottingham, 63, a large man with a history of bronchitis and bouts with what he called the "real flu," was Leon County COVID-19 patient No. 43. He was diagnosed on March 30, a little more than a month after the first case was reported in the U.S. in Washington state.
"I probably waited too long," Cottingham said, "but in Florida, February and March is classic pollen and allergy season. And, for me, it passes by my nose and goes right to my chest. I was hacking and coughing and thinking it was just allergies. Then, all of a sudden, I experienced weakness, lack of appetite and fever. It snuck up on me."
Cottingham tried unsuccessfully to reach his doctor. When his call wasn't returned, he contacted the telemedicine service that Publix offers its associates. Cottingham is the manager of customer relationship analytics for Publix. He is nearing retirement and, since March, has been working from his Tallahassee home.
Via telemedicine, he got to a doctor, but the video connection failed in the middle of the conversation.
"The doctor said she didn't need the video, she could hear the gasping in my voice," Cottingham said. "She asked me to look at my abdomen and tell her if it was going up and down. That the body's way of helping you breathe, when your diaphragm starts going in and out. And, yes, it was doing that."
The doctor instructed Cottingham to call 911. He was transported to Tallahassee Memorial HealthCare by ambulance.
"The hospitalist was right there in the ER, and I thought that was impressive," Cottingham said. "He could see I was scared."
An X-ray revealed that Cottingham had double COVID-19 pneumonia. Upon learning that, he recalled, "I started to panic. I was alone. My wife could not come with me. I went from 'I think I'm sick' to 'I think I'm gonna die.' The gravity of the situation had gotten much heavier."
A doctor went over COVID-19 statistics with Cottingham and told him that a small percentage of people who test positive for the virus die.
"He said, 'You are where you need to be. We're going to take care of you,' and I was relieved," Cottingham recalls.
However, in the course of what would be Cottingham's six-day hospital stay, things would get worse before they got better.
"To see the nurses all haz-matted up, it's amazing what they go through," Cottingham said. "I couldn't eat solid food. They gave me Ensure so at least I could get some calories and vitamins. On Day 5, I started to improve, but on Day 2 and Day 3, I was very sick. I could barely get out of bed to go to the bathroom."
Cottingham figures that his hospitalist, Dr. Mark Wheeler, was close to having him moved to intensive care and placed on a ventilator, but he never did.
"It was a judgment call, but it turned out to be a good one," he said. "I ended up getting better faster without it."
At home, he remained on oxygen around the clock for six weeks, but slowly he got better. He lost 28 pounds.
There is no mystery about how Cottingham contracted COVID-19. He got it from his wife.
"My wife went to Atlanta to watch my granddaughters because my daughter-in-law was going to be out of town and my son (a school psychologist) was working," Cottingham said. "Somewhere along the way, my son got it and gave it to my wife. Or they may have contracted it at the same time."
His son was hospitalized for five days. His wife was sick and weak but did not require hospitalization. She has tested positive for the presence of antibodies and, at this writing, was planning to give plasma.
"We have reached a tipping point," Cottingham said about the virus. "For months, most people did not know someone personally who had had it, but that has changed. COVID-19 was like a ghost, kind of an ethereal thing. It was like a legend but not real enough to worry about. And, it didn't help that we didn't have agreement on a national strategy."
As a product of his experience, Cottingham has become someone who encourages others not to kid themselves about COVID-19.
"It's very real. Take whatever precautions you need to take because you don't want to go through what I did," Cottingham said. "I have good insurance, but it was a tremendous cost to everyone involved, not to mention it almost killing me, and then there's the danger of giving it to someone else. You can give it to so many people."
Cottingham said he owes his life to the team at TMH, and he is grateful.
"When I got out of the hospital, I had a kind of survivor's guilt," he said. "So many people with the same symptoms I had didn't make it. This is a problem that is not going to just go away. We have to pull together, put our differences aside and figure out how to get rid of it."
United Fronts
Pandemic strengthens bonds among health care teams
Despite all of the attention paid to the growing COVID-19 death toll, there are successes in the midst of the pandemic.
"It is beautiful to see a patient who is admitted to our critical care unit improve and move to the progressive care unit and then undergo the final stages of treatment on our eighth floor and finally get to go home," said Kris Flippo at Capital Regional Medical Center in Tallahassee. "We celebrate every one of those discharges."
Indeed, as the patient is wheeled from the hospital, the theme from the original Rocky movie is played. The conquered opponent has been a heavyweight, for sure.
Getting strong now
Won't be long now
Getting strong now

Gonna fly now
Flying high now
Gonna fly, fly, fly
"These are big wins, and it is hugely gratifying to know that you did the right thing in restoring a patient's health," said Flippo, Capital Regional's director of critical care services.
It used to be that Flippo wore "street clothes" to work. The pandemic changed that.
"I have been at bedsides with nurses and staffing in to help assist," Flippo said. "We are not leading by pointing, we are leading at their sides."
With "A Day in Your Shoes" activities, Capital Regional administrators and directors from CEO Alan Keesee on down have participated in that effort. By shadowing a nurse, patient care technician or an environmental services employee, they have learned what the work lives of those role players have been like since March.
"No longer are we just nurses or patient care technicians," Flippo said. "We are having to be that son, daughter, husband or wife who cannot be with patients as they succumb to the virus. That is the hardest part of dealing with this."
Capital Regional's parent company, the Hospital Corporation of America, provides a confidential counseling program, HCA Cares, to employees. And, in the interest of keeping employees engaged, members of the CRMC leadership team have made a concerted effort to ensure that lines of communication are open and unite everyone. Effective, timely dissemination of information is essential when, for example, CDC guidelines or other protocols change.
"Whenever we need to provide more beds for COVID-19 patients, we meet as a team from administrators to nursing directors and find a way to pivot," Flippo said. "Our providers, including our chief medical officer, have done a great job making sure that we have the right assessment tools to make sure that we are diagnosing patients correctly."
Flippo, who has a bachelor's degree in nursing and a master's degree in health administration, grew up on a South Alabama farm. A grandmother, who was a nurse, heavily influenced his career choice.
"My passion as a director is to see to the professional growth of my nurses so that they become the best they can be and deliver the best care possible," Flippo said. "In my position, especially in this pandemic, I have had to lean on my staff and the staff leans on me and you really learn how to be a leader. A lot of times, leading means just listening."
Bond between doctors and nurses have strengthened as a result of the pandemic, Flippo said, a development that is likely to be lasting and one that will foster professional development.
A fluid environment
Ryan Smith, the chief clinical officer at Tallahassee Memorial HealthCare, said HIV infection presented challenges similar to those posed by COVID-19.
"There are a lot of unknowns," he said. "Things are changing every single day. I don't think we will know the full impact of COVID-19 until a year or two after studies give us a good understanding of what this actually is.
"We're all learning together, and we have been very nimble in adjusting to what we've learned."
Throughout, Smith said, the safety of staff and patients and providing for adequate testing have been top priorities.
Testing capacity, he explained, typically is limited by allocations of reagents. But TMH, given a partnership with the microbiology department at Florida State University, is in a different position.
"At FSU, they are actually creating the reagent, so now we have the ability to test in large numbers," Smith said. "Very few others have that option and availability. I think we have done a really good job of keeping a forefront focus on safety."
Jaclynn Moss is the nurse manager for the Internal Medicine Unit at TMH, and also serves as the manager of a unit reserved for COVID-19 patients who do not require intensive care.
Pandemic preparations at TMH, she said, began as the virus was first blossoming in China and well before the hospital could know whether or to what extent it would be affected by the virus. Managers turned emergency planners assessed hospital space to determine where COVID-19 patients could be located and isolated.
Walls were erected. Fans were installed. Supplies of personal protective equipment (PPE) were reserved. And, when the COVID-19 caseload began to build, Moss said, 27 medical/surgical patients were moved off a unit and 21 COVID-19 patients were moved in, all in a single day.
Ten nurses and three patient care assistants staff the COVID-19 unit during each shift. Two of the assistants work inside the unit, Moss explained, and the third works as a runner.
"There is no way we could take all of our PPE off every time we need something," Moss said. "We work with walkie-talkies and phones, and supplies come in and out via the runner."
Moss, a Tallahassee resident since age 7, earned associate and bachelor's degrees in nursing at Tallahassee Community College and the University of West Florida, respectively. She has been a TMH employee for nine years and is the mother of three school-age children.
"One of the positive things that I've noticed is that this pandemic has really brought nursing back to nurses," Moss said.
They spend more time at bedsides. They collaborate closely with physicians. Said Moss, "They drive nursing care and they influence physician care because they are in there with the patients. And, every day they learn something new."
Moss stresses to nurses on her team that patients look up to them, and their families rely on them.
"We talk a lot," Moss said. "On bad days, I remind them of the good days and how many patients we have sent home. We have done a lot of good things. We already were a family, but we have grown closer together because now we really count on each other."
Duty on the COVID-19 unit, Moss said, exacts physical, emotional and mental tolls.
"I encourage nurses to take breaks because they are in full PPE from head to toe," Moss said. "As much as we try to cool down that unit, you can't tell a patient not to turn the heat up. Nurses are soaking wet at the ends of their shifts. The breaks are important because I can't have them falling out."
Some days are more difficult than others owing to the nature and number of cases.
"We take advantage of those days when our numbers are low," Moss said. "We know that we could come in the next day and all of the beds may be full again. We take it one minute at a time, and do all that we can to make it safe for nurses to report to work and to leave at the end of their shift."
Helping to Save Lives
Community steps up with donations to TMH's COVID-19 emergency fund
Nigel Allen recognized that he was about to say something that would likely bring to mind Sally Field's 1984 Oscar Award acceptance speech in which she tearfully said, "I can't deny the fact that you really like me right now; you really like me."
Allen is the president and chief advancement officer at the Tallahassee Memorial HealthCare Foundation. He has been moved in recent months by the response the foundation has received to its appeals for contributions related to the COVID-19 pandemic.
"People in our community have demonstrated in a very tangible way that they really care about TMH, and that they are grateful for the services the hospital provides," Allen said. "The way in which they have stood with us is humbling and gratifying."
Field had won a best actress award for her role in Places in the Heart. The film was about a widow in Depression-era Texas and her struggle to coax a living from the ground at her small farm. Ultimately, it had a lot to do with resolve, fortitude and grit.
The pandemic has illuminated a lot of resolve, fortitude and grit, especially in health care settings.
Allen noted comments made by an intensive care unit employee on a survey form about the stresses created by COVID-19.
"If you are going to the ICU as a COVID patient, your prognosis is not good," Allen said. "Every single person this employee had cared for had died. We need to lift these people up in any way we can."
That need furnished some of the motivation for the funding appeals, which were broadcast with email blasts. Too, there was the matter of the real financial impact that the pandemic has had on TMH.
"Cynics may view us as the big hospital in town with multimillion-dollar budgets for whatever we need, but we have spent millions of dollars that were not budgeted to deal with the virus," Allen said. "At the same time, elective surgeries were canceled, and that took away millions and millions in revenue."
One of the emailed appeals went out over the signature of TMH president and CEO Mark O'Bryant and the other came from Lauren Faison-Clark, TMH's administrator for regional development, population health and telemedicine. Each listed specific, urgent needs including personal protective equipment; modifications to increase intensive care unit capacity; technology and equipment including ventilators; and money for the operation of the Northwood Centre COVID-19 sample collection site.
As of late August, community contributions to TMH's COVID-19 emergency fund had exceeded $650,000. Many of those gifts were earmarked for specific purchases, such as the purchase of a telemedicine unit or the retrofitting of a room to provide negative airflow.
"We just received a $500 contribution from a bank that wanted to underwrite the cost for a day's worth of meals for our clinical team on the COVID unit," Allen said. "There are lots of ways in which people are stepping up."
Contributions enabled TMH to purchase a $100,000 Surfacide Ultraviolet Cleansing Unit that has been used to disinfect treatment areas and patient rooms and provide reassurance, particularly to people with compromised immune systems.
The unit, Allen said, "has greatly reduced the chance of any hospital-based infection."
Telemedicine units placed in COVID rooms enable patients to connect with their families and feel a part of the world beyond the hospital.
The fundraising campaign has attracted both established and first-time givers, said Allen, who also noted an internal "Adopt a Caregiver" campaign at TMH whereby employees are supporting frontline personnel with gifts, treats and notes of encouragement.
"COVID-19 has been a tremendous crisis financially and in terms of the toll it has taken on our personnel and all who have been affected by it directly and indirectly," Allen said. "The $650,000 was a godsend, and we will need more."