A Surviving Mom's Crusade
Illinois woman turns her son's tragic overdose into a righteous cause for action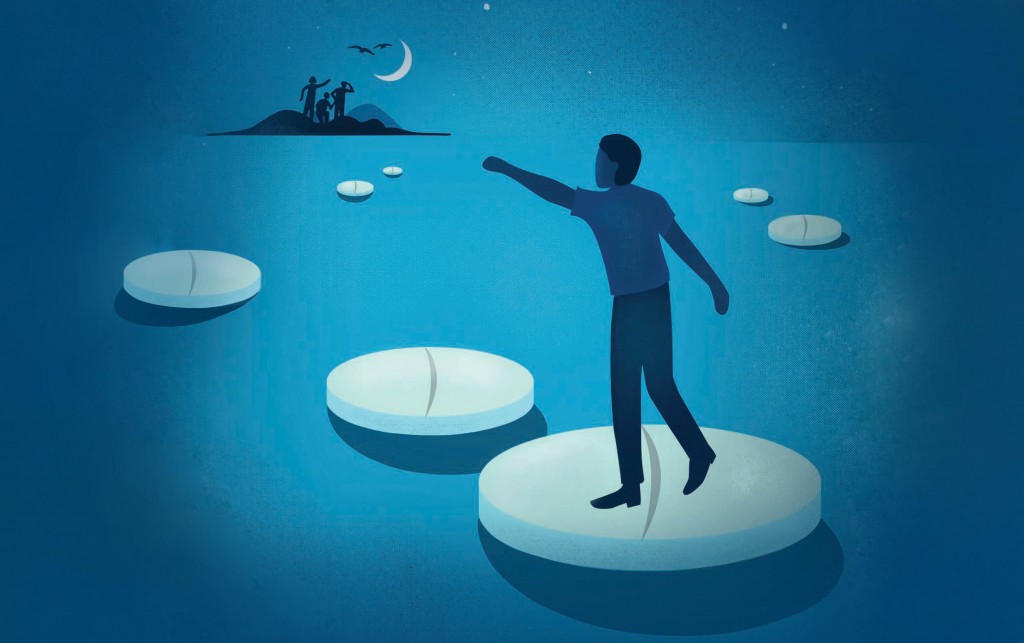 We are reeling from the sudden death in June of my son Nick at age 22, but we are taking comfort in sharing the truth about what killed him with the hope of saving lives.
Nick died as the result of accidental fentanyl poisoning. We have asked ourselves the excruciating question, "What could we have done to prevent his death?" The answer is nothing because we didn't know what we didn't know. While tempted to curl up in pain at the news, we are instead educating ourselves about fentanyl and spreading the word to save others.
We have been working closely with detectives from the Lake Forest (Illinois) Police Department. After several weeks of waiting, we've learned that a small box that I saw under the couch while on my knees performing CPR contained 1 ½ pills.
These pills were stamped with markings indicating they were oxycodone. However, further analysis revealed these pills to be counterfeit and laced with the deadly synthetic opioid fentanyl. We've also learned the Lake County Coroner's Office discovered evidence of fentanyl in Nick's body during their investigation into his official cause of his death.
Fentanyl is a highly potent synthetic opioid 50 to 100 times stronger than heroin. This drug was initially developed to help manage severe pain in cancer patients. However, as a highly addictive, potent drug, fentanyl is being diverted by criminals for misuse at an alarming rate. Across the country, villains are covertly adding fentanyl to every conceivable drug sold on the street to increase their ill-begotten profits.
Fentanyl is so powerful that adding just 2 mg (the amount of a few grains of salt) causes certain death. The situation is becoming exponentially deadly. By 2020, as many as 43,000 U.S. drug overdose deaths were specifically caused by fentanyl.
Making fentanyl is easy and dirt cheap, so there is a huge profit to be made. International drug cartels have been aware of this for years, and evidence demonstrates smuggling fentanyl is on the rise. Tragically, once in the country, fentanyl is sold to dealers who mix it into every conceivable street drug. Naive consumers buy these fake drugs from dealers, or directly online through social media channels such as Snapchat.
Worse, when any drug is spiked with fentanyl, it is never mixed in evenly. This is called the "chocolate chip cookie effect." For example, one edge of a counterfeit pressed pill might contain lethal amounts of fentanyl while the other side has none. Therefore, anyone buying drugs (i.e., Xanax, cocaine, ecstasy, opioids, methamphetamines, etc.), whether on the internet, from a friend or from a dealer, must assume they are playing a dangerous game of Russian roulette.
Drug pushers risk killing people, and losing customers, by adding a lethal substance to the drugs they  manufacture and sell because fentanyl is highly addictive and significantly increases the "euphoric high" users experience. So, if users don't die from fentanyl poisoning, they are even more likely to come back to buy more.
We boldly ask, "How will you protect yourself and your loved ones from a similar fate?" The reality is that in our society, people of every faith, race, gender, socioeconomic class and age use drugs and alcohol for more than just recreation. Many habitual users seek to escape overwhelming feelings of depression, anxiety, shame and fear. And these mental health problems have only increased since the onset of the pandemic.
Here are three things we learned that everyone can do to protect their loved ones and the lives of others from this scourge.
Get Help
If someone you know struggles with addiction, forget judgment and stigma. Instead, reach out with love and acceptance. No one can win this battle alone. So, gather a network of trusted friends, family and professionals to help you fight like hell to break the cycle.
Carry Narcan
Purchase and learn how to use Narcan, an over-the-counter medication sold at pharmacies designed to rapidly reverse opioid overdoses. It is administered as a nasal spray and comes in small canisters. One dose isn't always enough, so keep several doses in your household and carry them with you.
Buy Fentanyl Test Strips
Keep some in your wallet or purse. These test strips are small slips of paper that can detect the presence of fentanyl in any drug batch (e.g., pills, powder, pot, gummies and injectables). This inexpensive, easy-to-use tool could be lifesaving for the teenager experimenting for the first time, individuals in the throes of a severe opioid use disorder, the concertgoer looking for a more intense high or the person using a preferred substance obtained from a new source.
We carry Nick's memory with us and are grateful for the time we had with him. We humbly ask that you hold his memory dear as well and recommend you embrace these three suggestions we've made to keep your loved ones safe. If understanding the real cause of Nick's death saves even one life, he will not have died in vain.
Ellen Cook Humphrey of Lake Forest, Illinois, provided Rowland Publishing president with the appeal, above, in hopes that he would share it with readers of this magazine. She is encouraging others across the country to do likewise.