A Heads-Up on Brain Injury
Often unrecognized and widely misunderstood, this serious medical condition can be debilitating for those who experience it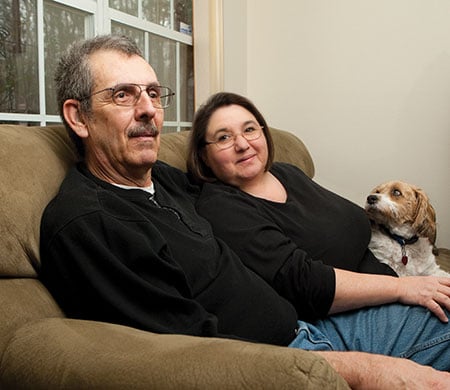 It was a windy day in March 1989 when Tallahassee resident Jim Cox was wielding a saw to cut down a tree. Two other men were helping, there was a miscommunication, and someone pulled on the rope too early. Between that and the wind, the top of the tree broke off, fell 35 feet and landed on Cox. He was driven 6 inches into the dirt and suffered a broken neck, right leg and ribs; internal bleeding; and a punctured lung. While his visible injuries were serious, Cox also sustained a traumatic brain injury that has severely affected his life ever since. Now 55 years old, he is much slower, has balance issues that require him to use a cane and has memory problems. He lives with joint pain and struggles with self-esteem.
According to the U.S. Centers for Disease Control, a traumatic brain injury (TBI) is caused by a blow or jolt to the head or a penetrating head injury that disrupts the normal function of the brain. Not all blows or jolts to the head result in a TBI. The severity of the injury may range from "mild," such as a brief change in mental status or consciousness, to "severe," an extended period of unconsciousness or amnesia after the injury.
Valerie Breen, executive director of Brain Injury Association of Florida, says there are more brain injuries than HIV diagnoses, spinal cord injuries and breast cancer combined. The CDC estimates that at least 5.3 million Americans — approximately 2 percent of the U.S. population — have a long-term or lifelong need for help to perform activities of daily living as a result of a TBI.
In Cox's case, his wife, Cindy, says every day has been bittersweet.
"Watching Jim struggle with recovery has been both heartwrenching and heartwarming," she says. "I think he is the most courageous man I've ever met. Every day he gets up, smiles and tries to make sense of his mixed-up world. We've talked over the years about how it's changed him. We spent time grieving over the loss of who he was and focused on the 'new' Jim."
Over the years, Jim Cox has had multiple surgeries and has suffered blood clots and strokes, including one that left him blind for a few months.
"He became very functional for many years," says Cindy Cox. "He was able to drive and became a terrific househusband. He used a memory book to keep track of things so he could function independently. But now at age 55 he has developed dementia from all the brain damage. He needs 24-hour care and attends the TMH Adult DayCare while I work."
Each TBI injury is as unique as the person who has survived it. Tallahassee resident Drew Ellis was 19 when he was assaulted by a group of men in July 2003. Ellis' injury was not immediately evident. He was examined at the emergency room and doctors found nothing "abnormal," so after the police report was done, he was released.
"Everything seemed to be fine for about four months," says his mother, Jody Ellis. "Symptoms began to appear — dizziness, ringing in his ear, headaches, things tasted different, etc. What we now recognize as post-traumatic stress disorder (PTSD) began to set in, and Drew's anxiety level rose.
"At the time, Drew was a student at Lively Technical Center but was forced by school administrators to withdraw because medical appointments resulted in too many absences," his mother says. "He was simply told, 'Come back when you feel better.' This increased his depression and self-doubt, and his overall condition began to decline. It was almost a year after the injury before doctors diagnosed him with TBI/closed head injury and PTSD. The diagnosis began a multi-year journey of numerous and repeated medical and psychological tests, counseling and prescription medication. None of which seemed to have any impact."
In December 2007, at the age of 23 and after experiencing terrible side effects with prescription medication, Drew Ellis began using natural supplements and vitamins, and he began to improve. Since then, he has continued to get better.
Now 25 years old, Ellis recently enrolled at Tallahassee Community College.
"I don't think you ever fully 'recover' from a TBI," Jody Ellis says. "Rather, you hopefully learn how to deal and adjust to limitations you may have. Thankfully, he has been able to overcome many TBI-related issues."
TBI is underreported, under-recognized and misunderstood. Valerie Breen of Brain Injury Association of Florida says the stigma attached to the condition impairs the ability to help and also to create awareness.
"That impacts the ability to raise funds," she says. "George Clooney was afraid to let anyone know when he had sustained a brain injury (while making the movie 'Syriana' in 2005, a chair he was tied to was kicked over and he hit his head) because of the impact on his career. He would have been a great spokesperson but was afraid of 'what people will think.'
"This applies across the board," Breen says. "Any bump on the head is considered a concussion. Symptoms can be delayed, so just because you feel OK today doesn't mean you won't have issues in a week or even a month."
Breen also wants to give parents a heads-up.
"If your child has ever had a bump on the head (for example, fallen off a bike or out of bed, or gotten hurt playing sports), be mindful of the symptoms and be sure their school knows and that it is in their health records, because an untreated concussion can have far-reaching effects that can impact school performance and socialization with peers."
Available to brain injury survivors is Tallahassee Memorial Hospital's TBI Advocacy Group. The group provides an online forum for new TBI survivors and families, as well as education within the community regarding TBI. The coordinator is Sheree Porter, rehab program manager and a speech language pathologist.
"TBI is a serious concern," Porter says. "At TMH, we have seen patients sustain injury through many avenues. Many, many TBIs have been averted by wearing seat belts and helmets. Motorcycle fatalities have skyrocketed since Florida repealed the helmet law. At TMH, we admit at least one patient with TBI per week."
Scott Holstein
Drew Ellis (third from left)has returned to college after learning to cope with the results of his brain injury. Joining him at home are his sister, Sara Beth, his mother, Jody, and father, Mike.
Direct medical costs and indirect costs such as lost productivity related to TBI totaled an estimated $60 billion in the United States in 2000, the last year data of this kind was available. TBI is now part of the national conversation in the United States because of the wars in Iraq and Afghanistan. An important medical concern for returning soldiers is the potential long-term effects of mild traumatic brain injury, or concussion, particularly from explosions.
"Blast injury is the signature injury of both Operation Enduring Freedom and Operation Iraqi Freedom," Porter says. "While most veterans or active soldiers are treated through the V.A. system, we do see or hear from these individuals at TMH from time to time. As with sports concussion or mild TBI, sometimes soldiers or related personnel will be unaware of injury until they experience a change in functional activity somewhere down the line."
And even the National Football League is taking a closer look at brain injuries. In recent months, it issued new guidelines saying that if a player suffers a concussion, he must be removed from a game or practice and is not allowed to return to the field that day.
"TBI is more rampant than the public realizes," Porter says. "Recent research has revealed the alarming frequency of TBI in the world of sports. It is important for players, coaches and families to recognize the signs and symptoms of a mild TBI. Research has proven that TBI is a cumulative injury, meaning that once you sustain a TBI, a subsequent TBI can manifest as a severe injury."
Chas Wheeler was attending Ohio University when he was hit by a truck on campus in September 2004. He was lucky to survive but, like Jim Cox, battles his TBI every day. Wheeler underwent rehabilitation at TMH and went on to collaborate with the formulation of the TBI Advocacy Group there. He now works to help others who struggle with their brain injuries.
"The biggest advice I have toward others who have and are dealing with TBI is to never give up," Wheeler says. "It is very hard, and there are times when you are just tired and want to give up. But with TBI, know that half the people who have this die. You have already come so far, and never give up on going for your goals in your life. Never give up."
Signs and Symptoms of a Traumatic Brain Injury (TBI)
Headaches or neck pain that do not go away
Difficulty remembering, concentrating or making decisions
Slowness in thinking, speaking, acting or reading
Getting lost or easily confused
Feeling tired all of the time; having no energy or motivation
Mood changes (feeling sad or angry for no reason)
Changes in sleep patterns (sleeping a lot more or having a hard time sleeping)
Lightheadedness, dizziness or loss of balance
Urge to vomit (nausea)
Increased sensitivity to lights, sounds or distractions
Blurred vision or eyes that tire easily
Loss of sense of smell or taste
Ringing in the ears
Courtesy U.S. Centers for Disease Control
Advice for TBI Survivors
Don't try to go it alone — there are people who can help, who have been there and who will help you navigate the challenges.
Join a support group as quickly as possible, because you don't want to go it alone — others may have a perspective you have not considered.
There are new and exciting ways to improve your life, ranging from canine companions to biofeedback. Get the latest information by being in touch with an organization such as Brain Injury Association of Florida.
Get involved in getting better. The tendency is to hibernate or isolate oneself.
Understand that for the most part, your life as you knew it has changed for good. Your new mission is to find that good and focus on it so it will expand.
Courtesy of Valerie Breen, executive director, Brain Injury Association of Florida
---
Resources
» Brain Injury Association of Florida at (800) 992-3442 or biaf.org
» TBI Advocacy Group at Tallahassee Memorial HealthCare at tmh.org/tbi. The mission of the TBI Advocacy Group is to provide an understanding of traumatic brain injury through education, information, prevention and advocacy.
Contributing writer Triston V. Sanders is an executive producer and news anchor for WCTV. Watch her televised medical segment, "Health Matters," weekday mornings on "The Good Morning Show" on WCTV.