A Fun Place to Gather
Poco Vino has enlivened Downtown Tallahassee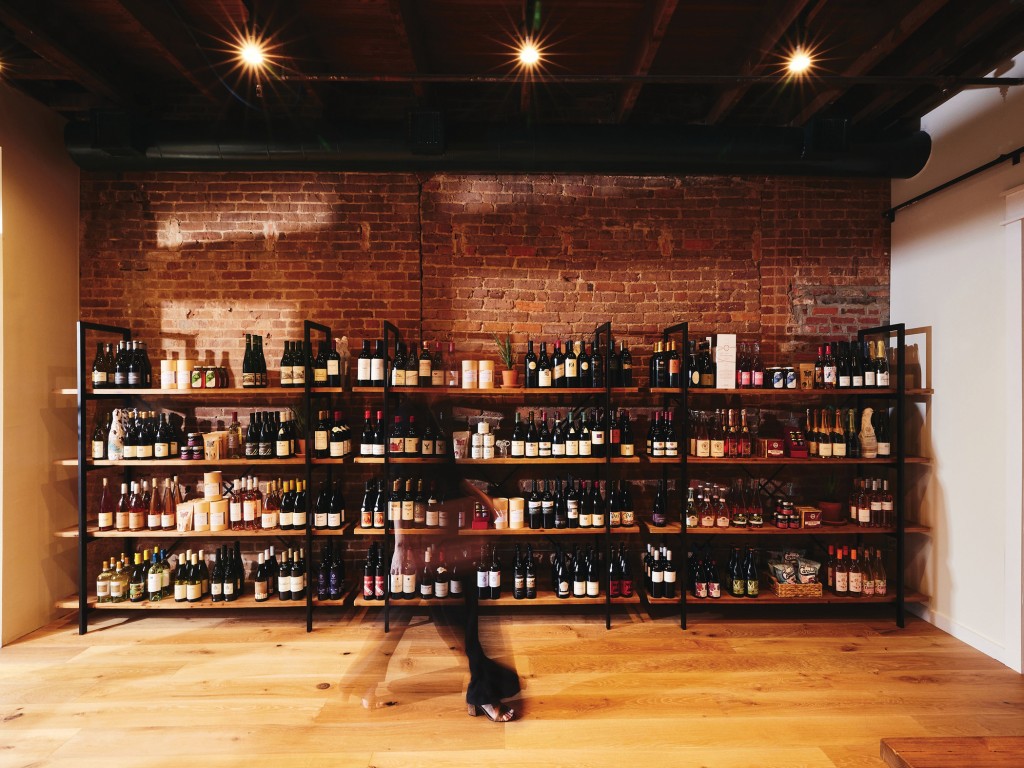 Amanda Morrison and Agustin "Gus" Corbella are passionate about wine — and each other. A perfect pairing.
So it seemed only fitting that when the opportunity arose, the power couple would become life and business partners.
In October, Morrison and Corbella, both certified sommeliers, opened Poco Vino Wine Shop & Event Space in Downtown Tallahassee. They've transformed a little-known setting inside the historic Gallie Hall building, built in the late 1800s, into an intimate, multipurpose destination.
The cozy space exudes charm with its brick walls, lovely arches and an actual greenhouse, which Morrison calls a "gorgeous magical space" perfect for private dinners.
"We're not just one thing," said Morrison. "We wanted to bring food and drink together and offer special events. We wanted to have retail and showcase local talent. And we wanted to build a reputation as one of the best wine shops in the Southeast."
In just a short time, the shop has gained a following for acquiring much sought-after bottles. The focus is on about 100 labels, "small production wines that are 10,000 cases a year or less produced," said Morrison. "Everything is grown responsibly with some form of sustainable or organic or biodynamic farming, so it's really great, high-quality wine."
Corbella noted that "even the bigger houses of wine you may be familiar with are moving toward responsible farming and winemaking. People want to drink wine, and wine is grape juice. It shouldn't be chemicals; it shouldn't be pesticides or additives. We're excited to be featuring real wine here."
Yet, the shop is special for another reason.
"It's a really, really big deal," said Elizabeth Emmanuel, CEO of the Downtown Improvement Authority in Tallahassee. "There was a 10-year slump when no retail was opening."
"I think it's hugely significant when we look at what people ask for," she said, explaining that downtown residents and visitors often want a nearby place to grab a gift, a birthday card or a snack.
More than 5,000 people live downtown in what's officially labeled the city's Community Redevelopment Area, but during the peak of the legislative session, more than 40,000 people are utilizing the downtown area, Emmanuel said.
City leaders are hopeful that Poco Vino can help demonstrate to property owners downtown that it's possible to have first-floor retail space with offices upstairs. For decades, this spot on Adams Street was occupied by Barnett Fronczak Barlowe Architects.
"It's one of the coolest buildings architecturally that we have," Emmanuel said.
One historic and quirky feature is a safe in a large wooden case. It's expected the safe is empty, but despite past efforts to open it, even by safecrackers, the contents remain a mystery.
"We hired six guys to move it five feet," said Morrison. "It's been in the building since the early 1900s."
While city leaders are eager for more downtown retail, preserving history is an important factor in all renovations, and there are plenty of them.
Adams Street has had well over $9 million of private investment over the past year," Emmanuel noted at the October opening of Poco Vino. "There's a great potential to add more ground-floor retail."
The same idea applies to restaurants. When Florida lobbyist Brian Ballard built his office building at Monroe Street and Park Avenue, he opted for an upscale showcase, the Italian steakhouse, Il Lusso, on the first floor.
The Florida Retail Federation, which owns Gallie Hall, played a major part in making Poco Vino a reality.
"They could have made it easy and had a lobbyist or law firm occupy the space, but instead, they trusted dependable operators to bring a vision to life to prove it can be done," Corbella said.
Scott Shalley, president and CEO of the Florida Retail Federation, said he has been impressed with the buzz Poco Vino has already created.
"Their improvements reflect the history of the space while showcasing the future," he said.
"I think that their vision has become a reality, and it has been a bolt of energy for downtown," said Shalley. "The space has been active pretty much nonstop. We sure hope Poco Vino shows others it can be done.
"We want to see a vibrant downtown, and retail is a key component," he said, noting he was persuaded by Morrison's ideas for the space. "I had a conversation with Amanda, and she had a great vision."
The experience and expertise of Morrison and Corbella have played a big part in building confidence in the venture, local leaders said.
Morrison is also the owner of Happy Motoring, a 1950s Esso service station renovated into a fun retro venue featuring Tally Mac Shack.
Morrison also launched the Adams Street Flea Market, which features work by local artisans on the first Saturday of each month — some of those crafts people also sell their work at Poco Vino. A former managing partner for Social Catering & Events, Morrison has been named one of Tallahassee's 25 Women You Need to Know.
The son of restaurateurs, Corbella, a longtime lobbyist, lawyer and government professional, is the senior director of the Government Law & Policy Practice at Greenberg Traurig, LLP. He previously served as chief of staff to the Florida Senate president and staff director for the majority offices of both the Florida Senate and the Florida House of Representatives.
He's also the chairman of Florida State University's Opening Nights Performing Arts Development Council.
Poco Vino also builds on its owners' experience traveling the world.
The couple has been offering multi-course wine dinners about once a month. One such dinner brought Chicago chef Ray Estrada and pioneering California winemaker Paul Hobbs for a candlelit meal in the greenhouse, which can also be rented for private events.
"Aspirationally, we'd like to become the James Beard House of the South," drawing top chefs to prepare elegant meals, said Corbella. "A sense of community comes to life through food and wine and shared experiences."
Poco Vino is also partnering with Pelican Oyster Co. of Panacea for oyster nights a few times a month.
"For an event, it's a very sweet setting," said Florida Rep. Allison Tant. "I really love that store."
"It's become my go-to place for organic wines, cool cards, hostess gifts, snack items and chocolate," said Tant. "I bought an amazing pair of candles made by a local person."
The pop-up retail space is curated by Ashley Cortese Designs who finds the home and gift items, most made locally, and sets up the stylish displays.
Tant noted that with its close location and diverse inventory, Poco Vino is a boon for downtown workers and those here for the legislative session.
"I work downtown, and it's so nice to be able to walk to this unique place," said Shannon Hartsfield, executive partner of Holland & Knight's Tallahassee office. "It's a creative combination of a gift shop and event space. I've already attended three fun events at Poco Vino.
"It's wonderful to have a place to gather just steps from offices and the Capitol. It is ideal for many different types of events, from cozy lunches to lively receptions."
Tarsha Davis was impressed by a recent event at Poco Vino.
"I think it's a much-needed event space downtown," said Davis, owner of the company, Stajd, which specializes in virtual staging to sell homes. "It's beautiful, and I think it lends itself to the charm of downtown."
At Davis' event, guests were served flights of three wines for $15 a person — a 2020 Château Ducasse Bordeaux Blanc, a 2019 C.M.S. red blend from the Hedges Family Estate and a 2019 pinot noir from Salem Wine Co. — along with cinnamon spice butter cookies topped with mascarpone and spiced cherry preserves (all sold there).
Among her goals, Morrison searches for labels from diverse winemakers who are making strides.
Hedges Family Estate wine from Washington is a family-owned company that includes daughter and winemaker Sarah Hedges.
"We have really great Malbecs from legendary female winemakers from Argentina," said Morrison.
One is wine educator Dr. Laura Catena, who collaborated with acclaimed winemaker Luis Reginato on the La Posta Malbec. Another choice, the Susana Balbo Signature Malbec, was made by the first woman in Argentina to receive her degree in enology and a matriarch of female winemakers around the globe, according to the shop.
"I love bringing what's trending in other cities to Tallahassee," said Morrison. "There's no reason why we can't have cool stuff here."
Poco Vino
225 S. Adams St., (850) 320-4552, PocoVinoWine.com