A Big Bash for Tallahassee Magazine, and Here's Proof
Local brewery helps us celebrate 40 years and honor publisher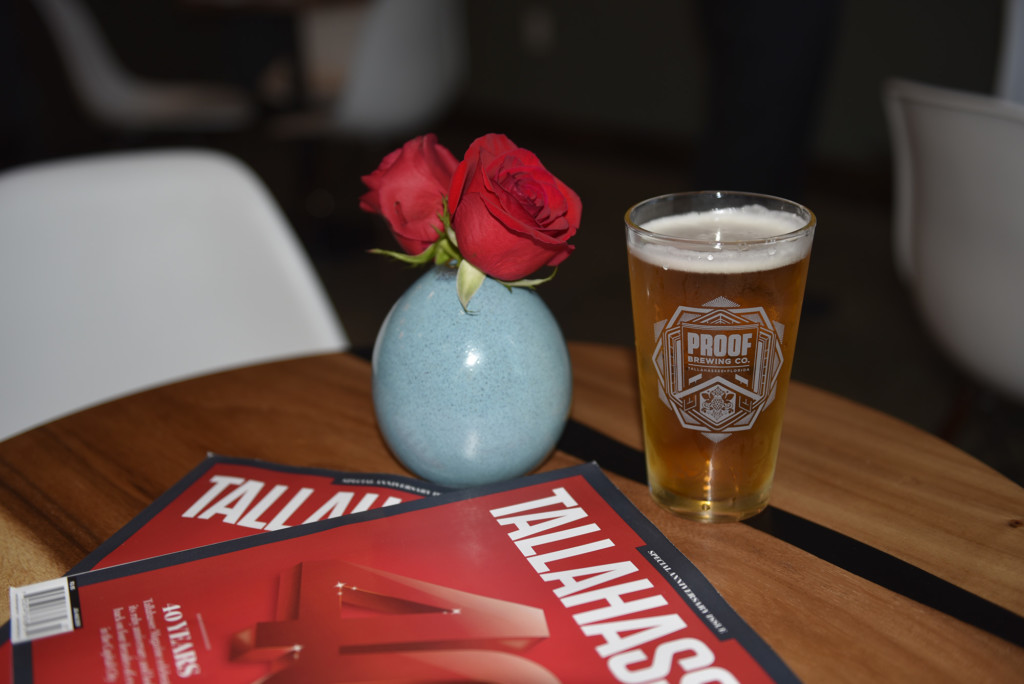 When you've served your community for four decades, you reflect on your effects. You know you've been steady, sturdy, trustworthy and hardy.
And you throw a party.
Tallahassee Magazine celebrated its 40th anniversary as a Capital City news, entertainment and information source on Tuesday night with a pop-up party — and beer-worthy bash — at Proof Brewing Company's modern new location on South Monroe Street.
About 150 people including community leaders, Tallahassee Magazine clients and Rowland Publishing staff members showed up to salute the magazine and publisher Brian Rowland, who received a surprise video tribute for his 30 years as the builder and shaper of the magazine and as a force in the community.
Rowland was Tallahassee Magazine's advertising manager in 1989 when he purchased the publication from Jerry Lundquist, founder of Homes & Land Publishing Corp., and created Rowland Publishing.
"What he has done is incredible to me," said attendee Calynne Hill, founder of the realty company Hill Spooner & Elliott and a regular client of Tallahassee Magazine. "To see how the magazine has evolved … now it's a top-notch publication. That's because of Brian's leadership and direction."
Two of the magazine's first leaders, editor Bill Needham and creative director Al Cuneo, were among other guests. They led the production of Tallahassee Magazine's first issue, in spring 1979.
"I continue to think about the 40-year run of Tallahassee Magazine, the many miles of a great roller coaster ride of each decade, the critical people along the way, and those today who are the heartbeat of our magazine and the brand it has earned," Rowland said afterward.
The evening featured two themes: the shiny and sparkly "40" on the ruby cover of the July-August issue of Tallahassee Magazine, and the foot-tapping and head-bobbing sound of The Allie Cats, featuring lead vocalist Allie McKay.
The band's performance included five songs by Fleetwood Mac, a band that long ago earned Rowland's unequivocal and dogged devotion. He named his chocolate Labrador retriever Stevie, after vocalist Stevie Nicks.
OK, a third theme — beer. At Proof Brewing, Tallahassee's first craft brewer, you can hardly bypass the brew.
Mackenzie Little, Rowland Publishing's sales and events coordinator, told guests about their opportunity for beer tours at the facility, which spans a city block and features a tasting room, a private events room and an extensive lawn. Proof's on-site restaurant, Proper Brewpub, supplied food offerings.
Little and her team members carried the task of putting together the event — and managing to keep the details secret from the publisher.
"I wanted it to be one of the most memorable, intimate parties for Brian Rowland," she later said. "I believe we achieved just that at one of the best spots in town."
McKenzie Burleigh, Rowland Publishing's vice president/corporate development, told guests as she stood beside a large display of the Tallahassee Magazine's anniversary-edition cover: "This issue is particularly special to us."
Burleigh emphasized the achievement of 40 years in publishing and business and asked guests to take a look around the room.
"Every single person in here … you had a part in the journey of Tallahassee Magazine," she said.
In addition to his employees, Rowland said: "I am very thankful for the long list of clients who have trusted us with their ad dollars and brands."
He added: "So we paused this week to savor 40 years, and we look forward to becoming golden in 10."