2017 Top Salon Show Kicks Off Hair That Cares Fundraising Week
Transformational Night of Competition Benefits 12 Local Charities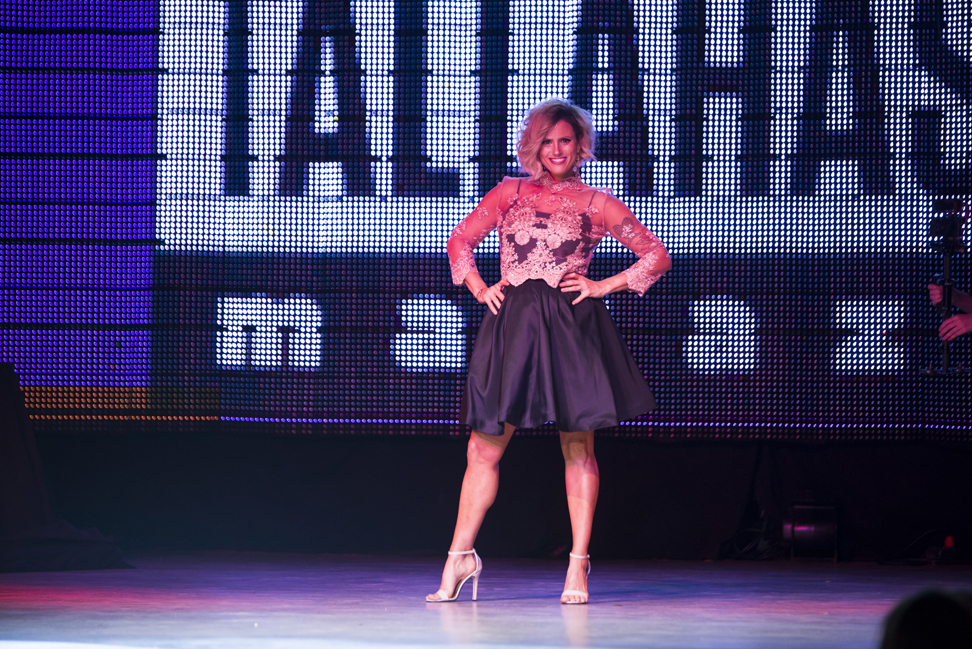 The hair was immaculate, the heels high, the dresses dazzling, the suits pressed, the lights set and the music inviting as The Moon coursed with energy on Saturday, Feb. 25, and 2017 Top Salon got underway. The night provided a dazzling show, but one with meaning. That was made clear by the smiles exchanged, hugs given, inspiring stories told, confidence gained and the more than $12,000 raised for charities.
Each of the 11 women who walked down the runway represented a compelling story. They included a breast cancer survivor, a military wife, an overtaxed mother, and a woman who needed to be reminded just how beautiful she is. Their physical transformations were impressive, but this night, even more so, was one for reflecting on the beauty, strength and compassion these women represent.
"Each of these women have really, really wonderful, inspiring and great stories," said Juli Downs, owner of Narcissus, which clothed the models.
Alex Watson, who was a judge representing the Aveda Institute of Jacksonville, agreed that each model brought something special to the stage.
"I was super excited to see the transformations and just feel their energy and excitement," said Watson. "I remember last year, the thrill of being in the audience and getting to see where they started and where they ended. It was wonderful to see it from a different vantage point this year as a judge."
The models took to the catwalk in ways that exuded confidence and showcased their personalities, all while attesting to the talents of Tallahassee's creative and philanthropic salons.
"I love that this event is a collaboration, not a competition," said Dr. Russell Rainey, presenting sponsor. "As always, I was excited to see what they come up with."
As was the crowd, which greeted each model with cheers and standing ovations. The Fan Favorite award went to Sucre Beauty Bar and their model, Jane Dwyer Lee. With long, blonde curls and a sparkling blue gown, she was a modern-day Cinderella. The Judges Favorite was Studio B Salon and Day Spa's model, Melina Rodriguez, with her styled waves, cobalt blue gown and the walk of a seasoned pageant queen. The cheering may have been heard on the moon, itself, when Soleil 7 Hair Salon was awarded the title of 2017 Top Salon thanks to their gorgeous and glamorous model, Tammy Poucher, who was always meant for a tousled blonde bob and the spotlight.
"I was so happy for Soleil 7 because this is their entire world," said Poucher. "It's hard to even find the words to express how I feel and felt walking down that runway being terrified, yet so excited. It took me out of my comfort zone, built my confidence and introduced me to so many people. I am grateful for this experience, and the relationships I gained from it were the most valuable part."
Everywhere were little moments that resonated strongly. Congenial congratulations; judges dancing together on stage; groups gathering for photos with the models; Lauren Calmet, Miss Tallahassee, crowning a young girl from the audience; a heartfelt message from a soldier overseas; teary eyes after a model shared her story via video.
"I love that this event empowers women to feel beautiful inside and out and encourages them to nurture themselves as much as they do others," said Kim Bibeau with sponsor Sweat Therapy.
Beth Fink with sponsor, Tallahassee Plastic Surgery Clinic agrees, "I love this event because it not only makes the salons and models feel good, but it is a wonderful way to give back to the community and make people aware of local charities."
This year, fundraising continues after the event, beginning today and concluding Friday, March 3. During Hair That Cares week, people may donate to any salon's chosen charities here and throughout the week via Tallahassee Magazine's social media accounts.
"This event impacted 12 different charities and that's amazing," said Poucher. "It was more than just beautiful women walking down a runway, it is fueled by the love of charities that we deeply care about."
Much like a hair care regimen, this week of fundraising will nourish and strengthen 12 local charities.
The salons, their models and charities were:
Chelsea Salon & Spa, Elizabeth Wilkes | Element Church – Red Eye Coffee Co.
Dream State Salon, Audrey C Haas | American Cancer Society – Making Strides Against Breast Cancer
JS Hair Lounge, Stephanie Thompson | Hang Tough
Fuel Salon + Store | Gretchen Everhart School
Millennium Nail & Day Spa, Josephine Cannella-Krehl | United for Compassion
Private Quarters Hair Salon, Roslyn Wilkes | Brehon Institute for Family Services
Salon 6, Tammy Williams | Sacred Soil Project
Soleil 7 Hair Salon, Tammy Poucher | Florida Autism Center of Awareness
Studio B Salon and Day Spa, Melina Rodriguez | Children's Home Society
Sucre Beauty Bar, Jane Dwyer Lee | FSU College of Social Work Arts & Athletics Summer Camp
Tryst, Marianne Brooks | St. Jude Children's Research Hospital
Wanderlust Salon and Spa, Brittany Auclair | Joanna Francis Living Well
Lifetime Achievement Award Winner:
Katie Wright (owner of Dream State Salon)
Sponsors:
Russell B. Rainey, DMD – presenting sponsor provided complimentary teeth whitening and dental checks to all models.
Tallahassee Plastic Surgery Clinic – gold-level sponsor provided complimentary facials, 20% off skin products and $50 off injectables.
Sweat Therapy Fitness – gold-level sponsor provided complimentary fitness classes and a special discounted rate for unlimited classes.
Narcissus – gold-level sponsor provided event clothing that models may purchase with 25% discount.
Fifth & Thomas – silver-level sponsor of the official after party location and salon photo shoot location.
Hattori Hanzo Shears – silver-level sponsor gave winning salon $10,000 worth of shears and educational classes to each salon.
Marsha Doll Models – silver-level sponsor provided runway walk training and modeling coaching.
AM Break with Ann & Audra – media sponsor provided footage of the event and live interviews.
Live In Tallahassee – media coverage and interviews.
Tallahassee Network of Young Professionals – charity sponsor presented $1,500 charity donation.
GT Entertainment – DJ Services
Judges:
Russell B. Rainey, DMD
Marsha Doll
Lauren Calmet (Miss Tallahassee)
Niki Walker-Kennedy (Hanzo Shears Educator)
Somkit Thompson (Haute Headz)
Alex Watson (Aveda Institute of Jacksonville)
Sherrie Clark (Fuel Salon + Store)
---
The excitement over 2017 Top Salon hadn't quelled, as there was still a hefty check to be presented. On April 19, salon representatives, their models, charities and sponsors gathered at the Old Willis Dairy for the big reveal of money raised. Guests explored the scenic property, celebrated with champagne, received gifts from Marsha Doll and listened attentively as presenting sponsor Dr. Rainey and Tallahassee Magazine made announcements. The winning salon, Soleil 7 was presented with $10,000 worth of Hattori Hanzo shears. The moment they had all waited and worked hard for resulted in a record-breaking total of $21,848 raised. Clapping and congratulatory cheers rose in the air as everyone gathered for a photo surrounding the check. This year's competition was a cut above the rest!