Zyched on Zydeco
Local band brings New Orleans to town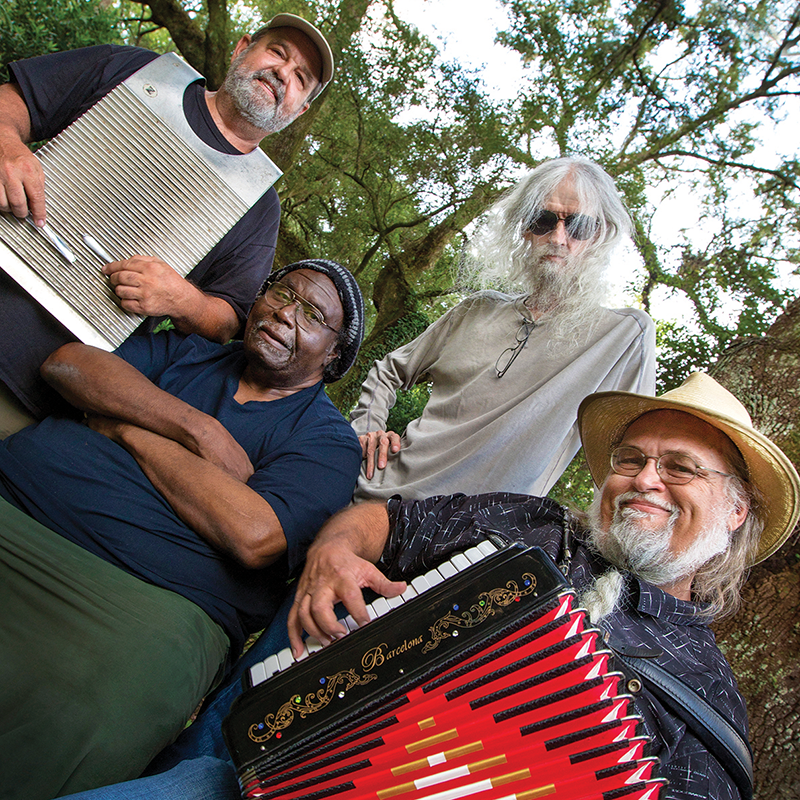 When you fall in love … you just do. Gobsmacked. Besotted. The Can't-Get-Enough kind of love that makes you sign up for life.
That's how John Babich feels about Zydeco. Yep, Zydeco music. New Orleans and Lafayette, Louisiana music. Creole "double-kicks" that rhythmically lift you out of your chair and funky percussion that tattoos your brain. John Babich and the three other permanent members of the capital's own Zydeco Zoo are the go-to practitioners when Tallahassee zydeco-addicts can't make it to the Big Easy.
Babich, who as a kid in Massachusetts was something of a piano child prodigy, had long been a traveling keyboardist with Bill Wharton, The Sauce Boss, spreading the blues from Canada to Europe. He played with other bands, but even as he settled into a Tallahassee web-design job, he couldn't shake the pounding insistence of country-style Zydeco.
"But I didn't completely get it until my wife and I started dancing to that beat," Babich says. "It's the groove, that relentlessness that just won't let you sit back down."
Zydeco isn't Cajun, Babich explains. Rather it is pure Creole — born from that Louisiana amalgam of black, Indian, French and rural whites who picked up anything they had to make music with. "You'll see Old World accordions, fiddles, guitars, spoons, bones (probably pieces of rib bones) and the rub board all together." And the effect is a loud and mesmerizing throb that, at least in Louisiana, will have dancers on their feet for "five and six hours. They can't sit down!" says Babich.
With a name perhaps derived from the Creole French, "haricots sans sale," for green beans without salt, Zydeco roughly translates to "I've got beans to eat, but am too poor for salt pork." Still, the implication, says Babich, is that "I'll share whatever I've got." 
And that's what the accordion-playing Zydeco Zoo leader intends to do. He has surrounded himself with band members he calls "living legends," right here in Tallahassee. James "Missippy James" Stanton plays lead guitar. A veteran of the Jess Franklin and Rick Lollar bands, he currently teaches in town. 
Jiggs Walker is the bass guitarist. Looking every inch an old-time blues man, Walker envelops his chair, a far-away smile on his lips, and lays down a rock-hard pattern he's used since his time with the band, Collage, and Longineu Parsons. 
Keith McCraw can't help but be flashy. With a "frottoir," the metal rub-board vest looped over his shoulders and spoon handles or anything metallic tapping out the "1-2-3" repeats, he can't keep his feet still or his body in repose. Invented by perhaps the greatest Zydeco practitioner, Clifton Chenier, the instrument morphed from the original implement used to wash clothes to the full-metal chest jacket used today.
Zydeco Zoo is always busy during the days leading to Mardi Gras and, says Babich, anytime there's a crawfish boil. Their next big gig is at the Bradfordville Blues Club where they traditionally play on Oct. 28, Halloween. "Everybody is welcome and steps are optional for dancing," he laughs. "Just follow your instincts and stand up and move. You won't be sorry!"
---
Zydeco: Yesterday, Today and Forever
The first Zydeco-esque music recordings are said to be by Louisiana Creole musician Amédé Ardoin in 1928; but Zydeco wasn't on most Americans' radars until Clifton Chenier, "The King of Zydeco," performed on the radio in the mid-1950s. Zydeco became popular internationally in the 1980s with Grammy Award-winning Rockin' Sidney's "My Toot Toot." Today's Zydeco artists include Grammy nominated musician Andre Thierry.