Zeigler is Equal Parts Professor and Campus Star
Grooming the Whole Person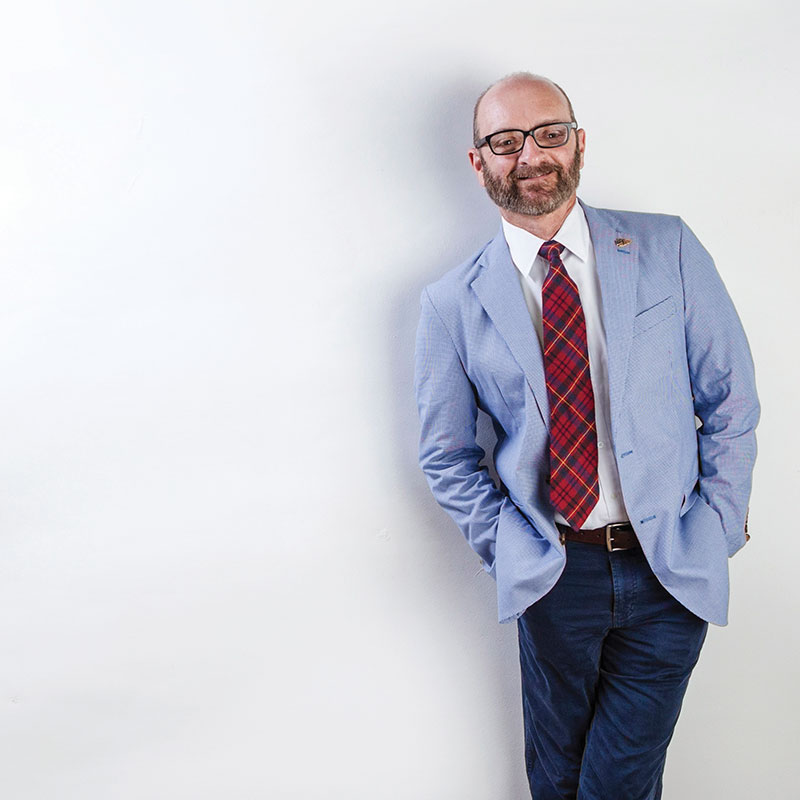 Elle Belle Photography
Anyone who has called the roll at a large meeting or taken attendance on the first day of class can imagine what it's like to correctly pronounce hundreds of names at a commencement ceremony — a
duty Mark Zeigler suffers gladly.
The several educator awards on his wall may suggest a deliberate course, but if you ask Mark Zeigler why he started teaching communication, he'll tell you it was all a big coincidence.
"I was in the middle of a master's program in education," he recalled.
"At the end of the first week of class in the spring semester of 1989, a professor from the communication department called me and said 'We're one faculty member short. Can you teach a public speaking class tomorrow at 8 o'clock?' I went, and I loved it."
Zeigler has taught "Fundamentals of Speech" ever since. The course has grown from 26 students in Zeigler's first section to between 400 and 500 hundred students. In addition, he teaches three other courses at the Tallahassee campus and two at the London campus in the summer.
Zeigler is also heavily involved in community activities at FSU.
"I help recruit football players with Jimbo Fisher, I help with basketball players for Sue Semrau," he begins. "I serve on committees for the provost and I have the opportunity to be in plays at the School of Theatre — I was in two last year."
While, for eight years, he has read the names of graduating seniors at spring, fall and summer graduation ceremonies, he took off last fall because of his role in the campus production of The Fantasticks.
"I was singing opposite Davis Gaines," he explains. "I couldn't do that to my voice — I couldn't read 5,000 names out loud. I had to go home and cry every night because I was singing next to Davis Gaines."
Professors, Ziegler believes, should participate enthusiastically in the life of the university.
"I want FSU to succeed," he stresses. "We should be so proud and grateful every day to be here."
That's not all talk. Zeigler caused a stir last fall by starting the Twitter hashtag #SoMuchMoreThanFootball, a discussion centering on Florida State student and faculty achievements off the field.
In order to make Florida State a name synonymous with "success," Zeigler focuses, as a matter of his teaching philosophy, not just on making academic superstars or powerful business sharks, but on bringing out aware, sympathetic human beings.
"My goal, essentially, is to lighten the load for people," he says. "The world is tough enough without interacting with people and having them make you feel more burdened. Even when I have to give negative information or criticism, I want the student, or the colleague or the friend, to leave feeling hopeful, as opposed to 'I did wrong, I made a mistake, I let someone down.'"
Other than public speaking, Zeigler believes that the most important issues he and his students discuss in class are self-knowledge, knowledge of others, understanding of the communication process and community participation.
"We have a responsibility to develop whole people," Zeigler asserts. "If we neglect matters of the heart, then we're neglecting a very important part of education. This idea that we will judge the merit of an education based on the starting salary of graduates is insulting to the students, to the faculty, to anyone who knows anything about education."
It must be difficult to focus individually on students in lecture classes of 30 or 40, to say nothing of 500, but Zeigler makes sure each student sees a link between the concepts they learn in class and the people around them.
"Relevant examples are my secret," he discloses. "When you tell a personal story, the person in the audience is listening to that story and identifying with their own personal story. You've made a personal connection, even if you've never interacted one on one."
---
Old School Persuasion
As Professor Zeigler knows, the basic means by which people may speak effectively and persuasively have not changed since Aristotle's time. Ethos, pathos and logos remain as effective today as they ever were.
Persuasion is achieved by the speaker's personal character when the speech is spoken as to make us think him credible. We believe good men more fully and more readily than others: This is true generally whatever the question is. This kind of persuasion — ethos — like the others, should be achieved by what the speaker says, not by what people think of his character before he begins to speak.
… Secondly, persuasion may come through the audience, when the speech stirs their emotions (pathos). Our judgments when we are pleased and friendly are not the same as when we are pained and hostile.
Thirdly, persuasion is effected through speech when we prove a truth or an apparent truth by means of arguments suitable to the case in question (logos).
— from Aristole's "Rhetoric"