Youthful Leaders Making Their Mark
Youthful leaders are making their mark on Northwest Florida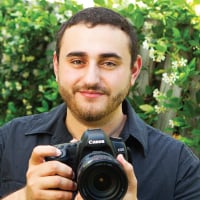 Scott Holstein
Multi-Talented — At the age of 25, Fred Rabbath already has a host of successes under his belt.
Most of them went to school in Florida — and decided it's a good place for career and family. They also have an intense desire to see communities in the 16-county region of Northwest Florida band together and create a vision to help grow the area's economy.
These leaders profiled in the fourth round of our 40 Under 40 include the CEO of a major hospital, a filmmaker and inventor, a marketing specialist, a financial planner, a hotelier and an entrepreneur. Five of them have attended a Florida college — including four who earned a degree from Florida State University.
Brian Cook was born and raised in Miami and went to FSU, where he met his wife, in the 1990s. He began his business life owning and operating a Chick-fil-A in Palm Beach Gardens but then broke into hospital work nine years ago, at the age of 28. Since then he has served as a COO and CEO of hospitals in Tennessee and, in March, he became CEO of Capital Regional Medical Center in Tallahassee.
Sabrina McLaughlin began her career in radio then branched into marketing for a local company and the Okaloosa County elections office. She formed her own award-winning marketing firm before joining the administrative team at the University of West Florida, where she teaches marketing and public relations courses and is the university's director of marketing and communications.
Hemant Patel owns two award-winning hotels in Gadsden County and has been an active proponent of community economic development efforts. Past president of the local Rotary Club and past chairman of the county's tourist development council, he remains active in the county's chamber of commerce and the Asian-American Hotel Owners Association.
Fred Rabbath, at the young age of 25, appears to have done it all already. He has made more than 100 short films — shot and edited with no budget — that have an audience of more than 7.5 million viewers on YouTube. He's won more than 20 film festival awards, speaks four languages fluently (and he's working on three more), is releasing two children's books this fall and sold a patent for a cooling box fan to GE for a hefty sum. In his spare time he's produced and directed commercials for companies like McDonald's and Ace Hardware.
Sterling Scott has managed parking facilities in multiple states, which he opened with his father, and is now focusing on a facility in Bay County near the Northwest Florida Beaches International Airport. He's involved with the U.S. Ski Association and has been active in several national charity organizations, including Toys for Tots.
Jonathan Tallman began his career at Northwestern Mutual but quickly broke off to form his own company in the community near where he was born (Eglin Air Force Base). While advising his clients on a wide range of financial issues, from life insurance to investing for retirement, he is active in local organizations like the Rotary Club and chamber of commerce and serves on the alumni board of Northwest Florida State College. He is chairman of the school advisory council for Collegiate High School, coaches basketball at his church (where he also serves on the board), and works at a Guatemalan orphanage twice a year while serving on the board of Friends of Children Everywhere, which operates the orphanage.
Like the young leaders we have previously profiled, these six represent some of the best business leaders that Northwest Florida has to offer and are a credit to their community and the entire region. If you have someone you'd like to have considered as one of 850's 40 Under 40, please send a nomination to lkleindienst@rowlandpublishing.com. The final deadline to submit a nomination is Sept. 1, 2012.
Click "Next" to read about this issue's 40 Under 40
Scott Holstein
Sabrina McLaughlin
Sabrina McLaughlin, 32 Navarre
Higher Education Marketing and Communication Arts Faculty Executive Director, Marketing & Creative Services, University of West Florida; Adjunct Faculty, Communication Arts
Business Philosophy Ask good questions. Make good choices.
My Work Entails Leading the strategic planning and facilitation of all marketing efforts on behalf of the UWF.
Definition of Success Doing what you love and doing it well. As long as you are living by your own definition, that's all that matters.
Role Model/Mentor If I were to sum up what so many wonderful mentors have taught me, I would have to say that it is the steadfast truth that your integrity is not a commodity. Your integrity is a precious gift that cannot be replaced, bartered or bought back.
Hardest Lesson Learned I have always said that I have learned way more from the things that I have failed at versus anything that put an award on my wall. The most important lesson, however, is reflected by one of my favorite quotes from Maya Angelou: "When someone shows you who they are, believe them the first time."
My Career I was a student at the University of Alabama and had just finished a freshman orientation seminar for Communication majors. I went to the college's Placement & Internship director and asked if he had positions open. He walked me to the development director's office at Alabama Public Radio. She was in the market for a senior who could take on development-related activities. She hired me on the spot. The placement director later admitted he didn't realize I was a freshman.
Important Leadership Skills You have to inspire people to be great and do great things. You must understand the difference between professional will and personal ambition, and never let the latter get in your way. You must be able to make tough decisions and do so with integrity.
Northwest Florida Business Growth While today's economy presents an assortment of challenges, business owners and executives have to think strategically as opposed to tactically. So many times I see people operating in a reactionary mode when they could have easily thought in a proactive manner and developed a strategic approach to the problem.
Scott Holstein
Brian T. Cook
Brian T. Cook, 36 Tallahassee
Hospital CEO President and CEO, Capital Regional Medical Center – HCA
Business Philosophy Culture is the ultimate competitive advantage.
My Work Entails I spend the majority of my time developing relationships with my customers — the physicians. The patient is our mission (why we are in business), but the physician helps advance our organization.
Definition of Success When people choose to be at my hospital. My goal is to create the place of choice for clinicians and non-clinicians to work, doctors to practice and, ultimately, the patient to choose for health care needs.
Mentor/Role Model My father serves as my biggest, because he had to work extremely hard for everything he has today. He spent his entire career in health care, starting at the bottom and eventually working his way up to the administrator/CEO roll he had for the last 25 years of his career.
Hardest Lesson Learned You cannot effectuate change overnight. Change starts by creating a high-functioning, high-engaging culture. At my first CEO job in Chattanooga, I tried too quickly to change what I saw was wrong. I had to have a wake-up call to realize I needed to take a step back, evaluate the culture, team and challenges ahead, and work on engaging the people in the organization to drive the change instead of doing it myself.
Important Leadership Skills First, be a good listener. By nature, health care leaders are Type A personalities who like to control and drive the situation. But great leaders take the time to listen. Second, you have to be a great communicator. Third, in health care great leaders have to be compassionate. And last, a great leader must have fun.
Northwest Florida Business Growth Continue to provide a great hospital that is one of the largest employers in Tallahassee, is the largest taxpaying entity in Tallahassee and provides cutting edge health care to help recruit large businesses/enterprise to the Big Bend area.
Scott Holstein
Fred Rabbath
Fred Rabbath, 25 Tallahassee
Videographer-Photographer/Linguist/Author/Technician/Graphic Designer Self-Employed
Business Philosophy Even big things have small beginnings.
My Work Entails I do several things, from inventing to making feature films and video commercials for companies such as McDonalds and Ace Hardware — as well as writing children's books.
Definition of Success Being able to make money with what you love doing.
Mentor/Role Model I have many, ranging from my father to Thomas Edison and Nikola Tesla. They were my role models because they worked through many obstacles and still were able to make something out of themselves.
Hardest Lesson Learned Having very little to work with shouldn't be an excuse. Get up and keep trying.
Important Leadership Skills The ability to talk. It's such an important skill set. It's an art to be able to encourage people without offending them, yet being able to give them constructive criticism. Talking to people and communication is key.
What advice would you give your 16-year-old self? School isn't everything. Education is important, but the real world is VERY different from school. In fact, when in school make sure you have something set up before you get out, because in today's world you have to be pretty unique to find a job or make one up all on your own.
My Inspiration Comes From Failing. It's an amazing thing that happens. When you fail, you learn so much more than when you win. Trial and error is the best teacher.
Northwest Florida Business Growth There is a problem in this area — not enough people are talking and working together. The only way to grow is by helping each other. This isn't a race, this is teamwork. It's the only way to grow as a community and focus more on all the great local talent and workers in the area.
Scott Holstein
Hemant Patel
Hemant Patel, 30 Quincy
Hospitality General Manager and Part-Owner, Holiday Inn Express & Suites and Parkway Inn & Suites
Business Philosophy People. Inclusion. Diversity. Service. Community. Profit.
My Work Entails Getting involved with every aspect of the business, making sure all of our clients leave happy and have enjoyed their experience.
Definition of Success True entrepreneurs are never satisfied. We always want more.
Mentror/Role Model Other than my mother, I would say David Gardner (executive director of the Gadsden County Chamber of Commerce). After I graduated, David kind of took me under his wing and would help give me direction and guidance. We have created a great bond. He helped me get connected inside of the community, and for that I owe him a lot.
Hardest Lesson Learned Don't over reach. The economy can take a turn at any given moment. You want to ensure your family is taken care of, no matter what situation.
My Career I grew up in hospitality, and anyone that knows me would tell you I love to be around people. And what better business? I get to meet 100 new people every day.
Important Leadership Skills Communication, planning, understanding strengths and weaknesses, empowering, setting examples, evaluating, counseling, understanding and identifying resources and teaching.
Northwest Florida Business Growth Get all the leadership together from all of the municipalities and counties, including the tourist development councils, economic development councils and chambers of commerce, and hold a forum to help us locate where we are and where we want to go. We would create a strategic vision with a five-year plan, broken down into key objectives and milestones to reach by year. We would look at everything, from the permitting process to the targeted business and industries we would be looking to bring in to where we want to locate these industries. We would create a promise for those industries that we target that they could be laying brick within three to six months if they choose to relocate their business within our economic development master plan. We as a community also need to do a better job of retaining the wonderful graduates that FSU, FAMU and TCC produce.
Scott Holstein
Sterling Scott
Sterling Scott, 27 Panama City Beach
Operational Management and Business Development General Manager, Covered Airport Parking
Business Philosophy Lead by example and inspire others.
My Work Entails I began working with the development team before Covered Airport Parking was little more than an empty plot of land. During the initial stages I was working alongside engineers, access control specialists and an array of different subcontractors, as well as some members of The St. Joe Company's development team. It was a fun and exciting period to assist in the creation of a multi-million dollar facility.
Definition of Success The ability to balance your life. It is easier said than done, but with all things in life there must be a balance. If you really think about it, no person can have true success without the proper balance of work, fun, family and faith.
Mentor/Role Model My father. His success in business is unparalleled from my perspective. He has helped guide me through life using metaphors and words of wisdom. As much as my father has helped me, he has also let me figure things out on my own, even if it is the hard way. But there is something to be said about standing on your own two feet.
Hardest Lesson Learned Perseverance and courage will lead to success. I learned this the hard way when I was skiing a downhill race in Grand Targhee, Wyom. The first year I attended this event I crashed and tore my knee. The second year I again crashed and dislocated my shoulder. The third year I finished and placed in the Top 10, earning a spot on the Western Regional Ski Team (representing the western half of the country). I later was nationally ranked in the Top 100 for my age group in alpine ski racing. If I hadn't had the perserverance and courage to face that race three times, I may never have succeeded in that third attempt.
Important Leadership Skills The ability to recognize what people's strengths and weaknesses are, including your own, in order to lead a team to success.
What advice would you give your 16-year-old self? Don't be so crazy. If you prioritize what is truly important in life, you will be ahead of the game tomorrow.
Northwest Florida Business Growth Communicate that young professionals and entrepreneurial-minded individuals truly have a unique opportunity to become successful in a beautiful and increasingly developed area.
Scott Holstein
Jonathan Tallman
Jonathan Tallman, 24 Niceville
Financial Advisor Owner, The Tallman Group LLC
Business Philosophy Always put the client's needs first.
My Work Entails Working with individuals and businesses to achieve financial security by offering insurance and investment products and by providing an independent perspective and the highest quality of service to clients.
Definition of Success Having a passion for what you do and helping people while you do it.
Mentor/Role Model My father, Michael Tallman. He has been extremely instrumental in teaching me leadership and business skills. Lessons learned from him include hard work, always be honest, do what you say you're going to do, follow through on things and always make time for your family.
Hardest Lesson Learned Value your relationships because life is short.
My Career I've always been a goal-oriented person. This career allows me to assist others in creating and meeting their goals for the future. So, it was a perfect fit.
Important Leadership Skills Authenticity, honesty, integrity and always doing the right thing — even when no one else is watching.
What advice would you give your 16-year-old-self? Always look for opportunities to better yourself.
Northwest Florida Business Growth Educate small businesses on how to plan for their future and leave a legacy for future generations.
What I plan to be doing in 10 years Expanding the business to a larger scale but not forgetting the people that allowed me to succeed along the way. I also plan to write a book on financial literacy and be raising support and awareness for organizations close to my heart.