Youth to Power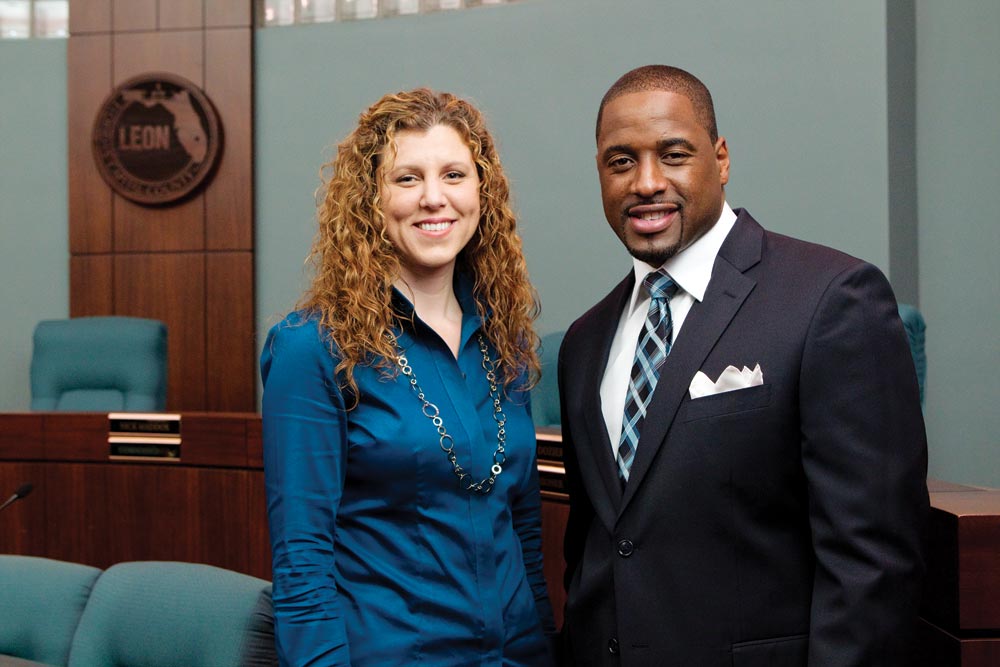 Meet the two fresh, new faces on the Leon County CommissionClick to enlarge
Youth to PowerDozier, Maddox Bring a New Generation's Perspective to the Leon County Commission Introduction by Lilly Rockwell
This year, the seven-member Leon County Commission looks a little more fresh faced with three commissioners under age 40, two of them just elected last year.
Kristin Dozier, 36, and Nick Maddox, 30, surprised many voters when they defeated experienced political veterans about twice their age.
Their election marks a swing toward Tallahassee's naturally young demographic. According to the U.S. Census, the median age in Leon County is 27.8, and a fifth of the county's population falls between 20 to 24 years old (a group perhaps not well represented in the past because young people traditionally don't vote in high numbers).
Dozier and Maddox recently sat down with Tallahassee Magazine to discuss their elections, agendas and the perspectives they bring as younger commissioners, albeit from different backgrounds. Dozier is a Tallahassee-based homebuilder raised in the unconventional Miccosukee Land Co-op. Maddox is a former NFL football player (and former Seminole star) who worked for the Bowden Foundation for Ethical Leadership as a fundraiser before launching his political career.
Both acknowledge the area's reputation as a great place to raise a family. But they also recognize that it gets knocked as a not-so-exciting place to spend your 20s. They lament the fact that so many college students leave the city upon graduation for population centers like South Florida and the Tampa-St. Petersburg area. Each wants to see more businesses relocate to Tallahassee and expanded nightlife and dining opportunities downtown.
Kristin Dozier Promoting Progress With an Eye Toward Sustainability

After reading the long list of accolades and accomplishments Kristin Dozier has accumulated over the years, one would never guess that the homebuilder-turned-county commissioner once had dreams of being a space shuttle commander.
Although she never quite reached the moon, Dozier always aimed for the stars. She co-founded Sustainable Tallahassee, taught religion at Florida State University and speaks to Girl Scouts and grandmothers alike about the importance of being good to the environment.
Today she sits behind an impressive desk that belies her humble beginnings. As one of the first-generation children on the Miccosukee Land Co-op, her family lived simply — she didn't have the luxury of air-conditioning until she was eight.
"We didn't have a whole lot of money," Kristin says, "… but it was incredibly enriching to live there."
During her early childhood, her father co-founded Mad Dog Construction. And years later, Dozier would go on to become the onsite superintendent for the company and embrace green construction.
As a student at SAIL high school, Dozier participated in the Tallahassee Democrat's Teen Democrat program, writing about what she and her peers were doing in the environmental magnet program. She didn't know it then, but her love of the Earth would play a large part in how she approached issues affecting the county where she grew up.
After studying theater and film at Tallahassee Community College, Dozier, who calls herself "habitually single," ended up graduating with a degree in religion at FSU, teaching what she learned shortly thereafter. It is through religion she has made a connection to politics.
"In retrospect, I really see that what I was most interested in was the motivation for making political and social choices," Dozier said. "Brick walls come up so fast when we touch on some of these very personal social and moral issues. There must be a way to talk about these issues without offending one another."
Dozier admits that although she is a fresh face and others may see her as a little green when it comes to experience, her skill for knowing how to approach others and talk about differences makes it easier to do her job.
After all, those qualities are what compelled people to encourage her to run in the first place. "I had conservatives and liberals coming to me and saying 'you should really consider this because you've got a message and you can connect with people … that's something we need on the commission,'" she said.
She doesn't intend to let them down. Dozier plans to bridge the gap between business interests and environmentalists by showing them that they're all concerned about the same thing: sustainability.
It is merely a matter of "… meeting the needs of the current generation without compromising the ability of the future generation to do the same," Dozier explained.
She also applies herself to making sure she has the foundation necessary to make a difference. Reading past county commission meeting agenda books has become a frequent pastime. "I want to look at the source documents. How did we get to where we are?" she said. "Where do we want to go from here?"
She admits she is excited to see what will happen in the future and is determined to make the county better. "Of all the things that I have done, this feels the most right," Dozier said. — Janeen Talbott
Nick MaddoxA Team Player Supports Leon County's Livability
One might expect former NFL player Nick Maddox to decorate his office with football trophies and sports memorabilia. Instead, the youngest African-American male elected to the Leon County Commission has opted for photos of past African-American leaders in the county and African masks that represent serenity and strength.
Maddox was elected last fall at the age of 29 (he's since turned 30) to an at-large seat on the Leon County Commission, unseating incumbent Cliff Thaell, who had held the job for 16 years. His election surprised some because of his youth and political inexperience.
His self-assuredness and manner give no hint of the troubled family life that marked his early years. Born the youngest of four in the small city of Shelby, N.C., he lived in a crowded home with no father figure, in a situation that became hurtful and traumatizing.
When he was seven, his mother found herself struggling to care for her children and two new additions to the family that came when both of his sisters became pregnant at the same time. His mother found solace in drugs and eventually left Maddox to care for himself.
"I was stuck in a situation where she had to decide whether she wanted to keep me or not. And she decided to let me go," he said.
His aunt, Patricia Maddox, came to his rescue.
"My life changed from that point on. She has been a profound influence on my life, and we have a really special relationship."
Patricia Maddox introduced him to the sport that helped shaped his life. "I remember her saying that she refused to allow me to just sit in the house," he said. "She made me pick a sport. That is when football came into my life."
Describing himself as an introvert, Maddox found it difficult to trust others. But once someone gained his trust, he viewed that person as his family, particularly those he met through football. "Although I didn't call them Dad, my coaches became a father figure and my teammates became my brothers," he explained.
Maddox came to Tallahassee, where he attended Florida State University, played football, joined Omega Psi Phi fraternity and worked toward bachelor's degrees in business and real estate. He spent three years as a running back in the NFL, playing for the Cleveland Browns and the Carolina Panthers.
After an ankle injury, he decided to return to Tallahassee to finish his undergraduate degrees, a promise he made to his aunt. He was surprised to find that he enjoyed the anonymity of college life, away from the glare of the NFL spotlight. He is married and he and his wife, Tina, have an infant daughter.
Being a football player mentally prepared him, Maddox said, for the Leon County Commission seat.
"There are six other individuals on this commission who have opinions and thought processes and have to make a decision as well," he said. "You can be biased while believing that you run everything — but that isn't true. You have to learn to work with other people, as a team."
Maddox has learned, through his time in Tallahassee, that this is one of the best cities to raise a family because "you don't have to worry about your kids — they are safe here."
Although he has plans that he would like to accomplish in his personal life, he feels he must put them on the back burner for now to focus on the people who voted for him.
Creating more jobs and encouraging businesses to relocate to Tallahassee are two of Maddox's many goals.
As a relative youngster on the commission, Maddox admits the pressure is high but he is determined to prove his lack of experience won't get in the way of improving Leon County.
"Any time a citizen votes for you, they're taking a chance and with that chance they are expecting you to represent them well," he said. "When the people voted for me, I believe they saw someone who had the passion to help people — someone who wanted change." — Bianca Salvant