You're never too old to compete in Tallahassee's Senior Games
Age is Just a Number for Senior Games Competitors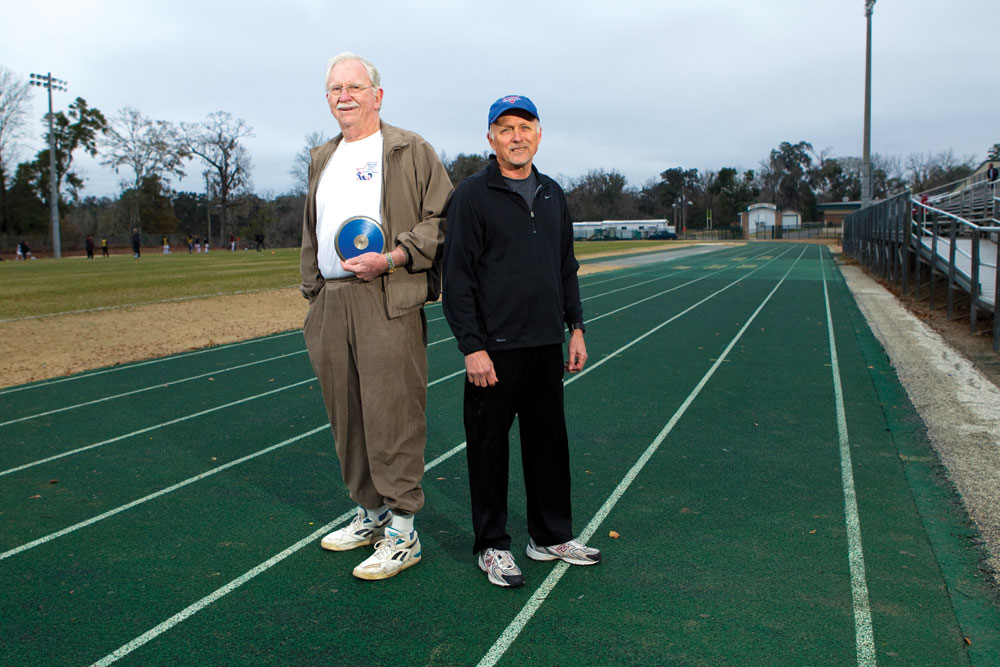 In the not-to-distant past, the word "senior" conjured up a picture of decrepitude, senility and stodginess. But look up the antonyms for those words to describe the athletes who participate in Florida's Senior Games.
There are runners, swimmers, tennis players, discus throwers and others proving that age is just a number.
"The label of senior athlete is becoming easier to deal with because we have some really competitive 50-plus athletes in great shape," said Nick Gandy of the Florida Sports Foundation, the Tallahassee-based agency that sanctions the Florida Senior Games. "We had a tennis match with two gentlemen in the 90-94 age group, and you are seeing more competitive athletes in their 80s. There is one lady who is in her 80s and she has won medals in four different age groups. She started in her 60s."
Florida's first senior sports competitions came in 1974 when the Golden Age Games were established in Sanford. Since then, Senior Games have taken hold throughout the nation and have continued to grow in popularity as the population continues to age. Bradenton was the site of the first Florida Senior Games State Championships in 1992.
To get involved in the Florida Senior Games, Gandy said you have to attend one of the 18 qualifying events held in cities around the state. Once qualified, athletes can go on to the state championship games held every December. National senior games are held every other year. Until recently, though, there were no qualifying games in Tallahassee, but that changed in 2010 with the advent of the Capital City Senior Games.
The 2011 Capital City Senior Games held in February selected senior athletes who will compete in the 2011 state championship in Polk County.
Tallahassee offered competitions in 16 different sports, including typical Olympic sports such as swimming and track and field, and a few oddities like Pickle Ball. The games are held at various sports venues around the city, Gandy said, which is convenient for local athletes who previously had to go to Jacksonville or Gainesville to compete.
"Now, with the local qualifier, there are more people from Tallahassee advancing to the state level," he said.
Rodney Letchworth said the Senior Games gives him a great excuse to get off the couch and meet people. He's been involved in the program since 1998, and he only slowed down briefly to mend from triple-bypass heart surgery in 2006.
"I enjoy it, it's fun," said the 75-year-old shot put and discus thrower, whose choice of competition harkens back to his Leon High School days. "I've won the state meet several times but the competition has gotten stiffer since I had heart surgery. But I've improved steadily since 2006."
Letchworth said discus was his main sport in high school and at FSU. "I enjoyed that one the most," he said.
Letchworth competed in high school from 1947 to 1953 but "put it down" for nearly 40 years after graduation. After retiring from the Marine Corps and a stint as a stockbroker, the Tallahassee native and his wife settled down in the mountains of North Carolina where, in 1998, he decided to pick up track competition again in the 55-59 age group.
"First year I won the local event qualifier in Franklin, N.C., and then won the state," he said. "And then I went to the nationals that year at the Disney Sports Complex in Orlando, and got fifth in the nation in discus and 10th in the nation with shot put."
In 2000, Letchworth and his wife moved back to Tallahassee — but he was disappointed to find that Tallahassee didn't offer qualifying events for the senior games. So he wound up going down to Kissimmee to qualify.
"I had to go to Kissimmee, Gainesville, The Villages … I went every place they'd take me to get qualified," he said.
And then, lo and behold, in 2010 that changed.
"This year was the first time Tallahassee had a senior game," he said. "It was wonderful. I won both categories here in May (2010). And the neat thing about having them in Tallahassee is for the first time my grandson came out and was in the section rooting for me. I gave him both medals I won that day."
Likewise, fellow Tallahassee competitor Bill Tharpe was glad to learn he could qualify in his hometown for a change.
"I used to go to the one in Gainesville, but (in 2010) they had for the first time a qualifier for track and field in Tallahassee," said Tharpe, 62, who entered the Florida Senior Games in 2003 when he was 54.
Like Letchworth, Tharpe said the senior games give him a chance to revisit skills learned in his youth that were set aside after high school.
Tharpe found out about the senior games after running in the 100-meter dash during an all-ages track meet at Maclay School in 2003.
"I ran faster than I thought I could run, faster for my age and that inspired me," he said. "I enjoyed it and looked for other places to run and that's when I found out about the Senior Games."
It's obviously a healthy activity for anyone who likes to compete, he said.
"You also make friends and frequently you'll see them year after year. That's always fun," he said.
Gandy said it's not unusual for "senior" athletes to hit the track for health reasons.
"You have a lot of people who have been advised by doctors that some sort of physical activity would benefit them and they take up a sport to accomplish that," he said. "The majority of them are just out to improve themselves. You have the very competitive athletes who want to win medals, but others set goals for themselves and just try to improve their performance with every competition they are in."
There are several age categories in the Florida Senior Games. Starting at 50, they go through four-year increments all the way up to 100-plus.
"You compete against people in your own age group," Tharpe said. "I'm in the 60-64 age group, but I've met some competitors in their 90s. I hope to be doing this when I'm 90. I hope to be in a position where I am physically able to compete in my 70s, 80s and beyond. I think a lot of people would enjoy it if they tried it. A lot don't think they can do it."
A lifelong resident of Tallahassee and a lawyer in the state Department of Financial Services, Tharpe said he measures his success by the age group he's in and the records set there. He set the state record for 100-meter dash for his age group in 2008.
"I would say if anyone enjoys running, in particular running at top speed, then they should look into one of these qualifying meets for senior games," he said. "And, of course, for someone over 50 you would want to work your way up, perhaps even get clearance from your doctor, but start slow and work up slowly and find other people to train with you."
Added Letchworth, "I tell you, I couldn't say enough things about (the games). I'm absolutely ecstatic that we have games in Tallahassee now. The more Tallahassee people we can get interested, the better it will be for all of us involved."
For more information, go to visittallahassee.com/seniorgames or call the Tallahassee Parks, Recreation and Neighborhood Affairs Department at 891-3866 (FUNN).
Choose Your Sport
Anyone older than 50 can compete to qualify for the Florida Senior Games in 16 different sports. They are:
Archery
Basketball
Billiards
Bowling
Cycling
Golf
Horseshoes
Pickle Ball
Power Lifting
Race Walk
Racquetball
Road Race
Swimming
Table Tennis
Tennis
Track and Field