Your Heart Is In Your Hands
February is American Heart Month – A Perfect Time to Appreciate the Importance of Maintaining a Healthy Lifestyle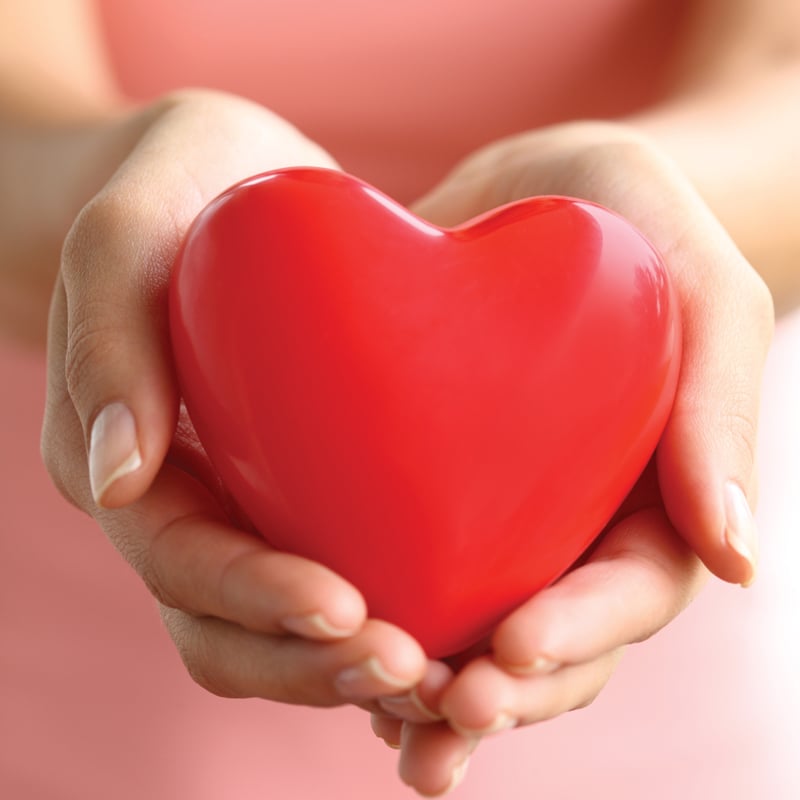 Two women offer two tales to take to heart.
Ironically, both work as nurses at competing hospitals in Tallahassee. But instead of providing care for their patients, they became the patients. Both learned the hard way that when you put yourself last, your health often pays the price. Specifically, your heart.
February is American Heart Month, and what better way to inspire you to go red than to share the stories of a couple of women in our community who want to inspire you to live life with health, happiness … and a whole lot of heart.
'I Love My Life Now'
Fifty-five-year-old Lucy Moultry has worked as a registered nurse in Tallahassee Memorial Hospital's Emergency Room for 21 years now. One morning 15 years ago she had just returned home from work. She wasn't feeling well and was having stomach pain, so Moultry asked a co-worker to take her to the hospital.
"She came and got me and we arrived back to the ER," Moultry recalls. "The doctor did an EKG on me. It was normal, so I was given a combination of three medications to coat my stomach and sent home.
"On our way, I lit up a cigarette and turned to my buddy and said, 'Oh no, what have I done?' And I started having a seizure in her car. She called 911 for help. The paramedics say I was basically dead. They took me to the cath lab (a hospital examination room with diagnostic imaging equipment) because my coronary artery was in spasm and they could not get it to stop. The doctors told my family and co-workers that it was in God's hands if I survived or not because they had done all they could. I was comatose, intubated and taken to ICU, where I was in a coma for two weeks."
She came out of the coma, and it took her a full three months to recover. Moultry started exercising a little every day, got her strength back and ultimately went back to work full time. Six months later, she developed pneumonia and went into congestive heart failure again. After a week in the hospital, she again recovered and went back to work. But that was the final wake-up call Moultry needed.
"I do believe I made everybody else and everything else but me a priority in my life at that time," she says. "I never smoked another cigarette after that first episode. I have changed my lifestyle. I gave up working nights, gave up smoking and finally gave up being the boss. I eat more healthy now and I exercise, although not as much as I should. But I try to not let it worry me. I love my life now, and I am more careful with it than I have ever been because I know better than most that in a split second it can all change. And sometimes I even spend my day off doing not much at all."
From Cardiac Nurse to Cardiac Patient
Just a short drive down the road from TMH is Capital Regional Medical Center, and that's where you'll find another dedicated registered nurse by the name of Lee Ann Melton. Last May, the 47-year-old was having indigestion and thought it was because she was eating on the run. Antacids usually took care of the discomfort.
Melton continues her story:
"I began to notice that I had some shortness of breath when walking my dogs and I tired easily," she recalls. "But I really began to notice these symptoms and could not continue to attribute them to my stomach or being out of shape. I found that my blood pressure was rather high, and I finally spoke to a cardiologist about my symptoms. I was put on blood pressure meds, aspirin and was scheduled for a stress test the following week."
The stress test could not be done because her blood pressure was too high at the time of the study. The doctor took a no-nonsense approach and scheduled a cardiac catheterization for the next day.
"Still in a degree of denial, I told my family and friends that it was no big deal; I would be going on vacation the next Sunday," Melton says.
But that vacation didn't happen. The cardiac catheterization showed Melton had a blockage in her left main coronary artery.
"My experience as a cardiac surgery nurse kicked in, and I realized that I was facing bypass surgery," she says. "This type of blockage cannot be fixed with angioplasty and stent placement, as two-thirds of the heart muscle is at risk during the procedure. Dr. (Harry) Rosenblum was called in and I was scheduled for surgery. The hardest calls to make were to my children in Orlando – that was when reality hit that I had heart disease."
Rosenblum started the open-heart surgery program at Capital Regional Medical Center in 1989.
"Lee Ann was a particularly special patient, as she actually started the open heart program with me and was instrumental in establishing our open-heart intensive care unit and providing ongoing education for our nurses," he says. "She was also our most trusted nurse and was always called upon during any difficult situation. I am sure the amount of stress experienced by her contributed to her condition."
Melton is now doing great and views her experience as an opportunity for change.
"I have developed a philosophy about having heart disease and cardiac surgery," she says. "My surgery was the gift of a second chance. At the age of 47, I can really make changes that will allow me to enjoy and appreciate the next 40 years of my life. It is a very precious gift, so it must be treated with utmost respect and care. When I get frustrated, I have to remind myself that I wouldn't trash such a 'special gift,' and that helps to keep me motivated. One of the greatest rewards has been to share my experience with patients."
Both Melton and Moultry's stories are good reminders of how easy it is to let your health take a back seat to your job, your family and everything in between.
"As we all know, heart disease remains our No. 1 cause of death in America today," Rosenblum says. "Staying heart healthy is of critical importance to all of us, and it is up to each individual to embrace this kind of lifestyle. There is a tremendous amount of easily obtainable information about being heart healthy, but it is the individual's personal commitment that is essential and probably the most difficult.
"I believe most of us already understand the importance of diet, exercise, smoking cessation, stress relief and knowledge of your family history and cholesterol as contributing factors to heart disease," Rosenblum says. "But again, each individual is responsible for (his or her) own care and commitment to health."
Knowledge of heart disease symptoms is particularly important for women, because there is quite a difference between the sexes.
"Fewer than 30 percent of women actually have chest discomfort, making their symptoms less predictable than men's," Rosenblum says. "More common symptoms are fatigue, shortness of breath, indigestion and even anxiety. Since there is a heightened awareness of women's
symptoms, they are being diagnosed and treated much more efficiently, allowing people like Lee Ann to continue helping the rest of our community remain healthy."
Heart Research's Tallahassee Connection
Researchers are making progress in the fight against heart disease. In fact, Florida State University receives hundreds of thousands of dollars in grants from the American Heart Association.
"My students and I have not just benefited from AHA funding, but also from meeting and learning from a great community of researchers through the American Heart Association," says Bryant Chase, a professor and chairman of the Department of Biological Science at Florida State University and a fellow of the American Heart Association. "The AHA supports a wide variety of research across several departments at FSU. The AHA makes a concerted effort in training graduate students and postdoctoral fellows, and by doing so is making a long-term investment in tomorrow's cardiovascular scientists. They are accomplishing amazing things today, but who knows what else they might accomplish 20 years from now?"
Brian Storz, a graduate assistant and current AHA fellow at FSU, says he is excited to be able to participate in this type of research.
"I think it is wonderful that the AHA is willing to take chances on research projects that are not directly related to cardiovascular research and are not on model systems," he says. "It really shows that the people of the AHA are a creative group, are willing to think out of the box, and are willing to try new avenues of research to ultimately achieve their goals."
We all play an important role in the fight against heart disease. FSU scientists conduct potentially life-saving research, Rosenblum works his miracles in the operating room, and Melton and Moultry are, in fact, miracles in and of themselves.
Whether it's in a lab, a hospital, a home or in our community, we must fight this killer and put our hearts into the cause.
Ways to Go Red in Tallahassee
Wear Red Day is Friday, Feb. 6

Get red-faced by taking a vigorous walk in one of Tallahassee's many gorgeous parks. Bonus points – take your spouse and kids with you!

Eat a red apple, cherries or strawberries.

Take the Go Red For Women Heart CheckUp at GoRedForWomen.org/HeartCheckUp. You'll receive a 10- year risk assessment for heart disease

and talking points for your next doctor's visit.

Encourage your company to participate in Wear Red Day. For more information, visit GoRedForWomen.org or call the Big Bend American Heart Association office at (850) 878-3885.

Host a Go Red For Women party at home or work and serve only healthy, red items such as diced red fruits, cranberry juice, and red peppers and cherry tomatoes with low-fat dip.

Don a red dress and share your personal connection to heart disease.

Leave red kisses on your children's face to show them how much you love them.
(Courtesy Emily Wingate Read, communications director, American Heart Association Greater Southeast Affiliate)
Love Your Heart: Tips for Daily Living
Look for 10- to 30-minute breaks each day to implement heart-healthy activities such as walking or other types of enjoyable physical activity.

Plan quick and simple healthy meals.

Know your family heart-health history.
Tips for Women at Work
Add extra walks to and from the water cooler.

Take 10-minute walks between meetings.

Use the stairs instead of the elevator.

Bring healthy snacks.

Take time for lunch and eat at regular intervals versus skipping meals.

Make time for physical activity – go to the gym and bring your favorite book or office materials to read, or work out at home watching your favorite show.
Tips for Moms on the Go
Plan meals in advance – visit americanheart.org for recipes from a number of heart-healthy cookbooks, and use the online grocery-list builder to quickly identify heart-healthy products to add to your grocery list.

Set up "physical activity time" every day.

Walk around your neighborhood or in your office.

Run up and down the stairs.

Do an exercise video.

Walk when doing errands and park farther from your destination.

Take your kids to the park and identify playtime activities that help keep

you fit.

Join a walking group or ask friends to join you in daily walking.

Work out when your child is at practice or extracurricular activities.

Exercise while watching your favorite TV show.
Tips for Traveling for Work/Play
Plan a physical activity routine.

irports and malls are great places to get in a brisk walk around the terminal or from one end of the mall to

the other.

Drink plenty of water.

ake time to stretch while on a flight.

Exercise in your hotel room – simple stretches or other exercise such as sit-ups and push-ups.

Take advantage of physical fitness facilities located in the hotel.

Pack heart-healthy snacks and fruits, and know how to manage your snack triggers.

Pack athletic shoes and comfortable clothes for working out.

For frequent travel, keep an extra pair of tennis shoes already packed in your bag.
(Courtesy Emily Wingate Read, communications director, American Heart Association Greater Southeast Affiliate)
---
Contributing writer Triston V. Sanders is an executive producer and news anchor for WCTV. Watch her televised medical segment, "Health Matters," weekday mornings on "the Good Morning Show" on WCTV.