Yesterday, But Relevant
Historical society embraces past as teacher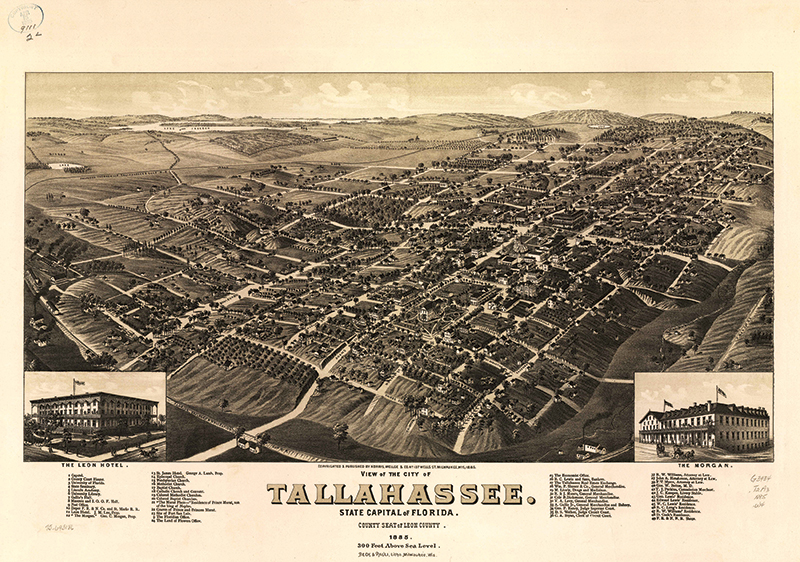 The worldwide influenza pandemic of 1918–19 was the worst outbreak of disease in modern history. While it came to be known as the Spanish flu, historians and epidemiologists have concluded that it likely originated in a Kansas hog-farming community and was exported to the world via soldiers who trained at nearby Fort Riley. The death toll reached an estimated 100 million people.
Five years after that pandemic receded, Tallahassee turned 100. A hundred years later, in 2019, an ophthalmologist treating patients in Wuhan, China, died at age 34 from COVID-19. Now, Tallahassee is about to enter its bicentennial year.
No one is suggesting that pandemics necessarily usher in centennial celebrations in Florida's capital city. But, said Sara Patterson, the marketing director and membership coordinator for the Tallahassee Historical Society, "It's funny how history repeats itself, isn't it?"
The Tallahassee Historical Society (THS) was founded in 1933, which makes it the third oldest such organization in the state. Only the Florida Historical Society and one in Jacksonville are older. The Tallahassee group is dedicated, in the words of its president Bob Holladay, to "investigating, presenting and advocating for the importance of historical knowledge and its interpretation in Florida's capital city area."
Holladay maintains as a favorite quotation one from the novelist William Faulkner, who once observed, "The past is never dead; it's not even past." Its influence and its relevance, as Patterson would suggest, are always current.
THS members first started meeting with an eye toward the 2024 Tallahassee bicentennial in 2019. Their meetings were conducted in person, then. That would soon change, but the group would carry on. There is no postponing an event tied to a day in history. In 2020, the THS moved beyond its own ranks to invite the city and county and other groups to join in meetings about the upcoming milestone.
"I'm really enthusiastic about the bicentennial; it's an opportunity to bring together a cross section of people to discuss the founding and history of Tallahassee and Leon County," said Dr. Larry Rivers, a professor of history at Florida A&M University, a member of the THS bicentennial committee and a man Holladay regards as the dean of Tallahassee historians.
While Holladay wants to ensure that bicentennial activities do not fail to focus attention on Tallahassee's history during the territorial period that preceded Florida becoming a state in 1845, Rivers and past THS president Doug Smith intend that the city's entire 200-year history be covered.
"We were the first group that came out and said, 'Hey guys, we've got 200 years to deal with and we've got only four years, so let's get started,'" Smith said, recalling a meeting that he and Holladay had with Mayor John Dailey.
"The bicentennial can address all aspects of history, including African-American history and women's history," Rivers said. "Women make up a larger percentage of our population than men, and we don't hear a lot about the contributions that women have made to the making of America. Early settlers came in contact with indigenous people, and we don't hear a lot about indigenous people."
For its part, the THS is embarking on five projects that are intended, in total, to bring about the wide cross section of participation that Rivers would like to see.
The THS is working toward the placing of 10 new historical markers throughout the city. At this writing, the subjects of several have been identified. (See bottom of this page)
Asked how best to make history engaging for a diversity of people including young people, Smith, Patterson and Holladay at first deferred to Rivers.
"I have always tried to make my teaching meaningful in terms of the lives of my students," Rivers said. "If I'm talking about, for example, the Reconstruction Period, I try to relate Blacks starting to vote and the challenges that they faced during Reconstruction to challenges that Blacks in certain states are experiencing in trying to vote today.
"When you look at issues from a broad perspective, you can make understanding and learning about history interesting and enjoyable."
Added Patterson: "What's so beautiful about history is the storytelling part of it. Our goal long term with the Historical Society is to share stories with a younger generation over time. If we don't, they are going to be lost and that's so sad.
"Like I said earlier, history repeats itself. We can always relate to something that happened in the past. Even though technology is here, you know, there's that human element to it, which I think is so beautiful."
As to the future of the Tallahassee Historical Society, there is reason for optimism. Membership has doubled to 200 during Patterson's tenure as marketing director. New members include folks that are well beyond the age of majority, yes, but are too young to remember rotary-dial telephones.
In March, Patterson, Smith and Holladay walked the Verdura Plantation in eastern Leon County and were encouraged by the turnout of members who joined them. The field trip was made possible by The St. Joe Company, which today owns the land where the plantation was developed by Benjamin Chaires, deemed to be Florida's first millionaire at a time when a man's wealth was calculated on the basis of the number of acres and slaves he owned.
Situated on 9,000 acres of land, the plantation house was a three-story, 13-room, 10-columned mansion. Chaires designed the layout of Jacksonville, then brought the railroad to Tallahassee and established the city's first bank. He was a delegate to the Florida Constitutional Convention. After he died in 1838, his youngest son, Charles, became the owner of Verdura. Charles, while involved in divorce proceedings, died mysteriously at the
St. Marks Lighthouse in 1881.
After Charles died, ownership of Verdura was assumed by creditors. The house burned in the late 1880s. Only rubble and a couple of columns remain today, but that was enough to stir the THS delegation.
"The house was built by slaves, and knowing that they worked the fields there and how they worked them, that was very moving," Patterson said.
"There has been only one book written about Verdura and Benjamin Chaires, and it was by a woman named Sharyn Heiland Shields, and I helped get it published through Sentry Press. Sharyn died in December rather unexpectedly, and so there was sort of a feeling that we needed to make the trip to Verdura for Sharon."
In such a way, the THS commemorated Shields' life and celebrated the work she did in bringing history to light.

The Historical Society has come to favor Amicus Brewing as a meeting place (above). It appreciates efforts by brewery owners to preserve the old waterworks building where the business is located. Photos by Erich Martin
---
HISTORICAL MARKERS
The THS is working toward the placing of 10 new historical markers throughout the city. At this writing, the subjects of several have been identified.
» One will commemorate the contributions made by Father James Page, a preacher who was born into slavery and went on to found the Bethel Missionary Baptist Church in Tallahassee and some 100 other churches in the Southeast. (Rivers has written a book about him.)
» A second will mark the meeting in 1823 between two territorial commissioners, John Lee Williams and Dr. John Simmons, who were tasked with finding a central location for meetings of the territorial government after one was held in Pensacola and another in St. Augustine. They met in the middle — Tallahassee.
» A third will be sited in the southside Belair neighborhood, an area to which people fled prior to the Civil War, Holladay said, to escape yellow fever.
Other THS projects timed to coincide with the bicentennial are:
» A lecture series, covering the full range of Tallahassee's 200 years.
» Theatrical performances that will reenact events in history including territorial debates.
» Development of a territorial Florida timeline for use in elementary schools.
» An antiquarian book fair.