Write A Book With The Tallahassee Writers Association
The group keeps authors and aspiring authors on target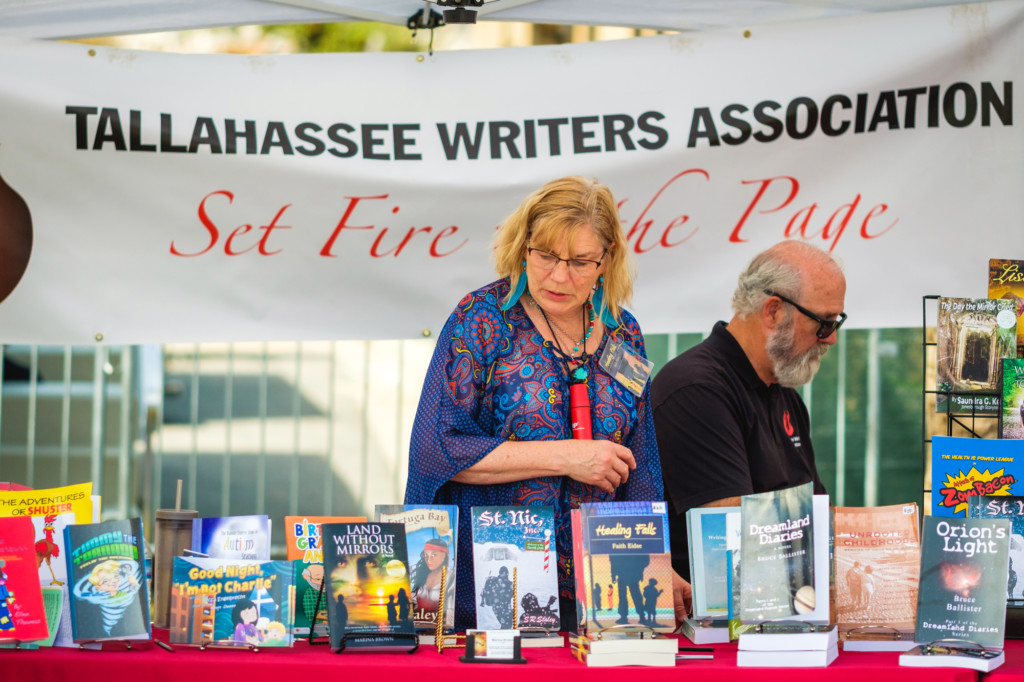 Ok, some of us don't go the child-route for reasons that are entirely personal.
And some of us only kill green things and don't like getting our fingernails smudged anyway.
But everybody, yes, everybody who is honest, wants to write a book. 
But getting on the New York Times Best Seller list isn't as easy as it should be.
And between the labyrinth that includes agents, publishers, marketing, and, oh yes, writing a tome in a cogent, properly punctuated and structurally literate way, means that a guy or girl might need some help.
And such a place has existed since the middle 1980s right here in the Capital City, in the form of the Tallahassee Writers Association.
Originally called the Tallahassee Nonfiction Writers Association, the organization was conceived by Matt Mathosian and Howard Libin when Libin, the publisher of a magazine called Business to Business, wanted a pool of articulate freelance writers.
Growing from its original 20 members, the group quickly doubled and tripled as other writers joined.
Newcomers included those with an interest in other varieties of the printed word.
Soon the group moved its monthly meetings to the Senior Center, later the American Legion Hall, and currently the Marzuq Shrine Temple at Tharpe and Monroe.
But why, given the solitary nature of sitting down to write words that one pulls from the air, is being part of a "writers group" important?
Donna Meredith, a former English teacher, and now an award-winning author, past president of the TWA and organizer of some of the large conferences that the group conducts, says she started trying to write a book in the early 2000s but knew that she needed input.
"Writing alone, you don't have enough feedback," she said. "You need readers, and you need critics."
The TWA puts together small groups of four or five who read each other's work and help to polish it or even change its direction when a piece has gotten off track.
Meredith says she thinks it's one of the most important functions of the TWA.
The TWA's Mission Statement trumpets "Education, Promotion and Outreach."
Expert speakers explore topics that include journalistic writing, poetry and fiction of all genres.
They share ideas on how to find a good editor and an agent, and they explain the differences between traditional publishing and self-publishing.
Speakers have included authors Leonard Pitts and Cassandra King and literary agent Donald Maass.
The Seven Hills Literary Review publishes members' essays and stories, while booths at the Downtown Marketplace and at the annual Word of the South literature and music festival promote and sell members' books.
The association offers competitions — the Seven Hills Literary Contest and Penumbra Poetry and Haiku Contest — that give members and others a shot at important recognition.
And recently, the Blue Tavern, a bar and coffeehouse in Midtown, has provided a venue for members to read their works of poetry, essay or fiction.
The organization today serves more than 200 writers, poets, novelists, journalists, children's book authors, students and others.
Members include authors such as Sam Staley, Pat Stanford, William Mark and Rhett DeVane.
They're a business expert who writes about pirates, an Air Force veteran, a policeman and a dental hygienist.
Each began with a thought, some words and a lot of fears as they faced their computers.
What they also had was the willingness to plow through draft after draft in the company of writing friends who know how it feels.
That means they're just like you.
Tallahassee Writers Association
To join the TWA, a 501(C)(3) nonprofit organization, visit its website: twaonline.org; Dues: Students: $25; Individuals: $35; Family up to three: $50; Supporters: $60
Marina Brown is a Tallahassee-based author, journalist and artist. She's a member of the Tallahassee Writers Association and a regular contributor to Tallahassee Magazine.