World Wide Window-Shopping
Etsy's E-marketplace Gives Local Crafters an Outlet for Creativity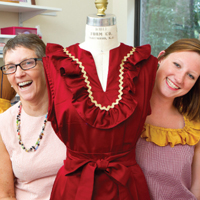 If you're looking for the perfect holiday gift, imagine shopping in a marketplace with more than 800,000 vendors and an average 40 million visitors every month.
Are your feet hurting at the prospect of such a massive mall? Take a chill pill — it's online. Etsy's e-marketplace is a do-it-yourself shopping platform that offers anyone the ability to have an online shopping window to sell handmade or vintage crafts.
Launched in 2005, Etsy has virtual storeowners from around the globe selling everything from handmade jewelry to furniture. More than three quarters of them are women working from home.
The site may be just what the economy ordered. By the end of 2011 sellers grossed more than $525 million in sales profit, and the site has been making a profit since 2009.
But what if you've made a vow to buy this year's gifts locally?
No worries. Etsy features a button labeled "Shop Local." When you type in "Tallahassee," more than 9,800 products pop up. You can narrow your search down to a more manageable number by typing in one of several categories such as jewelry, apparel, art or vintage. Some local vendors will waive the shipping fee and let you pick up or personally deliver a purchase.
Here are the stories of a few Etsy crafters and their businesses:
Mom-and-daughter team rock game day fashion
Rysa Ruth has always taken after her mom in the fashion department. Wanda Brown is a retired professor of fashion design at Florida State University.
In need of a creative outlet for their designs, they took their hobby to Etsy. The two formed a mother-daughter team and started making every Southern girl's closet essential — true-to-your-school game day dresses.
"We started with no expectations, really," said Brown, who, along with her daughter, makes on average five dresses a week.
Business picks up during fall football season, and the two have filled 100-dress orders to sororities that want to show school spirit. Not many high school seniors can say they've shipped handmade dresses to FSU, Texas and as far as California. With the shop's popularity kicked into high gear, local boutiques were clamoring for one-of-a-kind pieces.
"We've been thrilled with the interest," Brown said. "For us right now, though, it's probably not the best timing to expand." After all, aside from the booming fashion boutique, Ruth has to do what average kids her age are doing and apply to college.
"Etsy is a great community and a wonderful outlet for my creative hobby," Ruth said. "It's showed me that fashion is definitely something I want to pursue when I'm older."
Visit Rysa Ruth Designs on etsy.com for game day fashion.
Lifelong artist gets found through Etsy
Cathy Corredor is a master at upcycling. The artist takes everyday items and repurposes them into wearable works of art. In November 2010, she ventured to Etsy to give herself an online presence for the business and, so far, it's been turning heads.
Two years after joining Etsy and selling jewelry, she found herself on the phone with the Thomasville Center for the Arts, which had found her on the website by searching for a "Tallahassee artist."
Along with some of the area's most talented artists, she was asked to debut a recycled piece at their September 2012 event, "Flaunt: Upcycle Downtown." She made a dress fashioned entirely out of metal.
From pop-tops to metal screening and license plates to wire, the dress went down the runway along other "trash" treasures, including ones fashioned from car parts and paper. The dresses will be on tour for a year.
"It's outside my comfort zone, but it's a great opportunity," said the Tallahassee jewelry maker, who also sells in local shops like Sweet Patina. "It's been a blessing really to have Etsy; I've been grateful for it."
One of the reasons she loves the site is its ease of use — she says she's benefited from a seller's handbook, webinars, a community blog and tips on how to sell items.
"Etsy makes it easy. It gives me step-by-step instructions on how to build an Internet presence," she said. "If you have a website, it gives you more credibility."
The site also offers visitors a chance to view and vote on a feedback rating system. Out of 25 ratings, Corredor's is 100 percent positive. The reason she's been so successful on Etsy, she says, is because she has learned how to tag items very specifically.
"If you just tag 'green Swarovski crystals' or 'peridot' you're going to be one of probably 850,000 hits," Corredor said. "But if you type in 'FSU watch,' the only one that comes up is mine."
Indeed, the only searchable FSU watch is listed under Corredor's store, Catbangles ("Cat" for Cathy, "bangles" for jewelry). The watches are part of a series of wildly popular bracelets she sells made out of a coin base with pictures on top, attached with a resin coating.
"People always say, 'I've never seen anything like this,' and that's what you want," Corredor said. "Right now, I'm doing a bracelet for a woman who just got married and making a history of her husband with pictures on dimes; their first date, trip, wedding dance, honeymoon, first home." The woman found her on Etsy.
Creativity was always in the cards for Corredor. The niece (by marriage) of late, great cooking virtuoso Julia Child, she has been playing with her own creative conscience for many years.
"I can't keep my hands still," Corredor said. "I always have to be doing something. I've been that way since I was a kid. I couldn't just sit and watch TV, I had to be knitting or drawing or making clothes for my Barbie."
Though Etsy allows her some outlet for the creativity she's had since childhood, she still works in medical transcription.
"I might still be in the red, but it's rewarding to make a little money from the site," Corredor said. "It makes you feel good when people are willing to pay money for your art, plus I meet the most wonderful people because of it."
Visit Catbangles on etsy.com for Cathy's jewelry.
Business partners turned Etsy owners
Tana McLane and Sharri Moroshok were business partners for four-and-a-half years before becoming Etsians, attracting a strong following at their full-scale art gallery in Market Street, Humidity Gallery. The shop featured mixed media from more than 100 different artists.
When the economy went south, the duo packed up their crafts and parted ways in January 2011, taking their artistic endeavors to separate storefronts on the Web.
Faithful fans, however, never lost sight of the local favorites — Etsy made it possible to keep the Humidity alive, in two shops — McLane's is City Rustic Jewelry and Moroshok's is The Beaded Bead.
"The base that followed us with Humidity continues to find us on Etsy. It's been nice," said Moroshok.
Moroshok and McLane are known for mastering different media and frequenting national shows. McLane works in copper, bronze, sterling and brass and precious gems, which (quoting an old artists' joke) she says took her 25 years and an hour and a half to make.
Moroshok is renowned for her intricate beadwork, some of which has been featured in Lark Press's "500 Beaded Objects" book series. For these two art veterans, Etsy is not just a hobby; it's another chance at a local business.
"I have sold my art in every way you can possibly think of, and I'm making a bigger profit doing it this way than I have doing anything else," said Moroshok, who makes most of her money from selling supplies to other sellers. "I don't make a living, but I do make a profit."
That's a substantial feat, considering there are well over two million new items listed each month in the competitive market. Posting store progress on sites like Facebook and Twitter are sometimes critical for a new owner's survival.
"As soon as I started marketing on social media, the synergy started working right away," Moroshok said. "Social media is necessary; otherwise, you get lost because [Etsy] is so huge and new stores are opening every day."
With low fees (20 cents to list one item and 3.5 percent of the sale taken out for Etsy and Pay Pal) they found the site was user-friendly.
"If you compare that to the expense of a show or traveling to sell, it's just a whole different world," McLane said. "You'd have to pay that anyway for every sale you make unless you use just cash and checks, but increasingly in the world you have to take credit cards." McLane is so prepared for credit cards she even has a portable card-reader she can attach to her cell phone to make transactions on the go when she meets local and regional buyers that have found her through Etsy.
After pioneering the site, the two say even if they never get successful internationally on Etsy, it still does facilitate being a local business owner.
"It's really pretty brilliant," Moroshok said of Etsy. "Here I am, this little person in Tallahassee and I'm selling to people in Belgium and Australia and South America. It certainly keeps me busy."
Visit City Rustic Jewelry and The Beaded Bead on etsy.com to view McLane and Moroshok's work.