Word of South Festival Puts Tallahassee On Cultural Map
Don't miss this year's event, which takes place April 12–14 at Cascades Park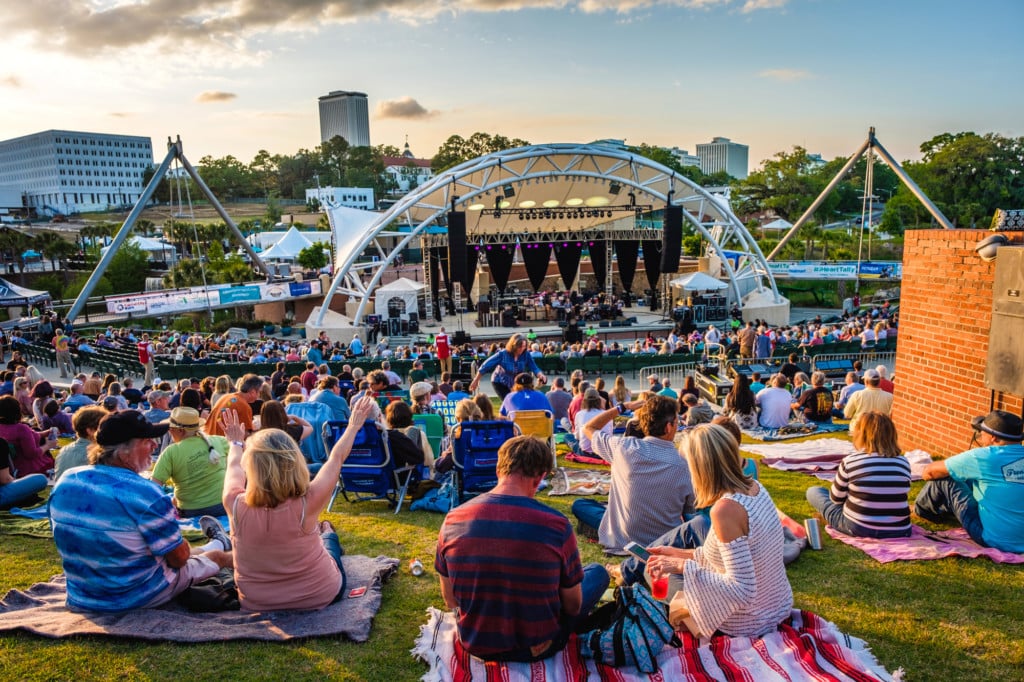 Springtime here offers a handful of safe bets. The azaleas will explode, the pollen will waft and the weekend festivals will delight.
From the Tallahassee Film Festival to PrideFest to the Southern Shakespeare rumpus — to name just a few — Tallahassee in bloom time offers a feast of outdoor parties.
The Word of South festival in Cascades Park has become one of the highlights in our jam-packed calendar. By its own telling, this three-day hullabaloo "features authors who write about music, musicians who also are authors, authors and musicians appearing together and everything in between."
Its unique character draws the kind of attention that could help make Tallahassee a must-visit cultural destination.
Visit Tallahassee estimated local economic impact of $1.1 million in 2018 from an event that cost Word of South, a nonprofit organization, around $300,000 to produce. That's solid ROI.
Even better: Everything is free. That is, except for a ticketed concert by a headliner act, which Americana singer-songwriter Shakey Graves will provide for this year's festival, April 12–14.
A popular family destination — this year the kids' program is highlighted by "Pete the Cat" author Eric Litwin — WoS literally offers something for everyone who cares about music, books or both.
Cascades Park's Bitter Southerner stage, whose 2018 overflow crowds have nudged this program to the big tent adjacent to The Edison, is curated by the popular online magazine's editorial team.
Expect the occasional yarn from founding editor Chuck Reece, back for his third festival appearance. Musical highlights this year include Allison Moorer, Tift Merritt and The Secret Sisters.
Author David Joy (The Line That Held Us) sits down with Alabama musician/artist Abe Partridge, and distinguished historian of Southern folklore Bill Ferriss shares a stage with Delta bluesman Cedric Burnside for a couple of musician/author pairings.
Mu-aushups, the WoS term for these mingles, are signature festival events. Sometimes a conversation or a ping-pong tradeoff of songs and readings — maybe both at the same time — mu-au-shups create room for the unexpected.
Catch writer/rapper Nate Marshall and novelist Ravi Howard for a deep dive into the intersection of hip-hop and contemporary literature or a conversation between alt-country cult fixture Matt Ryan and fantasy/sci-fi author Joe Hill (whose dad just happens to be Stephen King).
Hint: The Nigerian storytelling adventure with Tallahassee-based author Iheoma Nwachukwu and Atlanta-based singer/actress/storyteller Tosinger might be this year's hidden gem.
Local indie bookstore Midtown Reader hosts a stage featuring Pulitzer-winning historian Jack Davis (The Gulf: The Making of an American Sea), crime author Dan Ames and Tallahassee author and journalist Diane Roberts mixing it up with another Pulitzer winner, Gilbert King (Beneath a Ruthless Sun).
Yet another Pulitzer winner, Robert Olen Butler, will host Spencer Wise to hear about his debut novel, The Emperor of Shoes.
Top of my list is frequently awarded writer Maria Dahvana Headley; her latest, The Mere Wife, is a sharp feminist resetting of Beowulf in modern suburbia. I'll be first in line to get my copy signed.
Music? Glad you asked. John Sebastian and Steve Forbert deliver the classics; festival favorites The Currys offer rich and tight Americana harmonies.
Alt-scene comers The Deer, Maybe April, and The Sea The Sea bring melodious folk-pop, while New Orleans legends The Iguanas — the world's finest bayou/Conjunto fusion band — will fill Cascades Park with some swamp funk.
Anybody with a pulse will get up and dance.
Want blues? You already know local hero Bill "Sauce Boss" Wharton will serve up the spicy gumbo.
Less familiar is Jontavious Willis of Greenville, Georgia, dubbed by the legendary Taj Mahal as "the great new voice of the 21st century in acoustic blues." Do. Not. Miss.
Capping it all off on Sunday is John Paul White and Friends. With the crowd of pickers and singers on hand for the weekend, we might see some surprise guests join the ex-Civil Wars song man to bring the weekend to a close.
It would be fitting. Surprises are the best part of Word of South, whether you are discovering a new favorite artist or finding yourself chatting with one of your musical or literary icons.
Seriously. Something for everyone. Save the date.