Women4FSU
Nurturing the next generation of leaders, advocates and philanthropists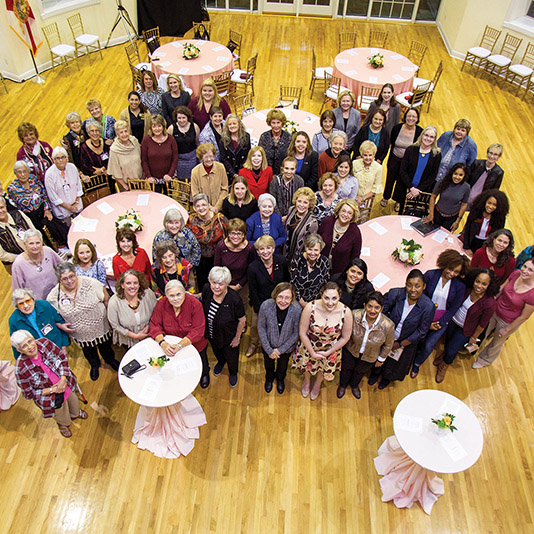 Women have played an important role in Florida State University's heritage from the time the school opened as a women's college in 1905 to today, when 55 percent of the student body is female. But it wasn't until 2008 that an organization was formed whose purpose it was to celebrate that heritage and to "cultivate women as leaders, advocates and donors for Florida State University."
This organization is known as Women4FSU.
Women as Leaders
"The Women's Leadership Institute engages everyone from artists to super-scientists, from students to experts," says Alicia Crew, Women4FSU's Student Engagement Committee chair. Each fall, Women4FSU collaborates with FSU's Center for Leadership and Social Change, directed by Dr. Laura Osteen, to present the Women's Leadership Institute.
This dynamic institute helps students
develop their leadership skills and embrace their unique talents and identities. Facilitators frequently include female FSU faculty and alumni.
Allison Bowden, an upcoming senior in marketing and business analytics at FSU, has been involved in the institute since her sophomore year.
"It helped me to understand that there are all kinds of leaders," she says. "It taught me to embrace who I am, yet be aware of the biases and challenges I face as a woman and leader."
Upcoming sophomore Kallayah Henderson, a first-generation college student studying interdisciplinary social science, went to the institute without really knowing who she was as a leader and what she was capable of accomplishing.
"I now understand that it takes a healthy self-esteem, authenticity, the development of relationships and capitalizing on differences … to effectively lead others," she says.
Janecia Britt, who recently graduated from FSU with an English degree, recalls the time she spent at the institute: "I felt validation in my experiences as a woman, an African-American and a survivor of adversity. Being surrounded by other women — taking in all of their stories and creating a bond through the obstacles of womanhood — was empowering, to say the least."
Women as Advocates
An advocate is a proponent or champion; and while Women4FSU certainly champions womanhood and women as leaders, the organization is also one of FSU's most devoted advocates.
"It's the 'for' in our name that's key," says Crew. "You don't have to be a student, graduate or spouse of a graduate to join us. You just have to be for FSU."
In order to be "for FSU" — to advocate for any cause or organization — it's important to know as much about that cause or organization as possible. That's where Women4FSU's annual Backstage Pass event comes into play.
"Backstage Pass allows women to get a glimpse 'behind the scenes' of some of FSU's greatest programs," says Sarah Coakley, a member of Women4FSU since its second year.
Attendees have enjoyed conversations with FSU athletes and coaches, tours of the Master Craftsman Studio, choral exercises with the School of Music,
juggling and tightrope-walking lessons with the FSU Circus and many more exciting opportunities.
As a Women4FSU-sponsored event, Backstage Pass also emphasizes the school's heritage.
"Backstage Pass enlightened me about the role women have played in the formation of the university and the role we need to take in its future," says Bowden. "Learning about all of the amazing developments that ››
are happening in departments throughout the university has helped me to feel a greater connection to FSU."
Backstage Pass helps women connect with the university and assists Women for FSU in accomplishing its goal of involving women in philanthropy.
Women as Donors
When money is tight, as it often is for students, the idea of engaging in philanthropy can seem out of reach. But the women who are involved in Women4FSU know that there is more than one way to give.
"If a woman is in a position where she can't give monetarily, she may be able to give in another way, such as contributing her time," says Sherrill Ragans, immediate past chair of the organization's executive committee. "But before she'll make any kind of a contribution, she needs to know the cause's backstory."
"Women give from the heart because a story touches them, not because they're impressed by the flashiness of a cause," explains Marilyn Spores, another executive committee member.
This understanding, that stories help women to connect with causes and each other, is one reason why, in less than 10 years, Women4FSU's membership has grown from a few individuals to over 1,000.
Today's Women4FSU
"We are open and inclusive," explains Cassandra Gross, chair of the executive committee. "We want to know your story. Then, if we can help you to hear the stories of other women and of programs on campus, maybe you'll join with us in membership in Women4FSU."
"You aren't alone in your journey as a woman," adds Britt. "Surrounding yourself with strong women can push you further than you've ever imagined. Share your story. It has the power to change the course of other women's lives."
To learn more about Women4FSU, visit w4fsu.org