With Every Season Mike Martin is Redefining Success
Celebrated FSU baseball coach continues to excel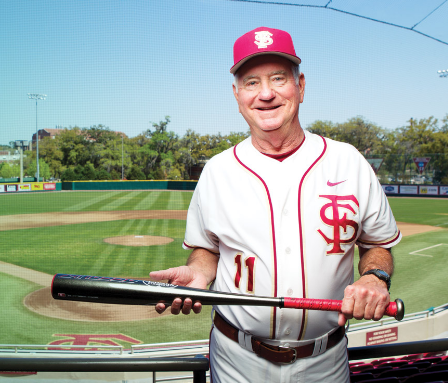 Mike Martin has spent almost half of his life as the head baseball coach at Florida State University. The 74-year-old skipper has led the Garnet and Gold for 38 consecutive years.
In 2014, he and his wife, Carol, celebrated a half-century of marriage. These are stats of which he is extremely proud.
And while others in his position might ride off into the sunset, "11" as he's known by most (it is his jersey number) relishes the opportunity to lead the 'Noles for as long as they will let him.
"My mom always told me, you are only as old as you feel," Martin said. "The game of baseball keeps me excited. I learn something on a daily basis if I allow myself to. Every day is fun as a coach. I still have that energy because I love what I do."
That love affair makes Martin one of the most popular and well-known faces on the Florida State campus.
He has been at Florida State so long that he was in the Seminole dugout before even Bobby Bowden stepped foot on the Tallahassee campus.
If there is a definition of success in your profession, Mike Martin is it.
"I'm just a small part of this," he says of his success through the years. "I like to think that we've tried to do things the right way and have been very consistent."
Seven different U.S. presidents have been in office since Martin was named head coach at Florida State in 1980. His teams have won Atlantic Coast Conference championships and have appeared in the College World Series 16 times.
You know you have succeeded in life when you work at a field named in your honor. Most coaches are honored posthumously, but Martin has been a witness to all the fruits of his success.
When the Seminole baseball team takes the field, they do so on Mike Martin Field. In 2007, he was inducted into the American Baseball Coaches Association Hall of Fame.
But from the outside, no matter how many wins or accolades he receives, there's always one question that everyone asks Mike Martin: Will Florida State ever win the College World Series?
The thought of winning it all in Omaha so consumed Martin that no one was allowed to say the word in his presence for a long time.
Chip Baker, a longtime assistant coach under Martin, asserts that despite what anyone says, that World Series championship would mean the world to the Seminole skipper.
"It would be the cherry on top of the sundae of his whole career," Baker said.
"It's a fair question," Martin said. "But I'm not obsessed (with winning a title). I don't beat myself up like I used to. The goal is to get to Omaha. I made up my mind … that I was not going to be Captain Ahab; I was going to work hard as I can, but I'm not going to allow winning a national championship or never winning one to define me. I want to be remembered as a guy that did everything he could to make a player better and at the same time see these young men become great fathers and, in some cases, grandfathers."
That's right, Mike Martin has been at Florida State so long, some of his former players have grandkids.
"I'm not going to allow winning a national championship or never winning one to define me. I want to be remembered as a guy that did everything he could to make a player better and at the same time see these young men become great fathers and, in some cases, grandfathers." — FSU baseball coach Mike Martin
His career at Florida State officially began in 1965 when Martin transferred to Tallahassee and played baseball for two years before graduating in 1966. (He would earn his master's degree in 1971.) But after a short stint in the minor leagues, he decided it was coaching that he had a real passion for — so he returned to Tallahassee in search of a job.
And one came open. It now seems far-fetched, but after hanging up his playing cleats for good, Mike Martin — one of the most successful college baseball coaches of all time — grabbed a whistle and became the head basketball — that's right, basketball — coach at Tallahassee Community College and then Godby High School, in Tallahassee.
"Those were great days," Martin remembers of his basketball coaching career. "I remember talking to my bride, and we were kicking around the idea of whether I wanted to (coach baseball at FSU) because I was the basketball coach at Godby. I went home and told her, 'I don't know if I want to go to FSU or not' because I knew what was involved. The hours would change and it would be a different lifestyle. She said, 'Are you crazy?'"
As Mike Martin always says, a happy wife equals a happy life — and he took his own advice.
His deep Southern accent and quick wit made him popular with his players and fans alike. Spend an afternoon on the golf course with "11," and you soak in decades of knowledge.
All the while, he's shooting in the 80s while you spend half the afternoon looking for a ball in the woods. He'll do it with a smile as long as it's your ball and not his.
"He hates to lose," said Don DeLoach, who played on Martin's first team at Florida State. "Whether it's golf, badminton, baseball — whatever — he wants to beat your butt."
He is also a great cheerleader and advocate who earns respect that lasts. Over nearly 40 years, Martin has given hundreds of dig-deep, on-to-victory speeches and has had the good fortune of coaching big name players including Deion Sanders, two-time World Series Champion Buster Posey, J.D. Drew, Stephen Drew, No. 1 overall pick Paul Wilson and now, Heisman Trophy winner Jameis Winston.
In fact, when Martin was in New York for Winston's Heisman Trophy banquet, he was recognized in Times Square as "Jameis Winston's coach" — a moniker that Martin embraces with open arms.
Chip Baker said everywhere he goes, people ask him about Martin, from average fans to sports superstars.
"I ran into Alex Rodriguez in Houston and the first thing he asked me was, 'How is Coach Martin?' I saw Charles Barkley on a plane — he says, 'How's Coach Martin?' Every person I know knows me through Coach Martin."
He's a teacher, an educator, motivator, cheerleader and family man. It's no wonder his son, "Junior," has stayed in Tallahassee for so long. He could have left for a head coaching position on numerous occasions, but you don't pass up an opportunity to work with Mike Martin — even if he's your father.
"That's how you draw it up, it's the American dream," said Mike Martin Jr. "You work your tail off, do things right and good things happen to you. It's amazing he's over 70 and still going strong with the fire and passion. He's a good man."
Speaking of Mike Junior, "11" says that having his son by his side all these years has been a blessing. Some of his greatest memories in the game involve his son — including one when, for one moment in time, Martin stepped aside as head coach of the 'Noles and took in the action as a dad.
"When we went to Omaha in '94, Mike Jr. was on deck and Doug Mientkiewicz was hitting and I'm flashing signs and all of a sudden I'm thinking there's Doug's mom and dad watching their son play and 50 sets of mommas and dads are watching their sons play, and they are getting to enjoy the fruits of those young men's hard work to accomplish what they have. I'm a coach, and my son is on deck and I'll be coaching him and I said, 'Dadgummit, when he walks up there, I'm not coaching, I'm going to sit there as a daddy and look back on the days we hit in the batting cage and enjoy this.'"
So Martin stopped coaching for a few minutes. He didn't give a sign to the base runners and didn't tell his son what to do. When Mientkiewicz singled, coach became simply dad and soaked in the moment.
"We were in the first-base dugout, and I looked around the field and looked at the 24,000 people and worked my way around the stadium," Martin said.
"I knew he'd be looking at me, and I did glance at him but I didn't acknowledge him. The third pitch, he hit a line drive up the middle for a base hit. Once he did that, I became a coach again; but that moment, being a proud father, is one I will never forget."