Winter Guests
Looking at — and Looking After — Tallahassee's Feathered Snowbirds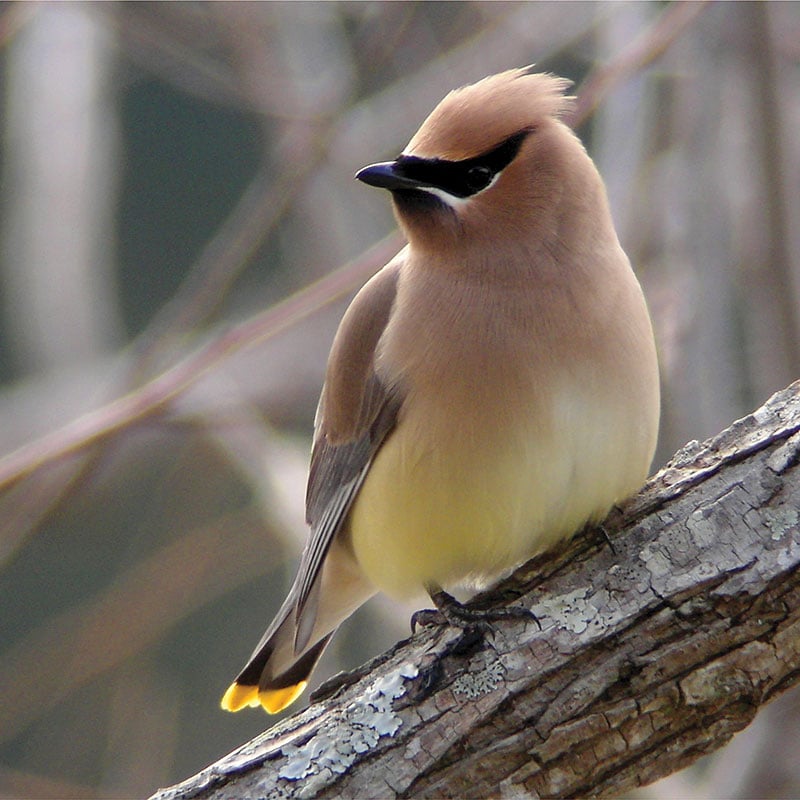 Florida's mild winter season attracts droves of visitors seeking a break from shoveling snow-packed driveways. Tallahassee and the rest of the Big Bend region also get their share of winter visitors, but instead of showing up in Winnebagos, they arrive in hosts, descents and even … murders.*
From all over the Northeast, these weary, feather-clad travelers come to enjoy North Florida's moderate temperatures and to forage on dogwood, black gum and tupelo berries. Bird watching enthusiasts call this "over-wintering." Chris Bittle, a naturalist for Birdsong Nature Center, located on Meridian Road four miles north of the Florida/Georgia border, says fall is when to begin watching for migratory birds.
"In early to mid-September through mid-October we start recording our migrants," Bittle said.
She said the early migratory bird species include blue-headed vireos, American redstarts, and the striking and unmistakable scarlet tanager.
Winter is the perfect season to help out our feathered friends, who may find it more difficult to find food than they would in the spring and summer. Bill Thompson III, editor for Bird Watchers' Digest and author of "Bird Watching For Dummies," offers some suggestions on attracting winter birds to your backyard.
* These names represent groups of sparrows, woodpeckers and crows, respectively.
Andrew Wraithmell
According to Thompson, cold weather creates the need for wild birds to seek fattier foods to produce energy. Suet, the solid fat from beef, is often sold in blocks next to the wild birdseed in supermarkets. Suet is a particularly popular food source for many woodpeckers. Place the blocks inside specially made hanging suet cages — or use mesh onion bags as a substitute. Wild Birds Unlimited, located at 1505-2 Governors Square Blvd., offers an easy-spread suet called Jim's Birdacious Bark Butter. This peanut butter-like substance can be smeared on the bark of a tree for easy feeding access.
Many backyard birds, such as the gray catbird, Northern mockingbird and red-bellied woodpecker, enjoy offerings of halved oranges, raisins and grapes.
The Northern Mockingbird
Andrew Wraithmell
Thompson also recommends investing in well-mixed birdseed that does not contain fillers such as red milo and wheat. Look for seed mixes that include a balance of sunflower seed and cracked corn.
Want to get festive with your bird feeding? Birdhobbyist.com offers holiday-themed recipes to create your own "tweet treats." Mix up a batch of bird-friendly cookies or stuffed pine cones, all with safe and edible ingredients. These all-natural "cookies" can be shaped into holiday ornaments and hung from tree branches.
Those who live in areas with a small bird population still can enjoy North Florida's seasonal visitors. Winter weather means thinner foliage, which makes bird spotting easier, so pack a pair of binoculars, wrap around a cozy scarf and hop on the Great Florida Birding Trail. A program developed through the Florida Fish and Wildlife Conservation Commission, it's not a walkable trail, but a collection of 489 exceptional bird-watching sites statewide.
New to birding? The program offers plenty of information, including regional checklists of year-round and migratory birds throughout the state. According to the Fish and Wildlife Conservation Commission, bird watching and other Florida wildlife viewing activities produced $3 million for the state's economy in 2006.
Tallahassee is part of the 16-county Panhandle region, and a comprehensive brochure of birding sites can be downloaded by visiting floridabirdingtrail.com. Nineteen suggested birding locations can be found in and around Tallahassee, and the Web site offers links to specific information about each one.
---
For more information on North Florida's winter birds, call Birdsong Nature Center at (800) 953-2473 or visit its Web site at birdsongnaturecenter.org. Interested in Jim's Birdacious Bark Butter? Visit Wild Birds Unlimited in Tallahassee, call (850) 576-0002 or visit wbu.com.
Bird-Watching 101
Where to Look and What to Bring
When Observing Our Feathered Friends
By Corbin Robinson
With a few supplies and hints on where to bird-watch, you'll be ready to observe hawks, ravens and blue jays in their natural habitats. Susan Teisciero and Mary Huggins, bird enthusiasts and owners of Tallahassee's Wild Birds Unlimited, offer tips and recommendations on what's needed.
First, the backyard is a great place for beginners to bird-watch. But to attract them, you need a few things to create an avian home away from home.
"There are four important elements to attract birds to your backyard," Huggins said. "You need food, a source of water, protection (from predators) and a place for nesting (bushes, trees, etc.)."
Depending on the type of bird, a bird feeder, fresh seed and birdbath often are all you need to create an oasis. But if you're willing to go into the wild, there are some local wildlife refuges that are perfect for bird-watching (also known as birding).
"Tallahassee is a fabulous place for birding and migration for birds," Huggins said. "We go to St. Marks at least once a month."
Other places that Huggins and Teisciero suggest are Wakulla Springs and Ochlocknee River State Park.
When you've settled on a spot, it's time to get your birding kit together. Basic supplies include the following:
Comfortable Clothing:

Make sure you are properly dressed for the weather and environment. Also carry bug repellant and a hat to keep the sun out of your eyes.

Binoculars:

Make sure they're strong, because you will be able to watch birds from a distance where they won't be disturbed. Remember: The higher the magnification level, the more light that is allowed in, enabling you to see the birdies more clearly. "Try the binoculars first before you buy them," Teisciero advised. "See how comfortable they feel in your hands." Quality binoculars start at about $50. Avid birders often upgrade to a telescope-like spotting scope.

Field Guides:

You have to know what you're looking for and what you're looking at. Guide books can help you identify birds, their features and migration paths. Some guides include tapes or CDs of bird calls. A suggested field guide is "Birds of Florida, Field Guide" by Stan Tekiela ($14.95 at Wild Birds Unlimited).

Camera:

It doesn't matter if it's digital or film, so long as you catch those birds in action.