Wild Greens Serves Up Hearty Fare All Day Long
Healthful. Local. Meatless.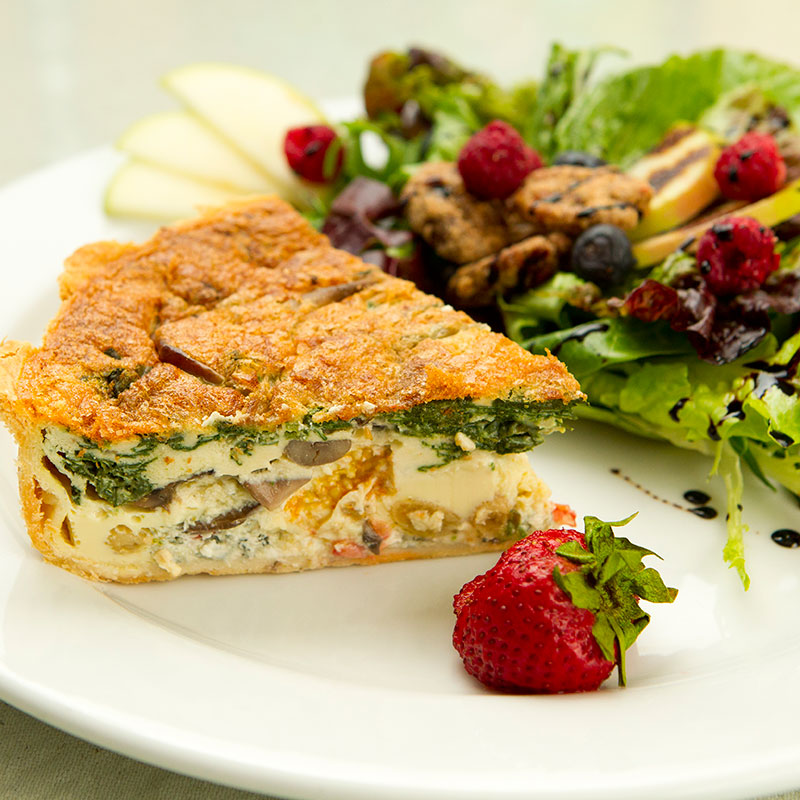 When she envisioned Wild Greens Community Café, owner Lia Chasar had great expectations.
With no experience as a restaurateur (Chasar actually has a Ph.D. in oceanography), she imagined a little café with a variety of freshly made, delicious, locally sourced meals that weren't too pricy. And it would serve as a showcase for local musicians, as well as a venue for cooking classes and community meetings.
A year and many 18-hour days later, Chasar's dream has been made real. Hidden behind the palmetto trees on Railroad Avenue, Wild Greens is a charming little café with a friendly atmosphere.
The bistro offers an ever-changing menu, based on what's available from several different local growers she works with, but every day there are several varieties of quiche, salads, flatbreads, soups, sandwiches and entrees to choose from. What the menu does not include is meat; all the menu items are vegetarian, and some are vegan and gluten free.
Chasar invites carnivores to give her fare a try: "I hope people will see that we're a good restaurant that just happens to be vegetarian — as opposed to a vegetarian restaurant," she said.
One of the restaurant's specialties is vegetable "sausage." The recipe includes apple, black beans, pinto beans, garlic "and a lot of other things, but I didn't try to make it taste like meat, I just tried to make it taste good," she said. "I try not to do fake things because that's where you tend to go wrong." Also on the menu is a "burger" with slow-roasted eggplant, mushrooms and caramelized onions as the main ingredients.
Chasar's son, a recent culinary school graduate who worked at an artisan bakery in North Carolina, moved to Tallahassee to help her open the café. He's since returned to North Carolina ("It's not that fun living with your mother when you're 27," she said.) and Chasar now creates all the restaurant's baked goods while two talented young chefs help out in the kitchen.
She bakes a variety of breads daily, which accompany the meals or are for sale by the loaf, as well as pastries — vegan cinnamon buns and scones are usually available — and a full menu of desserts (you're in luck if there's key lime pie or Morning Glory muffins in the display case).
Try not to get your heart set on just one menu item. Because the restaurant is small and the cooking is constant, items come and go on the chalkboard. Ditto for the wine and beer selections. But if you're flexible, there's always something delicious.