Wide-eyed in London
History and opulence wow a young visitor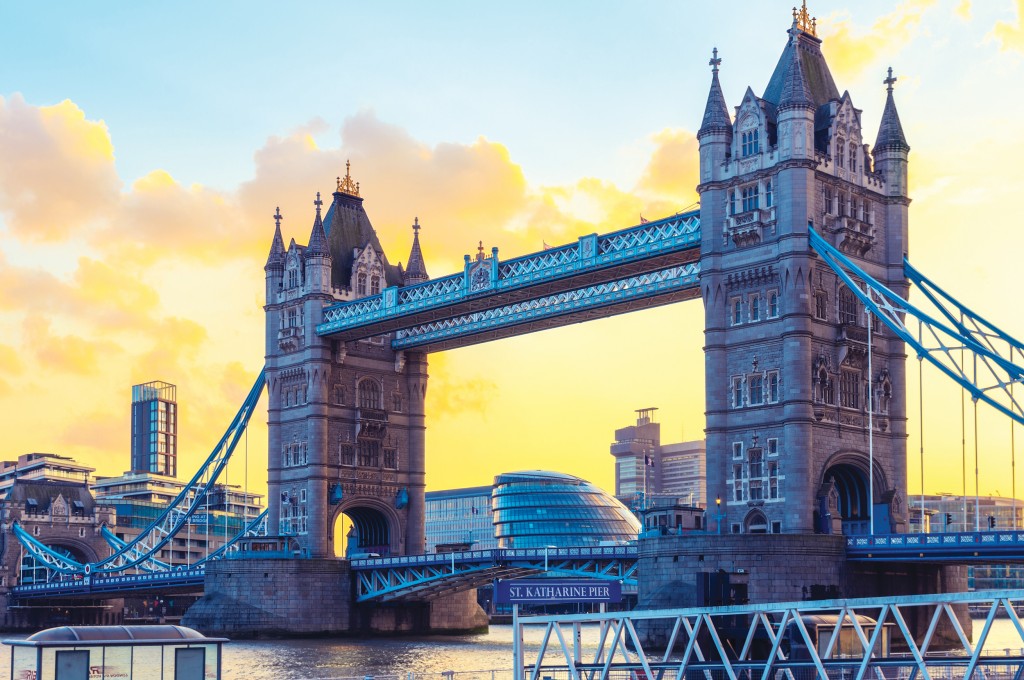 I finally got my ticket to Platform 9¾.
Sort of.
I was boarding a real plane, not a fictional train — a Delta flight to London, a city I had dreamed about visiting since, at the impressionable age of 8, I discovered the magic of Harry Potter and the Sorcerer's Stone.
I was a senior in high school when I performed well enough in a competition at a cheer camp to qualify for an opportunity to participate in a New Year's Day parade through the center of London.
For the first time, I would be traveling internationally by myself and dealing with foreign currency.
On the overnight flight, I combatted nervousness by watching Harry Potter, of course, over and over. Any chance I had at getting sleep was erased when the lady seated next to me had a seizure.
But, with surprising quickness, my anxiety and fears dissipated when I connected with foreign soil.
Follow along as a jet-lagged 18-year-old explored Big Ben and more.
Day 1: An Evening Stroll
After checking in at our hotel on St. Katherine's Pier, a group of us decided to go for a walk and familiarize ourselves with our surroundings.
The Tower of London was decked out for the holidays, and its courtyard had been made into a large ice-skating rink. We stopped for dinner at Wagamama, where I tasted the best gourmet ramen I've ever had.
We walked along the River Thames, gawking at bars, restaurants and shops. Our group leader brought us to a sudden stop when we realized we were standing in front of the Globe Theatre. The recreated, but historically accurate, building features a museum that is chockablock with props and costumes.
I was selected from the audience to try on a 300-year-old costume from Hamlet.
→ Did You Know? No one was harmed when the original Globe Theatre burned in 1613 as the result of cannon fire. A man's pants caught fire, but a bystander put out the flames with his beer. Talk about a good Samaritan.
Day 2: Buckingham Palace
Along with about 60 giddy cheerleaders, I boarded our private motorcoach to explore the city with a local guide. She supplied us with a history of London, noted the contrast between cobblestone streets and modern skyscrapers, and pointed out Parliament, Big Ben, Westminster Abbey and The Shard, London's major financial district.
We got off the bus for a few photo ops. My favorite was in front of Buckingham Palace. We witnessed the Changing of the Guard ceremony, a highlight for sure. The Queen was in residence so we did not get the opportunity to tour inside, but I bought some items from the gift shop to remember the day by.
I ended my night at a local pub where I tried my very first fish and chips. I was surprised at how delicious the meal was, but my enthusiasm for it waned after I logged it into my health tracker. Tip: Leave your fitness trackers and apps behind when traveling.
→ Did You Know? Buckingham Palace is open during the summer for visitors while the Queen visits Balmoral Castle during her annual summer holiday.
Day 3: Tower of London
You can spend the entire day at the Tower of London, and that's exactly what we did. We started out touring the ruins of the tower that protected London from enemies in 1066. From the prisons to the armory, there is much to take in.
On display were full suits of armor from different centuries, medals of honor adorning the walls, even replicas of horses lined up ready for battle.
The most coveted feature of the Tower of London is the Crown Jewels exhibit. I was stunned by a space that sparkled with gowns, jewelry, crowns and more. At the time, the crowd was focused on one particular piece in the collection, the "Queen Elizabeth the Queen Mother's Crown," which Kate Middleton will wear when Prince William is crowned King at his future coronation.
I was momentarily disappointed in knowing that I will not be marrying a prince, but that feeling passed as I made my way over to the London Eye. The views of the city from the top of the Eye are breathtaking. I highly recommend purchasing tickets for both daylight and nighttime visits.
→ Did You Know? There are over 23,500 jewels on display at the Crown Jewels Exhibit.
Day 4: Windsor Castle and Harrods
Visiting Windsor was the most memorable aspect of my trip. The day was gloomy and rainy, but nothing could drown my spirits. Never had I encountered such lavishness from the gold crown molding to historic portraits of kings and queens.
Every detail was perfect, ornate and immaculate.
The Queen and her family traditionally spend their Christmas holiday at Windsor. You can even time your visit so that it coincides with her time there. (Hint: It's all about which flag is flying.)
We capped off our night exploring Piccadilly Circus and browsing through Harrods, a major department store. I texted my mom and asked if I could buy my prom dress there. She said no. I went home with a keychain instead.
The city streets were alive with revelers as midnight neared.
→ Did You Know? During World War II, Windsor Castle was home to Princesses Elizabeth and Margaret Rose while their parents supported the war effort in London and around the country.
Day 5: The Parade
Parading through London in the Queen's New Year's Day parade, I encountered the flags of many nations and countless smiles.
Here we all were, speaking different languages and with different goals in life, but together in a spirit of celebration and hope for the year ahead.
The day after the parade, I headed back to the States, but as my favorite wizard says at the end of his first year at Hogwarts, "I'm not going home, not really."