Why Women Are Cutting All Their Hair Off
Long Story, Short Ending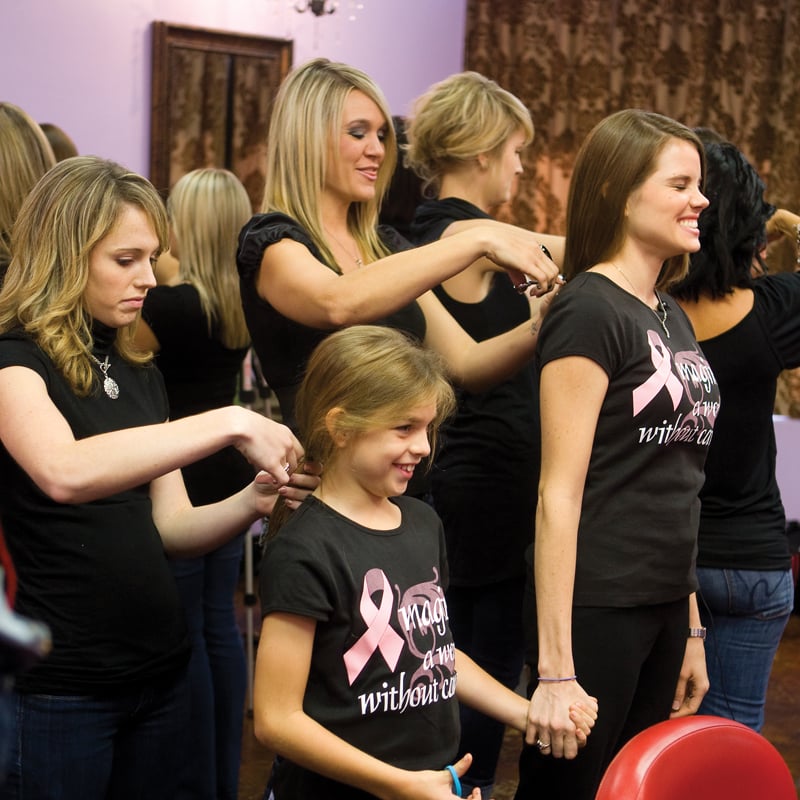 With a few snips of the scissors, six women gave a very personal gift – multiple inches of their own hair – to breast cancer patients. In October, the group convened at Envy Salon on East Tennessee Street to carry out the plan they'd hatched a year ago.
Kristen Snyder, 35, a physician's assistant at Southeastern Plastic Surgery, was the one who started it all. She had already donated her hair twice – once to Locks of Love and once to Pantene PRO-V's Beautiful Lengths program. Both create wigs for women who have lost their hair through cancer treatment.
Snyder wanted to donate to Beautiful Lengths again, but decided that this time, she'd get more women involved.
"We decided to do it in October because it's Breast Cancer Awareness Month," Snyder said.
The group of six, which included Snyder, Rebekah Mayfield, Lauren McNally, Tracey Hensley, Helen Kirbo and Katie Carson, range in age from 8 to 35. Mayfield, McNally and Hensley work with Snyder at Southeastern Plastic Surgery. Carson is Snyder's sister, and Kirbo is the daughter of surgeon Dr. Ben Kirbo.
McNally's mother was diagnosed with cancer after she decided to donate her hair, so the gesture became even more meaningful.
Envy Salon stylists donated their services to create new dos for the donators. Salon coordinator Erin Donnelly said the women were excited when they came in to get their hair cut.
"They all had the same (breast cancer awareness) shirts on," she said, "and it was like this great thing they did together."