Why Boston Should Be Your Next Vacation Destination
Beautiful Boston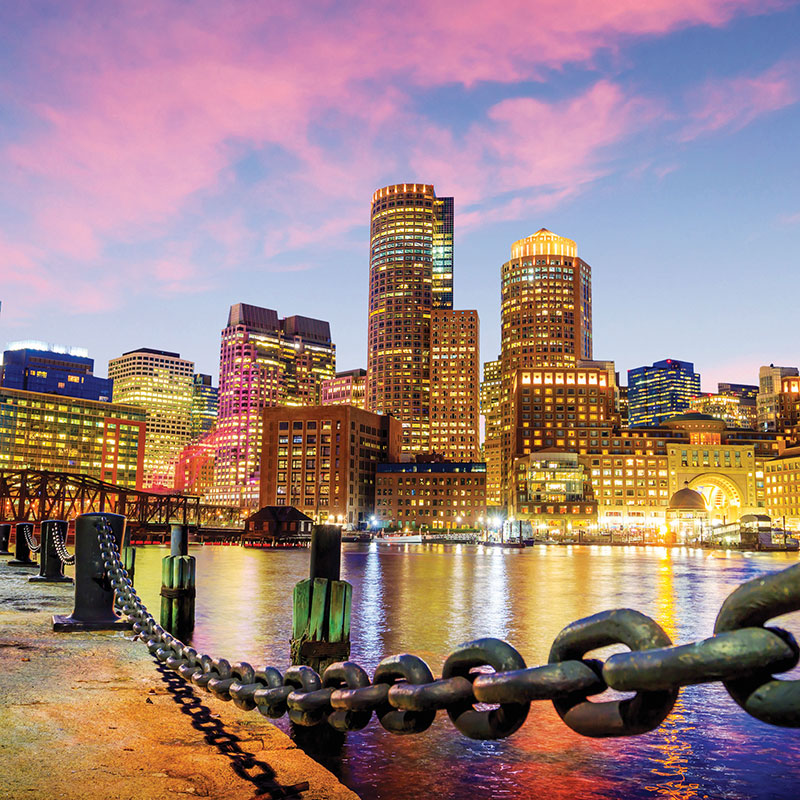 When concocting the perfect getaway, there's a recipe that never fails.
Just combine two parts cultural and historic happenings with one part culinary adventure. Add a splash of waterfront access. Sprinkle in major league sporting events and boutique shopping to taste. Allow ingredients to marinate for a minute, and voila!
Out pops Boston.
A decidedly youthful city, Boston's winding (though never sleepy) corridors make it a delicious destination for wanderers. Street after cobblestone street, Bostonians provide locals and visitors alike with an array of entertaining and enriching pastimes. Everywhere one turns, private art galleries, fine and casual dining establishments, fun excursions and eclectic shops abound.
And if you like the water, Boston's authentic nautical vibe cannot be beat.
"I think it's great in all seasons," said David O'Donnell, media relations manager of the Greater Boston Convention & Visitors Bureau. "Of course it's well known in summer, and in fall with the foliage, but it is a town of four seasons. Throughout the year we have great museums, cultural scenes and performing arts."
Whatever is on your traveling menu, Boston's bustling streets full of living history, "wicked good" seafood and cozy brownstones are sure to hit the spot.
Founding Fathers
Bostonians' unwavering dedication to the Red Sox might play a part in their reputation as a prideful bunch, but their sense of self-respect stems from something much more than the obvious.
History has everything to do with it.
"Boston is the birthplace of the American Revolution," said Judith Karlaora, a longtime Bostonian and a historic interpreter/tour guide along the city's famed Freedom Trail. "America began in Boston."
She's right. As the Thirteen Colonies' first major metropolitan hub, much of our nation's earliest history resides in Boston. A stroll along the city's well-designed Freedom Trail, which ushers walkers through decades of colonial and early American history, will prove it.
You'll be amazed at what you can see.
For example, in the middle of a congested intersection, alert onlookers will note where the first snowballs were thrown during the Boston Massacre of 1770. Those were the balls of ice that goaded the American Revolution.
Farther up the trail, situated between luxury high-rise condo buildings, swanky office suites and an active law school, is the Granary Burying Ground. Beneath lots of trees lie the remains of John Hancock, Samuel Adams and Paul Revere as well as approximately 5,000 other souls, although only 2,300 burial markers are present.
Boston Common. Bunker Hill. Faneuil Hall. King's Chapel. It's all right there.
"The Freedom Trail is a series of incredible stories," said Karlaora, who spends her workdays portraying Deborah Samson, the first woman to enlist in the U.S. Army. (She was discharged — honorably — after her gender was revealed.) Like her fellow tour guides, Karlaora has thrown herself into her role completely.
In contrast to many other areas of historic significance, Boston has managed to build up and around its past while simultaneously preserving it. Visitors will see no tourist traps or flashing lights in the "City of Notions" — only small, tastefully placed plaques. For those hoping to soak in as much information as possible, a guided tour could be a wise investment.
Fun
Convenient, compact and buzzing with creative energy, Boston is more easily managed than some other Northeastern destinations. First-time visitors will be pleased to learn that many of the city's biggest attractions are within steps of one another.
For those on the hunt for culture, museums with exhibits ranging from the Boston Tea Party to contemporary art and John F. Kennedy are open year-round. On the southwest side of town, the Museum of Fine Arts and the Isabella Stewart Gardner Museum are less than a half-mile apart. Parks and attractive student living quarters fill the space between, making for a beautiful walk when weather permits.
Though not as stately as the Museum of Fine Arts, the Gardner Museum fills an unexpected niche. Situated in a residential neighborhood, its brownstone exterior contrasts with the displays patrons encounter inside. Guests are encouraged to take in the museum room by room, as if touring a great house.
"I think that the kinds of experiences that people have (here) feel different than what they might have in other museums," said Corinne Zimmermann, director of visitor learning at the Gardner. "I think part of it is that the museum, itself, is an intimate, domestic space with incredible works of art."
With a sun-drenched courtyard and a static collection that warrants multiple return trips, the fact that the most (monetarily) costly theft in U.S. history occurred on the grounds of the museum in 1990 is an unfortunate, albeit extremely interesting, footnote. (If you don't know that story yet, it's worth a Google.)
For those in search of a different kind of fun, a ride through downtown onboard a certifiable Duck — yes, that's an aquatic truck that transports riders from land to water and back again — is an entertaining way to get acquainted with the city.
A true on-the-water destination, Boston is more than just a walking city. Adventure seekers will find sailing, windsurfing, paddleboarding and kayaking activity right in the heart of the city in the Charles River basin.
Food
Fresh or fried, steamed or sautéed, Bostonians love their seafood. With selections that could put many of Florida's ritziest oceanfront establishments to shame, Boston's culinary scene comes alive during the city's warm summer months.
According to Tallahassee's John Minas, the executive chef at The Edison and a native Bostonian, Boston as a food destination is a delectably immersive experience.
"I'm health-conscious and all," said Minas, "but a buttered, toasted potato roll with a mayonnaise-based lobster salad and some tarragon and celery — it's what I live for. It's one of my favorite things to do at the beach: a lobster roll and a Sam Adams. That's the dream."
If you find yourself in the city during cooler weather, worry not. Lobster rolls might not be as plentiful, but the clam chowder will be a-flowin'.
Not a seafood lover? Not a problem. Boston's famed North End is full of Italian cafés and pizzerias that would delight even the pickiest of eaters. The city's Chinatown, located near the Theatre District, is also a vibrant and highly recommended Epicurean setting.
With more than 100 institutions of higher education in the greater Boston area, it's easy to locate dining options to suit every palate and pocketbook. After all, this is a city accustomed to catering to business executives, college students, Harvard Law professors and Patriots fans alike.
"To me, the best thing about the food scene in Boston would be the ethnic diversity and the cultures that you can experience," added Minas, who achieved celebrity chef status during his tenure as the executive chef at the Florida Governor's Mansion. "There's many different kinds of venues to celebrate all different kinds of interests and needs. I love the diversity of it all."