Brush & Palette: Where Young and Old Make Masterpieces
Unleash your inner Picasso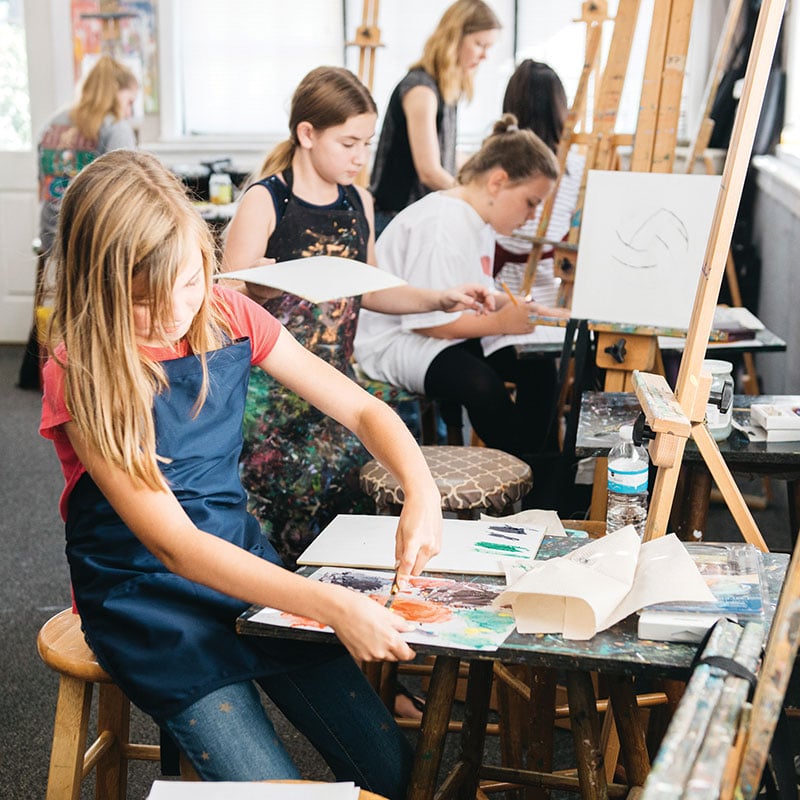 The parking lot was full, so lots of people must be inside the charming, veranda-fronted building at the rear of the Market Square quad of businesses. I pictured men and women, here at the Brush & Palette Studio and Frame Shop, creatively slinging paint and from time to time shouting, "Eureka! A masterpiece!"
But instead, while masterpieces may have been in the making, inside were more than 30 very quiet children, shoulder to shoulder, circling large tables and desks, each bent over their work, choosing colors, squinting for perspective, adding details, and it seemed, totally and blissfully involved in using their imagination and adding to their skills.
Just what Brush & Palette art studio owner, Tyler Cintron, knows happens when 5- to 8-year-olds are given some direction, varied media and an atmosphere far from an electronic device. While this age group is focused on working with paints, clays and collage, she says there are classes for pre-schoolers, oil painting instruction by the time a youngster hits 10, and adult classes in a variety of mixed media and skill levels.
And if an ambitious and artistic woman who also saw family life and motherhood as her highest calling were asked to describe the perfect place to be, that woman, Tyler Cintron, would say, "owning the Brush & Palette."
"I studied fashion design at FSU and knew that before I settled down I really wanted to give New York a try." And she did — working behind the scenes for Malia Mills, a swimwear designer in Manhattan. Meanwhile, Tyler Cintron was willing to wait. Her future husband had followed her to New York, supporting her dream. Three years later, their dreams merged and the now married pair moved back to hometown Tallahassee, ready to begin a family and put down roots.
When local artist and then-Brush & Palette owner, Pam Talley decided to sell her business the Cintrons jumped. "I'd always wanted to be a stay-at-home mom, own a business, and do art — together. This was truly a dream-come-true." Eleven years and two children later, Cintron hopes to grow the Tallahassee landmark to offer even more types of art courses.
Cintron glances around the studio, a clutter of canvases, stacks of paper, jugs of paint and art on every wall and says, "Knowing that children who've studied here are going on to win awards at the local and state level and be accepted into prestigious university art programs is thrilling. But even if art is only a hobby, a fun outlet, something they pick up and put down throughout a lifetime, it is enriching and valuable. Art is here to make your spirit grow!"
---
Brush Strokes 
Teachers at the Brush & Palette include Eluster Richardson, Olivia Samper, Karey Mortimer, Penny Anderson and Charlotte Forehand. While summers are busy with up to 500 children enrolled, the school year sees enrollment of approximately 100 children and 30 adults.
Classes are offered in oils; acrylics; watercolor; printmaking; cartooning and small sculpture. Home-school students come for classes, and there are other special groups including birthday parties, scouts earning art badges and custom classes for 6–10 people.
Brush & Palette owner Tyler Cintron may have paused recently to celebrate the business's 40th birthday, but she has ambitious plans for the next 10 years as space becomes available. "I'd love a complete art center," she says. "A place where you could learn all of the fine arts. I'm thinking kilns, larger sculpture, glass blowing."
Her dreams keep coming, and so far, the mom/entrepreneur/artist is making them come true.
---
Where: 1379 Timberlane Road, (850) 893-1960, brushandpalettestudio.com for classes