Where to Go Out Dancing This Weekend in Tallahassee
Whatever Style Suits You, Here's Your Chance to Get Out and Dance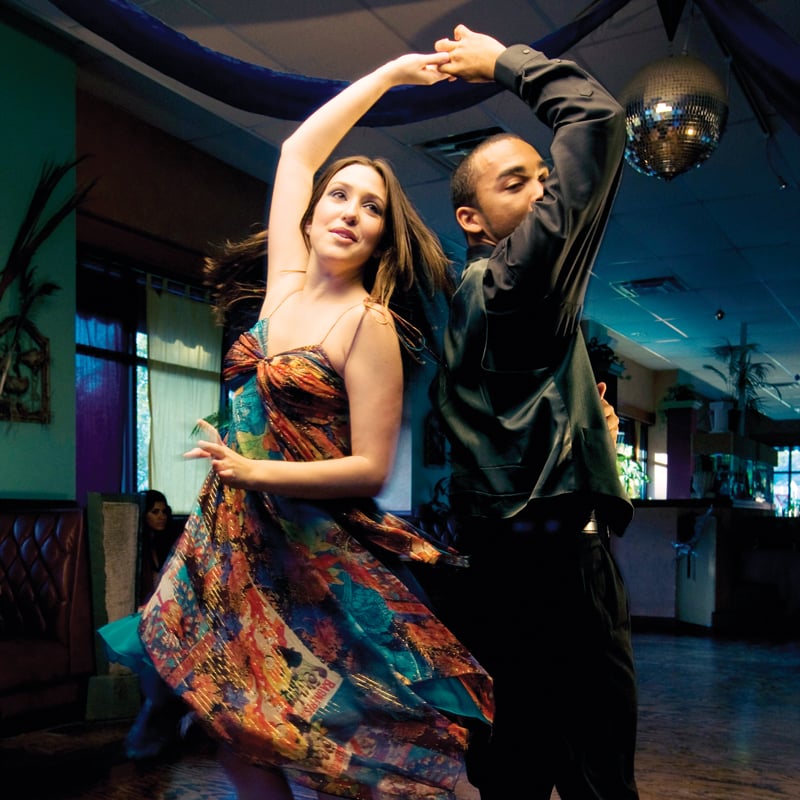 Scott Holstein
There are many opportunities to learn Latin dancing, including FSU's Corazon Dancers, shown in this photo from 2007.
Humans are hard-wired to respond to rhythmic movement — dancing is in our DNA, you might say.
When we dance, we are tapping into our primal roots. Some scientific studies suggest that dancing gave our prehistoric ancestors an evolutionary edge. Moving together to a beat is a way to bond and a wonderful, wordless way to express feelings. We dance for joy, we dance for exercise, we dance for the sheer fun of it — it feels good to let loose, get in the groove and move!
Tallahasseeans certainly love to shake their tailfeathers. There are local groups devoted to a wide array of dance forms at nightspots, studios and dance halls around town, and you can contra dance, tango, swing dance, salsa, belly dance or free-form it practically any night of the week.
Here's a look at some of the ways you can trip the light fantastic in Tallahassee. It's more of a sampler than a comprehensive overview — just a taste to whet your appetite to get out there and dance like no one's watching.
The Sensuous Art of Argentine Tango
It takes two to tango, the saying goes, and in Tallahassee, you can multiply that number to include a group of dancers passionate about the elegant, sinuous art of Argentine tango. On any given Tuesday night, you'll find Gordon Erlebacher, a founding member of the Argentine Tango Society of Tallahassee, at Fifth Avenue Taproom, where the group hosts weekly milongas. Erlebacher serves as faculty adviser for Florida State University's tango group, Anhelo Tango, and also offers free lessons on Sundays at his home studio, El Laguito. Anhelo Tango also offers lessons.
To find the schedule of milongas, visit the Argentine Tango Society of Tallahassee website at tangotallahassee.com. You can also connect to the group by emailing gerlebacher@fsu.edu or visiting facebook.com/groups/tango.fsu.
The African Dance Extravaganza
Will Joshua Photography
Each June, Tallahassee becomes the epicenter of an explosion of vibrant African-Caribbean dance and music, thanks to the African Caribbean Dance Theatre, an organization that has dedicated itself to the preservation of African dance and drumming traditions for the past 21 years. ACDT hosts the annual Florida African Dance Festival, which draws top dancers and musicians from around the globe to Tallahassee Community College for workshops, classes and a fest-ending performance. ACDT also offers classes year-round in African drumming, dance and aerobic exercise. Call (850) 539-4087 or email acdt93@aol.com for more information, and visit fadf.org to find out more about the 2015 Florida African Dance Festival, scheduled for June 11–13.
Foot-Stompin' Clogging Fun
Clog dancing is another dance form that originated in England. It's similar to Irish step dancing but is much more percussive. The dance form migrated to the United States with English, Scottish, Irish and Dutch immigrants who settled in the Appalachians. Here in Tallahassee, two clogging groups keep the rhythms alive, and both welcome newcomers and offer lessons.
The Hot Pepper Steppers group has been around since 1989 and is a regular performer at the annual Florida Folk Festival, as well as community events in Tallahassee. Find out more by visiting facebook.com/HotPepperSteppers.
The Mountain Dew Cloggers was founded by Jeff Wood when he was 17 years old. If you've ever been to the annual Bradley's Country Store Old Fashioned Fun Day, you've probably seen the Dews do their thing. The Mountain Dews — and yes, the group has permission to use the soft drink logo — offer beginner and intermediate classes. Visit mountaindewcloggers.com or call (850) 339-1561.
Sinuous Belly Dance
Want to get some shimmy in your hips and center your mind, body and spirit while you're at it? Check out one of Tallahassee's belly dance groups. The Women's Bellydance Center was founded in 2005 and has expanded its class offerings to include a variety of belly dance and tribal dance forms. The Dendera Dancers is the home troupe for WBC — you can see them in their colorful, jangly costumes at local events such as the Winter Festival and Springtime Tallahassee. The class schedule, pricing and other information can be found at thewbcenter.com.
Arabian Flair Belly Dance offers weekly beginning classes at the Bubble Room in The Collection at Southside on Palmer Avenue and intermediate classes at Studio D behind the Olive Garden restaurant. The group hosts annual haflas, or dance gatherings, and workshops featuring teachers of various styles from around the country. Visit arabianflair.com or call (850) 445-7462 to find out more.
The Belly Dancers of Florida State started in 2005 and has three sub-groups — a performance troupe, a class for beginners and an intermediate class. Classes are held every fall and spring semester and are taught and led by students. Get the lowdown by visiting facebook.com/FSUBellyDancers.
Old-Time Contra Dance
The roots of contra dance lie in English country dance, which made its way across the pond with settlers in the New World and became an established community social tradition in New England. The Tallahassee Community Friends of Old Time Dance hosts dances on the second and fourth Fridays of the month at the Senior Center. The dances draw folks of all ages and experience levels, and no partner is necessary. Wallflowers will be gently encouraged by more experienced dancers, and lessons are offered before each evening's dancing commences. Dances feature a live band — either a local acoustic group or a visiting band — and a caller to direct the action on the floor. Find out more at tallydancer.com.
Beautiful Ballroom Dancing
Ballroom dance can include a number of different forms of couple dancing, but most people associate it with the smooth and graceful type of dancing made famous by such stars as Ginger Rogers and Fred Astaire. John and Karen Burns have been teaching ballroom and other dance forms in Tallahassee for more than 15 years at their Dance 'Til It Burns studio. Check out their course offerings at dancetilitburns.com.
USA Dance 6010 hosts regular themed dances at the Senior Center. The organization's website at usadance6010.org has a comprehensive list of local ballroom dance instructors.
The FSU Ballroom Dance Club offers classes and hosts dances at the FSU State Ballroom. Check facebook.com/fsuballroom to find out more.
Swing with the Big Band
It don't mean a thing if it ain't got that swing — and it's all about swing band music and dancing every Tuesday night at the American Legion Hall at Lake Ella. That's when the renowned Tallahassee Swing Band mixes classics from the Big Band era with polka, jazz, rock, Motown and more to keep dancers moving across one of the best dance floors in town. All ages and experience levels are welcome, and it's one of the best places to just sit and watch the swirl of dancing people. Get the lowdown at tallahasseeswing.com.
Latin Dancing is Hot, Hot, Hot
Latin dance is fast, fun and sexy, and can include salsa, meringue, cha-cha, mambo, cumbia, guaguancó and other Latin dance forms. Several local groups bring the heat at regular dance sessions throughout town. Tallahassee Salsa Dancers offers classes and workshops and hosts Latin dance events and performances. Go to tallahasseesalsa.com for more information. Miriam Watkins of Studio D organized the inaugural Tallahassee Latin Dance Festival and hosts regular Latin dance events and gatherings. Her website is studiodtally.com. FSU has two Latin dance groups — the Corazon Dancers of Tallahassee at corazondancers.webs.com and Azucar Dance Company at facebook.com/Azucar.fsu. Most local dance studios also offer lessons in most Latin dance styles.
Do Your Own Thing
If the Material Girl is your jam, you can dance yourself sweaty every Saturday night at The Institution at Waterworks, an '80s dance night presided over by DJ Evol Eno. Midtown's Waterworks also hosts the Solid Gold Dance Party every Friday night, with DJ Kim McShane digging a deep and funky groove in the booth. Get details on The Institution at facebook.com/groups/theinstitution and keep up with Solid Gold news at facebook.com/waterworkstallahassee.
And if you want to really get down old-school style, drive out to Tallahassee's historic juke joint, the Bradfordville Blues Club, where chitlin' circuit veterans and up-and-coming blues, zydeco and rock artists keep the postage-stamp-size dance floor packed every weekend. The schedule is posted at bradfordvilleblues.com.