Where Have All the Oysters Gone?
Florida's Once Bustling Industry is Drying Up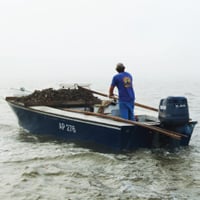 Photo by Scott Holstein
Franklin County oystermen go in search of the Apalachicola Bay's dwindling stock of once plentiful oysters.
Ricky Banks has been fishing the Gulf waters since he was seven years old. Like most residents of Franklin County, Banks and his family made a living on the water. But these days, the way of life for fishermen and their families in the Apalachicola Bay has turned into survival mode.
"Last year at this time I was catching 12–15 bags (of oysters) a day by myself," said Banks, 42. "Now I can work all day for two bags. It's already affecting more than the seafood workers. I'm hearing people at the stores are getting laid off, seafood dealers are getting laid off; without product, there are no jobs."
Banks is vice president of the Franklin County Seafood Workers Association. He also keeps a job at Progress Energy, because fishing is no longer providing his family financial freedom. It's a lifestyle that used to come with great pride but is now just a vehicle for contempt and disdain from those who are trying to keep food on their tables and the power on in their homes.
"If I catch two bags at 30 dollars a bag, I make 60 dollars. It costs 40 dollars to go out on the water and with gas and wear and tear on the boat and my truck, I make nothing," Banks added. "I've quit oystering. Thankfully my wife works. It's going to get to the point where there are no oysters."
Oysterman John Crum echoed those sentiments: "It's only going to get worse before it gets better. If we're catching four bags a day now, working as long as you can, I believe by Christmas you might catch half a bag. There's nothing to grow and take its place."
Franklin County has been home to oystermen for well over 100 years, and there have been few breaks in the oyster harvesting, except for an interruption during the Civil War and the devastation wrought by Hurricanes Elena and Kate in the mid-1980s, when nature's wrath mortally damaged the bay's oyster beds and left nothing to harvest.
At the forefront of the problem this year are the drought-like conditions that have reduced freshwater flowing into the bay from Georgia and Alabama through the Apalachicola River. Add to that the fact that urban centers in Georgia, namely Atlanta, are taking more water from upstream as their populations grow. Then there is the outfall from the 2010 BP oil spill, which prompted oystermen to go out and quickly harvest whatever they could find before any oil could contaminate the beds, and this year's Tropical Storm Isaac.
There are also predators in the form of redfish, which feast on oysters. In the past, you were able to net the redfish, but there is now a moratorium on that. And while the high salinity of the water has hurt the oysters, which depend on a salt/fresh water mix, it has attracted other predators like stone crabs, Florida crown conchs and the Florida rock snail, also known as an oyster drill, as well as the oyster parasite.
As a result of all these factors, those who make a living on the water continue to paddle against the current without an oar. Indeed, the oyster season opened on Sept. 1 with few harvestable oysters available.
"It wasn't an issue before the oil spill," Banks says of the declining industry. "The Department of Agriculture says this has been going on, but we haven't had any problems until after the oil spill. I don't know if it's related, but since the oil spill our bay has declined every year up until now. It's literally gone."
Florida Agriculture Commissioner Adam Putnam agrees the situation is dire, but he blames much of it on the quality of the water — and the lack of it. In September, he sent a report to Gov. Rick Scott saying, "The drought conditions in the bay have caused the oyster resources to decrease to a level that will no longer sustain Florida's commercial oyster industry."
At Gulf Power's 16th Annual Economic Symposium that same month, in reference to the water wars between Florida, Georgia and Alabama, Putnam said, "If the federal government does not guarantee the state of Florida adequate flows of water that we are entitled to, it will continue to devastate jobs, families and communities … Agriculture is in the position of being the biggest loser when water wars break out."
Scott, along with Florida U.S. Sens. Bill Nelson and Marco Rubio and Congressmen Steve Southerland, Jeff Miller and Richard Nugent, have pleaded with Congress to help oystermen in the bay and find a way to fix what is already a more than $6 million decline in the industry over the past two years.
Scott has called on the federal government to declare a fishery resource disaster for the bay. And in a letter to Acting U.S. Secretary of Commerce Rebecca Blank, Southerland warned, "Without swift action, Franklin County alone could see 2,500 oyster-related jobs negatively impacted by this unprecedented decline in the fishery's population."
A disaster declaration would make economic assistance available to businesses and individuals in the oyster industry. Funds also could be obtained to help restore oyster beds.
A Call to Save the Bay
Apalachicola Bay, which covers about 210 square miles, has traditionally produced about 10 percent of the U.S. oyster supply, according to various reports, and accounts for 90 percent of Florida's harvest. The estimated value of Franklin County's 2011 oyster harvest was $6.6 million — Florida officials said that during last year's harvesting season, nearly 2.4 million pounds of oyster meat came out of Apalachicola Bay.
But 2012's final tally will be nowhere near that number.
A summer assessment by the state's Division of Aquaculture showed that Cat Point Bar, historically one of the two primary producing reefs in Apalachicola Bay, had the lowest production estimate in 20 years, declining from 417 bags of oysters per acre in August 2011 to 287 bags per acre this July.
A check of St. Vincent Bar in the western area of the bay yielded no live oysters — and is considered to be depleted of marketable oysters.
On Sept. 6, Franklin County needed its largest courtroom to house all of the families who wanted to be a part of a special meeting to talk about the declining oyster industry. All told, as many as 2,500 jobs will be affected by the lack of oysters.
Commissioner Pinki Jackel told those attending that this would not be a time to point fingers and play the blame game; instead, she asked that everyone band together and find a solution. That meeting was followed up by a visit from Gov. Scott in early October where he was able to get a first-hand account of what was happening.
"When one community in our state hurts, we all come together to help," Scott said. "The Apalachicola Bay is critical to the state of Florida. It is home to the world's best oysters and fisheries, and the hardworking residents here rely on the Bay to provide for their families. State agencies and community organizations are coming together to ensure families in this area can get back on their feet quickly."
The governor announced a pair of resource fairs to help distressed fishermen. A National Emergency Grant will provide more than $250,000 to hire dislocated fishermen as workers to help the county with traditional recovery efforts.
A Changing Industry
Grady Leavins owns Leavins Fishery in Apalachicola. He is on the front lines of the problem in the Gulf. His relationship with the industry goes back 45 years. At that time he remembers St. Vincent's oyster bed had 1,800 boats catching boatloads of oysters every day. As for today, there are a fraction of that. "My guess is 400–500 boats tops, and they aren't working that much because they aren't harvesting that much."
Leavins, too, has been hurt by the drought but says he's been buying oysters from Texas and Louisiana for years — a process he continues today. "I had to do it 40 years ago when I moved to Apalachicola to earn a living."
The business model at Leavins has changed over the years because of the ever-changing industry. Shucking oysters used to be a rite of passage, now it is a dying art — and that, too, is affecting the oyster industry. Leavins says, "Very few locals have taken it up, and it's impacting business. I have to buy shucked product from Louisiana and Texas which is expensive — we shuck a certain amount, but we are buying 1,500 gallons a week from other states."
Leavins used to be able to hire workers from Mexico, but they need to go through the process of becoming legal to work in the states. "I know shuckers in Mexico would love to come here, but it's going to have to happen soon. I have so many people who want the product, it just isn't here. They are willing to settle for oysters from Texas and Louisiana until things change."
But Banks sees things a different way, noting that the dependence on other states is a sign that Florida's share in the market is quickly dissipating. "If a fisherman goes to Louisiana, they may have to devote six months of time just to bring back any kind of profit." And, he adds, fishing outside of your territory can also lead to physical harm.
"In some places, people tell you that if you put your boat in the water they will burn and sink them. Do you go there and worry about that? I've been to these places," he said. "I remember when I was a kid, our bay was destroyed and my dad went to Steinhatchee. When they got there, they were welcomed with guns and made to leave. That's the way it works."
Banks and other fisherman understand the mentality of holding your own ground because they, too, would have trouble sharing the waters with outsiders and risk overharvesting. At some point, he says, you fear for your lifestyle.
A Bleak Future
Living in Franklin County usually means working on the water. Without the fishing industry, residents say this once proud community will be a ghost town. Franklin County and Apalachicola are known for oysters. Everything is directly or indirectly related to seafood. If that goes away, so does the tourism that brings in thousands of visitors each year.
With no oysters and no hope, what can oystermen do to keep food on the table and the lights from going off? Oystermen say that the government is doing something, but it's not enough to keep their issues top of mind.
"There's nothing going to happen before people in this community start losing their homes," Banks says. "People are already in fear of being evicted from their homes. All the families here are hurting. I've heard the tales; I hear it on a daily basis. What are they going to do? Every household is in fear, wondering where they will get the money for their next light bill. This (fishing) is all we have ever done."
And now there is a growing fear — some say it is already happening — that fishermen will start pulling up juvenile oysters below the minimum size, which could have an adverse effect on the future of the industry that once flourished here. As of now, there is no penalty, but state wildlife officials would like to see one levied.
There is help on the way, but it may be too little, too late. More than $100,000 worth of emergency assistance has been requested from area residents who are struggling to pay rent and utility bills. The University of Florida's (UF) Institute of Food and Agricultural Sciences and Florida Sea Grant will join forces with local seafood producers to try and find a solution to the current shortage.
The UF Oyster Recovery Task Force has named Karl Havens to lead the charge. The task force has multiple priorities, including: learning why oyster populations declined, finding ways to help them bounce back and identifying solutions for social and economic impacts.
Jack Payne, UF's senior vice president for agriculture and natural resources told The Fish Site, "We are committed to seeing this project through and establishing stewardship practices to keep the Apalachicola Bay oyster industry sustainable in years to come. Apalachicola oysters are an iconic symbol of real Florida. It would be a tremendous loss if consumers were no longer able to enjoy them."
Andrew Kane, an associate professor of Environment and Global Health, was out on the water in October, trying to figure out what factors are contributing to the decline of the harvestable fishery.
"There are two projects going on right now. There is a national study that was funded which is looking at seafood safety because of the BP oil spill, focusing on inshore fisheries and the Gulf shore communities, that is what is funding me to be here," Kane said. "The other project deals with community resiliency because of oil spill. I'm using some of my resources to come out here and look at it … we are focusing on all the factors: BP vs. water wars, water flow, fishery management, etc., to try and help this community. That's why we are here; we don't have those answers right now. We are trying to gain consensus and get everyone back on their feet."