When You Know Where to Go, a Budget-Friendly Lunch Becomes a Food Lover's Fantasy
Cheap Eats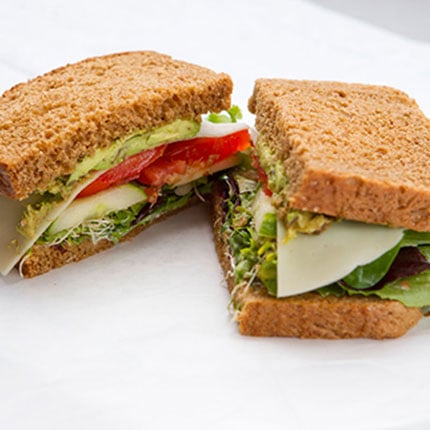 Perhaps being one of the nation's leading college towns draws them. Maybe it's state government, filled with buzzing worker bees who need to dine on the go that sealed the deal. Whatever the reason, thank the gods of gourmet that restaurants dedicated to cheap eats have decided to call our town home.
Next time you're looking for an inexpensive midday bite, instead of whipping in a drive-thru or settling for a brown bag, try something new. Complete lunches priced at less than 10 bucks (some under $5) can be found throughout the city. From crêpes to Indian cuisine and the best barbecue in town, Tallahassee is full of affordable culinary delights.
Tomato Land
Masterminds of the 'Landwich'
Tomato Land, located on Thomasville Road just north of the new Whole Foods Plaza, is a true Tallahassee love story. Ever since the now iconic produce stand opened its (metaphorical) doors 27 years ago, locals have been enamored by the fresh tastes of Tomato Land's produce. That's why five years ago, when owner Linda Reagan decided to add a take-out, deli-style café to her family's business, she knew she'd have to incorporate the same fresh flavors into her dishes.
Cue the Tomato Landwich.
"Before we decided to do this shop, I was riding along with my husband, and I was writing down these plans that I wanted to have for it," shared Reagan. "Right before we opened it up I said, 'I'm trying to think of a sandwich menu,' and I said ,'We really need to have a good … ' and I was going to say tomato sandwich, but I accidentally said 'a really good Tomato Landwich.'"
The fun slip-up turned out to be destiny. To this day the Tomato Landwich, an old-fashioned tomato sandwich ($2.49), and its counterpart, the Tomato Landwich Deluxe (a souped-up version of the original with all the fixings, including basil mayo, cheese, sprouts and arugula for $3.29), are among the café's best sellers.
Taco Republik
Home of the
Three-Dollar Taco
One of Midtown's newest dining additions, Taco Republik, met with major anticipation and expectation when it opened in the Manor@Midtown last September. Months later, this Mexican Taqueria is still inspiring chatter amongst Tallahassee foodies. One of the biggest points of conversation is the exceptionally affordable price of the handcrafted tacos.
"We wanted to make it more approachable, but at the same time, all of our tacos are made just about to order," explained co-owner Viet Vu. "We're not slinging them out like Taco Bell or Chipotle … .
The main reason [for the price] is so that everyone can try it. Whether it's a college student or some of the people around Midtown — it just makes things easier."
The Lunchbox
Breakfast: It's what's for lunch
A hearty breakfast-inspired pick-me-up can set the tone for the rest of the day. If you're looking for something home-styled and savory, The Lunchbox Special Breakfast platter features two eggs, your choice of home fries, hash browns or grits, plus bacon and toast for just five bucks. Seriously, $5 — and that's including tax.
"It's one of our most popular things," said Bianca Carns, a second-year server and hostess at The Lunchbox, of the signature dish. The restaurant is located at the intersection of Tennessee Street and Magnolia Drive.
The Crêpevine
A convenient package for life on the go
The Crêpevine quickly became a local favorite after opening its first venue on Pensacola Street in June 2006. Since those early days, the Wobbles — a delicious conical creation filled with chicken, turkey, mushrooms, onions, spinach, tomatoes, cheese and Cajun sauce — has been the No. 1 seller at the restaurant's now three Tallahassee locations.
"For the last seven years we've been selling Wobbles like crazy," laughed Serge Osaulenko, the restaurant's founder and a Florida State alumnus. "It's a well-balanced nutritional item. It has enough protein and enough carbs and fats to last you throughout the day."
This complete handheld meal will set you back just $7.48.
Momo's Pizza and Brew
This time, bigger really is better
Momo's massive pizza pies have commanded our attention since their conception 15 years ago — and rightfully so, considering the impressive 30-inch diameter of the extra large pie. The pizzeria's two locations — one on Tennessee Street, the other in the Market District — certainly cater to diverse clienteles, but all can appreciate the incredible value offered.
For $3.75, patrons get one monstrous slice — an eighth of the extra large pizza. According to Don Dye, owner of Momo's Pizza for the last 14 years, hundreds of slices have been served up daily. And as for the price? Well, that's just good business.
"It's a factor of what it cost me plus the extra-large size of the slice," explained Dye. "We felt that was a reasonable value."
Essense of India
Lunch for the hungry culture seeker
Any weekday, you can walk into Essence of India and, for just $7.99, feast like a maharajah. This family-owned establishment, located in the Parkway Center on Apalachee Parkway, is dedicated to hot, fresh authentic Indian cuisine made to order in a uniquely pleasant ambiance.
Monday through Saturday, Essence of India offers a bargain-of-a-lunch-special that includes your choice of entrée (like mixed vegetable makhanwala, butter chicken or beef curry) served with soup, salad, rice, naan, onion chutney and the dessert of the day. In 2013, the proprietors also added a Friday through Sunday weekend buffet but decided to keep their beloved special due to its wild success among regulars.
"We still keep it even on Saturdays, because we have a lot of guests who say 'we know what we want — and we want that,'" joked Preeti Singh, whose parents opened Essence of India in 2006.
Voodoo Dog
All dogs under 5 bucks
Voodoo Dog's two locations — one on Tennessee Street and the other in the All Saints District — are a gourmand's paradise. Offering a fusion of superior ingredients and fun, flavorful toppings, these locally owned eateries are known for concocting delicious combinations at affordable prices.
At Voodoo, the true showstoppers have to be the House Dogs. Crowd pleasers like the Tijuana (a bacon wrapped-hotdog with guacamole and sour cream) and the Jefferson (another bacon wrapped-dog, this time topped with homemade mac-and-cheese) are $4. A classic dog is just two bucks.
All of Voodoo Dogs hotdogs, no matter how grand in stature, are under $5.
"We wanted to price the dogs so that you could try a couple different ones at a time, if you wanted," explained Russell Taylor, owner and operator of Voodoo Dog. "As far as the value, we use the highest quality dogs and ingredients we can get our hands on. Most things on the menu are house-made. Between both stores, we sell around a couple hundred dogs a day."
Mo Betta BBQ
$5 Tuesdays
Mo Betta, the now iconic barbeque stand on the south side of Apalachee Parkway near the Capital Circle Southeast intersection, seems to have an ever-expanding fan base. Truth be told, it's everyone's favorite secret spot. And on Tuesdays, you can have a prime cut of any meat on the menu, plus a side of french fries, for $5.
When questioned about this deliciously generous deal, Mo Betta's owner Billy "Mo" Hollaway simply said it's a way to say "thank you" to customers for their five years of loyalty.
"We do [the special] because people have been so very kind to us," shared Hollaway. "We've been here five years. It's a struggle for a lot of folks. This gives them a chance to eat with us at a reasonable price."
The special runs until 7 p.m. every Tuesday.
Old Town Cafe
Monday 'Meatloaf Madness'
With a 1950s diner vibe, a fresh assortment of food and a full bar, Old Town Cafe, located in the Market District, seems to have something for everyone. But the most defining characteristic of this eatery is its true home-style cooking.
Every day, the restaurant offers a $5 lunch special to loyal patrons. According to owner Marcia Harrison, the tight economic times of the mid-2000s inspired she and her staff to offer a lunch option that didn't break the bank.
"We run a lunch special every day from
11 a.m. to 4 p.m., but our most popular one is the Meatloaf Madness," explained Harrison. "It comes with mashed potatoes and green beans and a slice of homemade meatloaf."
Harrison uses her mom's secret recipe to prepare the meatloaf — an item also served daily on the restaurant's regular menu.