When Play Isn't Fooling Around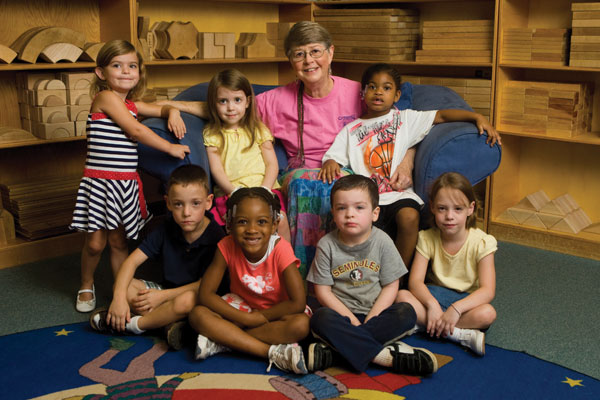 Pam Phelps' innovative approach to helping preschoolers learn – through playWhen Play Isn't Just Fooling AroundPamela Phelps Proves Rich Play Environments Build Children's Intellect and More
By Tisha Crews Keller
Back in the day, they knew how to let children play. Hopscotch on the sidewalks, adventures in the woods, pickup games of kickball in the cul de sac and … well, you get the picture.
Then along came smaller families, Baby Einstein, standardized testing and, suddenly, we expected our 3-year-olds to read their books to us, not the other way around. The progression from a simple childhood to prodigy-in-the-making wasn't quite that direct, but the philosophies of today's parenting and education are worlds away from what they used to be.
Early-childhood specialist Pamela Phelps believes the quest for academic achievement is an unnecessary burden our children bear. Especially in – for goodness' sake – pre-kindergarten.
 Click to enlarge.
Phelps is what some call a "throwback" to the past. But the expertise she has developed in 40 years of using time-tested early-childhood development principles makes her a voice of reason in the often-chaotic world of FCAT achievement.
"Make the paradigm shift," she advises childhood educators. "Stop counting the number of activities you have and look at what type of play is supported." Phelps remembers her college days in the late 1950s, when educators were trained to focus on the social and emotional development of children. "Now school is all focused on memorization," she laments.
Phelps is the owner of Tallahassee's nationally renowned Creative Pre-School (cccrt.org), which focuses on imaginative play as the foundation for whole child development. For decades, she has been advocating for a rich play environment in which children can learn – at their own pace – how to navigate not only the Three Rs but also their social and physical worlds.
Fear not: These children go on to become great students, in spite of learning to read after they are potty-trained.
Sadly, Phelps' unique approach to "play-based learning" sounds foreign to many young parents. Many are amazed to find out that her program – one of the most sought-after in the city – is different from anything else around.
First of all, Phelps  isn't offering just  child care. Secondly, if you like your girls and boys all gussied up for preschool, then Creative isn't for you. In fact, Phelps tells her parents to dress kids in clothes that can tolerate some mud and shaving cream. That's what her method is all about: intentional, developmental play experiences that engage the body as well as the mind.
Phelps is the creator of "Beyond Centers and Circle Time," an innovative and award-winning curriculum. Used in preschools both nationally and internationally, Phelps' method uses teacher-directed free play to lay the mental groundwork for academic, social and emotional development in young children.
With a freestyle approach to learning, the children in Phelps' care move independently through a variety of activities such as fluid play (think mud, water, shaving cream, dyed cornstarch and paint), blocks, imaginative play, cooking (real food!), playgrounds and more to find activities that suit their individual personalities and skills.
Technically, the approach is a blend of didactic (teacher-directed) and play methods of learning. But unlike a traditional preschool, teachers using Phelps' curriculum are taught how to "scaffold" children's play for their individual interests and developmental abilities. Using conversation-provoking questions and thoughtful encouragement, teachers build a child's independence and nurture responsibility for individual choices.
The ultimate goal of this method is to develop a child's behavior and impulse control from within. As Phelps puts it, "While they learn how to control their environment, they are also learning how to control themselves, both physically and mentally."
And as for colors, numbers and the rest? Teachers embed these lessons in each activity through repetition and conversation. Graduates of the program score highly on all standard tests and go on to academic success in higher education.
In fact, Phelps' curriculum teaches that children must be well rounded – academically and socially – to become the most productive and successful adults.
"Genius kids can't always play with other kids," she says. "Maybe a math prodigy can't express himself verbally. He needs his math (skills) supported, of course, but he also needs help interacting with others."
To that end, the Creative teachers are always on the lookout for the things to which kids are drawn.
"Kids have such unique interests," Phelps says. "Find something they are interested in and use it to develop their other skills."
Recipe for Success
Being a member of the Creative Pre-School is not something to take lightly. Staff believe the family unit begins in infanthood and is enriched by parents, children and caregivers. Optimally, children enter Creative's "Baby House" as infants and graduate to the "Big School" before leaping off to kindergarten.
"When we choose people, we decide based on whether they will be here just temporarily – and that goes for both staff and children," Phelps says. Research shows that when children feel safe and secure, their brain actually opens up and becomes more receptive to learning. "Having the same team of teachers and the same friends over time creates an extended family," she says. This explains why children aren't accepted into the center after age 3.
Phelps requires parents to tour her center before they are allowed on the (extensive) waiting list.
"We are very open about our philosophy and how we do things," she says. "If you don't like what we're doing, don't put your kids here." But with only 12 slots available in the entire center each year, she has no trouble filling up her 100-name list.
That said, the Creative Pre-School isn't for everyone. Families who practice corporal punishment, are uncomfortable with disabilities or don't teach an "everyone is equal" outlook likely won't be on the school's roster.
Follow the Leader
To help foster the kind of family life that she believes is most nurturing for her students, Phelps holds parent nights, parenting workshops and family nights throughout the year for all parents of enrolled children, baby to pre-K. These group sessions offer information about the latest brain research, behavior/discipline, natural/logical consequences and more.
One of the most interesting "classes" may be Phelps' unique way of drawing the best out of children. Using psychologist Alfred Adler's child guidance principles, Phelps instructs parents to give plenty of encouragement, not praise. The difference between the two can be astounding. Instead of saying "I'm proud of you," she suggests parents engage children in conversation about their accomplishments.
Asking, "How did you decide to use such a beautiful color?" prompts tiny minds to explore decision-making and lets them know others are interested in what they're thinking.
Back to Basics
Phelps opened the original Creative Pre-School in 1970 at Unitarian Universalist Church on Meridian Road. In 1973, the center moved to its current location on West Tharpe Street and expanded to full day. The basic "centers" of painting, dress-up, blocks, tricycles and open-yard activities are still the same as they were in 1970.
Colleagues encouraged Phelps to continue her education and combine it with her passion for early childhood development. She became the first doctoral candidate to Charles Wolfgang, a professor of early childhood education at Florida State University, who at the time was renowned for his research on childhood play at Ohio State University. Wolfgang toured Creative Pre-School and, within one week, called Phelps.
"Your school is my theory in practice," he said. She was hooked.
"What I had believed so strongly for children – in my gut – I went to college and found theory to substantiate it," Phelps remembers.
The Creative Pre-School serves children on the entire developmental scale, from gifted to those on the autism spectrum and those with emotional disabilities. This rich diversity helps create well-rounded children who easily interact with and mentor one another. The careful mix of children – socioeconomic, ethnic and developmental – creates wide horizons.
"A rich play environment is more likely to have something for everyone," Phelps says. "Didactic systems have everyone on the same page, and so it's difficult to include all skills and abilities."
However, the Beyond Centers and Circle Time curriculum is easy to adapt to fit a mix of skills and abilities, even children with physical, emotional and mental disabilities.
"So at the same time, our kids are learning to be kind and thoughtful," Phelps says of the benefits of learning in an integrated environment.
Retention is Key
Phelps will tell you that the most important ingredient in her success is her staff.
"One of the things I didn't like about (public) school was the hierarchical approach," she says. "Creative Pre-School is a team approach. I don't do anything different from my staff."
To ensure that her children are getting the very best in instruction, the Creative Pre-School pays for teachers' credentialing and for one college course per semester. In addition, staff attend conferences and have regular in-house training.
Expanding Horizons
Phelps' most recent project is a new Children's Home Society child care center at K2's Evening Rose development off Capital Circle Northeast.
Children's Home Society Executive Director David Overstreet knows how innovative play can nurture the critical first five years of brain development in children. He is excited about using Phelps' innovative curriculum.
"Development skills built during this time can help children cope with all types of life stressors in later childhood and beyond," Overstreet says.
Phelps gets truly excited when she talks about her curriculum and helping young children learn.
"Our curriculum shows teachers how to understand where kids 'are' in play and how to scaffold their activities," she says. "Then they can lead children from sensory experience to manipulative play to storytelling as they move toward literacy. Children must be able to represent their world in a realistic (imaginary) manner before they can move on to abstract representations, such as ABC and 1-2-3. Many centers stress memorization, but we stress developmental play and where that leads."
Judging from the success of her students, where Phelps' developmental play leads is a great place, indeed.
Beyond the Building Blocks
So what makes the perfect environment for truly imaginative play? Pamela Phelps used research-proven ideas to design her child care centers.
• Enough space, already! Phelps' research proves that at least 25 square feet per child is necessary to allow kids the space they need for autonomy and imagination and to curb avoidable behaviors such as fighting, biting and hitting in young children.
• One for all. Having ample toys is critical; for instance, at least 100 simple wooden blocks per child. Opportunities for shape recognition, counting, matching and simple geometry lessons abound when every child has his or her share.
• The low-end theory. Children thrive on self-service. This means infrastructure such as sinks, toilets, stairs and handrails are sized for little ones.
• Inside, outside, upside down. The covered patio is just outside the mostly-open classroom doors. An open-door policy invites children to explore their world and move freely into the activities that interest them most.
• We are family. Children move between activities instead of within their class group; they spend time with their own "family group" mostly during nap and meal times. This helps foster a "sibling" mentality in which the staff, children and parents connect and mentor each other.
• Framework for success. Intentional, creative play hinges on teacher "scaffolding." Teachers are with the children on their level, asking leading questions about sand pancakes or stories behind pictures. They frame interactions based on each student's development, all the while using stories and activities to teach.
• Ask, don't tell. Using encouragement instead of praise helps develop a child's sense of self, independence and inner conversation. Instead of saying "I like that," try asking, "Tell me the story in that picture." This prompts kids to verbally express themselves and shows you're interested.
• Stay, don't go. Volumes of research back up the idea that kids need to stay put once they start group care, and the staff does, too. The confidence and security that comes allows the best learning and attachment.