When Life Centered On Downtown
Doctors' Memories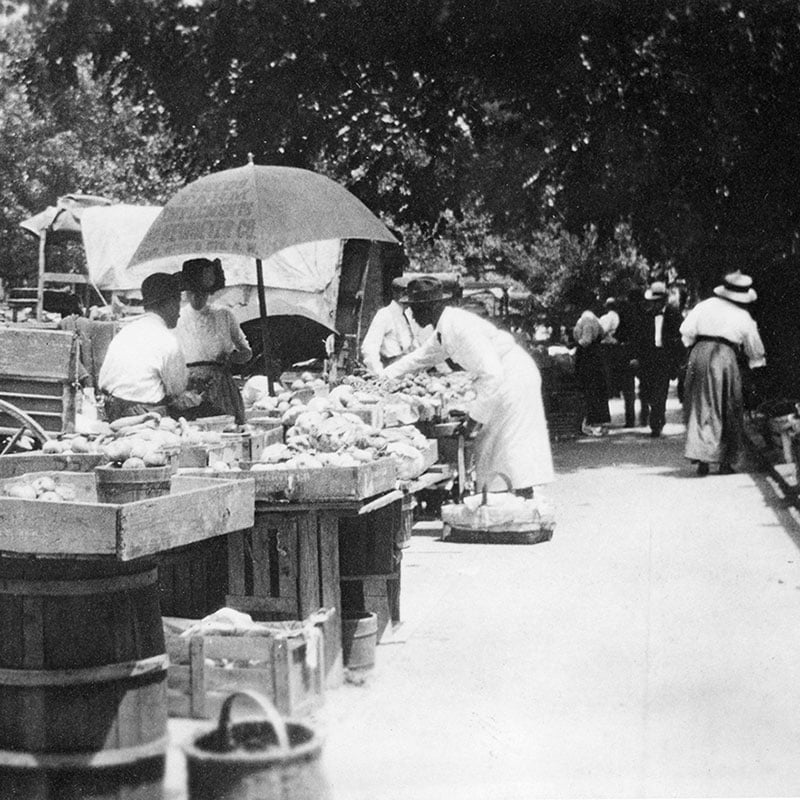 The son of a physician and a physician himself, George Saxon Palmer watched Tallahassee grow from a sleepy little town of 5,637 in 1920 to more than 130,000 today. Interviewed at his home, he recalls brick-paved streets and listening to lively legislative debate from the sleeping porch of his childhood home at the corner of Adams and Lafayette streets, practically in downtown Tallahassee.
"My father had a barn at Duval and Lafayette, with cows and ponies, and we parked our car there," Dr. George Saxon Palmer says. "We raised pigeons and had squab practically every Sunday. We had plenty of eggs because we had chickens — right across from the Capitol.
"We could walk one block and get anything we needed," he continues, "to the grocer, butcher, bakery or clothing stores. Monroe and Adams streets were paved with bricks and Gaines was brick up to Monroe, but it wasn't paved all the way to the Capitol."
Palmer notes that, after watching and assisting his father's practice whenever he could, he never wanted to be anything but a doctor. He recalls driving his father on house calls at the young age of 12 and waiting in the car while the older physician delivered babies. He also remembers fondly a time when life centered on downtown, when he could hear lively debate in the Florida House and Senate from the sleeping porch at home.
Shooting marbles in the yard and skating on the Capitol grounds or down Adams Street when it was finally paved provided all the recreation a child could want, Palmer says. Later, he remembers playing tennis right by Caroline Brevard School (currently the Bloxham Building) and at Leon High (located on the current site of the LeRoy Collins Leon County Public Library).
"We also played tennis on the court at Goodwood," he says. "She'd let us come out there to play tennis or swim in the pool. When we were in high school, we'd go to dances at the Woman's Club at Los Robles.
"Everyone went downtown for everything," Palmer says. "We had a curb market every Saturday on the site where City Hall is now, where farmers would bring in their produce and sell it. We used to go downtown regularly; College and Monroe was the big congregation area. There were two drugstores, sort of a gathering place for everyone; barbershops, restaurants.
"The annual May Party involved the seniors at Leon High," Palmer continues. "One girl got elected queen; she chose her court, and then the girls would choose their escorts. They would all assemble in the Knott House and march to the May Oak on Gadsden Street."
Even then, Tallahassee was primarily a government town, with the state, Florida A&M College and Florida State College for Women providing most of the jobs. Because these jobs did not pay particularly well, he says, "People would always pay my father with produce. We always had plenty of food. I can't remember anybody being wealthy, but everyone had what they needed to get along."
---
Dr.  Daisy Parker Flory looks at Tallahassee through garnet-and-gold colored glasses. One could say she's seen it all — the birth of a major research university, the rise of a national football power and an unprecedented era of social change.
How did World War II affect Florida State College for Women? The conflict had both short- and long-term impacts. "All through the war we had some exciting times," Flory says with sparkling eyes and an animated smile. "During the war, the aviators stationed at (Dale) Mabry Field would come buzz the campus. Girls would sunbathe on the dorm roofs so that the men could see them."
War's end meant major change for the campus of 1,000 women. When Johnny came marching home, demand for higher education overwhelmed the University of Florida, stressing the Gainesville campus beyond its limits. The state Board of Control, which governed higher education, decided that Florida State College for Women would take up the slack.
"During the boys' first year (1946), we were TBUF, the Tallahassee Branch of the University of Florida," Flory recalls. "We had the air base that wasn't being used, so we used some of those buildings for dormitories and faculty housing. The old officers' club became the men's gym, a rickety old building with the wind roaring through it.
"The first group that arrived in 1946 were mainly vets, mostly older men and they weren't particularly upset about going to a girls' school. We had about 300 men and 1,800 women at the time. By 1956, enrollment had reached about 8,000 and was pretty representative of the entire state.
"The biggest change the men brought," she continues, "was the emphasis on science and the technical schools." Up to that point, FSCW had stressed such disciplines as arts and sciences, education, music and home economics.
Before her retirement in 1984, Flory lived through some tempestuous times at FSU. "Of course, the '60s were troublesome although we really didn't have the trouble that they had up North. There was a crisis after the Kent State killings (May 1970). Claude Kirk was governor at the time. In what may have been his finest hour, he came out and sat up all night on Landis Green. Any student could come up and talk to him. It was a time of a certain amount of momentum although I recall that our students were not really dedicated, not really convinced revolutionaries."
Integration was not a traumatic event at FSU, Flory recalls.
"But of course during the days of FSCW and FAMC (Florida A&M College), there was an open Board of Control ruling that we didn't go there and they didn't come to our campus."