What's Old is New, And It's Easy Too
Colorful Painted DIY Projects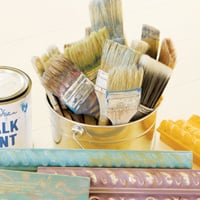 Photo by Scott Holstein
Store owner Lisa Ard staged a bedroom she envisions being occupied by a young woman with big ideas and a limited budget. The wood pieces are painted using Chalk Paint decorative paint by Annie Sloan, and the linens and accessories are from Target.
Many of us, while paging through the shelter magazines, or trolling Pinterest and home-related blogs, see how clever people have taken old, outdated or decrepit objects and turned them into a beautiful décor.
"I love it," we think, " but I don't have the (insert time, money, talent, creativity here) to do something like that."
Lisa Ard would beg to differ. Much of her year-old business, Sweet South Cottage, is dedicated to showing people — and let's face it, they're pretty much all women — how they can transform their living spaces using a miraculous product called Chalk Paint.
It was developed by Englishwoman Annie Sloan, who's written upwards of 25 books about decorative painting and whose style and techniques developed a loyal following worldwide. For many years, aficionados stateside who wanted to use her trademarked Chalk Paint would have to order it from England, but when a U.S. distributor was named a few years ago, Sloan's popularity boomed.
"The paint took on a life of its own," says Ard. "It came to the U.S. and the bloggers picked up on it. It's just been in Country Living and it's just been in House Beautiful. You're going to see lots and lots of references to it."
While furniture painting has been around as long as people have been leaving rings on the coffee table, Chalk Paint takes the craft to a much more enjoyable level.
"It doesn't smell; it sticks to anything; you don't have to prime, prep and sand," she says. "You can just paint; you can just create." A coat of paint dries within 30 minutes. "It's instant gratification."
In the shop she owns with her sister, Cyndee Sams, Ard points out items that have been transformed by Chalk Paint — a bed, tables, lots of dressers, statues, a rusty urn, silver-plate dishes, even an upholstered chair. "It's not very practical," she admits about the now-turquoise fabric, "although people are painting their leather (furniture) if it's not in good shape."
Some pieces have just two coats of paint, finished off with wax (either clear or dark, for an antiqued effect). Others are more complex, with multiple colors, distressing and stenciling.
The shop also offers paintings, decorative items, children's clothing and foodstuffs, all either crafted by local artisans or from companies around the South.
Photo by Scott Holstein
Chalk Paint can be used on wood, such as this distressed vanity and wishing well and moldings as well as most other surfaces, including plastic, metal and plaster.
Behind the retail shop, Ard has constructed a studio, where she hosts seminars to introduce people to Chalk Paint and some of the techniques for its use. At a two-hour class ($95), students will finish a decorative item, such as a frame, and bring home samples and class notes. At the $195 class, students are invited to bring a small piece of furniture, such as a nightstand, which will be transformed by the end of the five-hour seminar.
The paint comes in 30 colors (with two more to come), all except one in white-based shades. "Annie has really been thoughtful about her color choices; they're very historic," says Ard. "She has a color blog (where she) talks about where her colors come from and why she chose them." Colors can be mixed and, depending on the desired effects, the paint can be watered down or stuck in the refrigerator to be thickened.
Customer Brenda Wood visited the store, iPad in hand, trying to pick a color that would work for a piece she wanted to paint for her living room. While the colors and techniques lend themselves to the "shabby chic" look, Wood's pictures showed a room she described as "very eclectic, but very traditional."
Describing her experiences with the paint, she said "it's easy to work with and you don't have to do a lot of prep to your wood … that's reeeally what I like about it. You just clean it." And for the inevitable drips and booboos, "there's nothing you can do wrong; it's very forgiving," she says.
Ard's day job is about to pick up — she's a lobbyist for vendors selling services to state government. Throughout her 20-year career, Ard says she has "always" had a penchant for crafting and home décor. "That was how I turned off from politics," she says. "This was the other side of me." At 43, her long-term plan is to grow the business for the next seven years or so before retiring to Sweet South Cottage.
To Get There
Sweet South Cottage
6007 Veteran's Memorial Drive (Leon County Highway 59)
(850) 878-0165
Travel east on Mahan Drive and turn onto Veteran's Memorial Drive (about 12 miles past Capital Circle Northeast). The shop and studio are about 2.4 miles down the road on the right.
Sweet South Cottage is open for limited hours four days a week. For hours and seminar information, visit sweetsouthcottage.com.