What's In Store For Fall?
A roundup of retail happenings throughout Tallahassee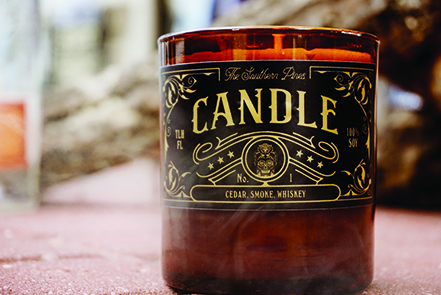 If you're seeking a sleek, slim and stylish wallet option, the Bexar Vertical Card Wallet from Southern Pines Goods might be your next purchase. Created by expert leather workers, it combines the concepts of a classic billfold and a simple card wallet, easily fitting into either your front or back pocket. The design allows for up to four cards and two stash pockets for cash.
Nic's Toggery Whether a snazzy dress shirt or a casual shirt for everyday wear, Eton is a favored brand at Nic's Toggery. Eton uses quality fabrics that are durable and fashionable, becoming your favorite shirts today and for years to come. // Denim is never going out of style, and AG jeans are at the top of the market filling the closets of people who like comfortable fits, stylish cuts and an emphasis on sustainability while not abandoning a flattering look.
Southern Pines Goods
The Bradley Mountain's Biographer Backpack was thoughtfully designed for both the urban and rural adventurer. The leather straps are padded with a layer of wool and canvas for comfort. It has a baseline buckle connection that allows for adjustability. The double layer of waxed canvas and the roll-top closure work together to protect the contents inside from harsh weather.
Summer cocktails have their day in the sun, but fall sips are just as special. Bittermilk has perfected the gentleman's cocktail through bittering agents gentian root and cinchona bark along with burnt sugar, spices and a bit of orange peel. Tip a bit into a glass alongside your preferred spirit.
An homage to the store's vibe, Southern Pines Candle No. 1 merges cedar, smoke and whiskey into a delightfully dark and moody yet adventurous scent made from 100% soy and essential oils.
My Favorite Things
Throw pillows are a beautiful and affordable way to change the look of your home with the seasons. Juliska pillows feature intricate embroidery and vibrant colors. Collection favorites include pillows stitched with sentiments such as "Friends," "Family," "Gratitude" and "Love." The Forest Walk collection is particularly popular for fall, decorated with treasures found from the forest floor. Incredibly cloudlike, they are stuffed with 10% down and 90% feather fill.
The scent most often synonymous with fall is pumpkin. We wait all year for its nostalgic and comforting scent to fill our homes. Thymes Heirlum Pumpkin scent, infused with pumpkin, creamy caramel, warm vanilla and spicy cinnamon, comes in candle, diffuser or room spray form.
Pumpkin tableware can be utilized throughout fall. The Vietri Pumpkin collection ranges from pumpkin adorned platters for serving Thanksgiving dinner to a pumpkin cookie jar, ideal for Halloween treats.
Photos courtesy of My Favorite Things and Southern Pines Goods