What We Earn
A snapshot of salaries from around town, and tales of workers making it in tough economoic times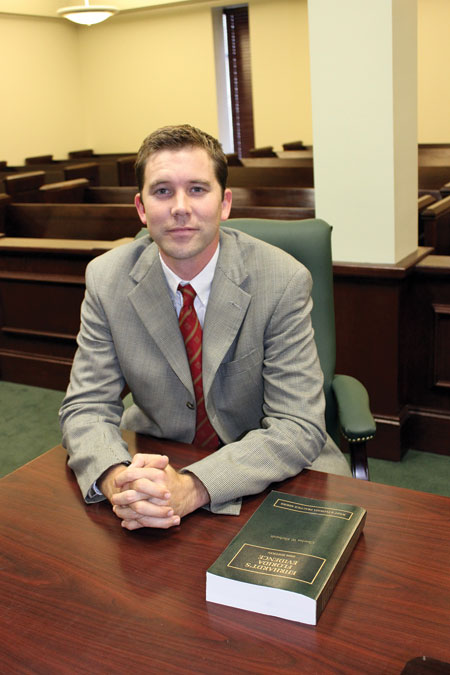 Admit it, you've often wondered about your neighbor, your boss, your friend, your doctor, local barista and pastor. "What do they make?" It's one of the closest-held secrets a person has, next to their age and weight: Salary. And usually, you don't have the guts to ask. Fortunately, we do.
Tallahassee Magazine spent months asking people from a wide spectrum of careers what they earned in one year. We found a poet who makes $4,000 a year on a part-time gig and an eBay salesman who earns $130,000 selling musical instruments online.
A few things made our job easier. Thanks to Florida's open records laws, the salaries of anyone employed by the state, city, county, Florida State or Florida A&M University, or any taxpayer-funded entity, is available for anyone to see. The salaries of top executives at most local nonprofits, including associations, are also publicly available.
What we learned was not only do salaries and earnings vary widely in Tallahassee, but an old adage remains true: money doesn't always buy happiness. When it comes to job satisfaction among the people we interviewed, we found money mattered less than finding a job that suits your passion, whether it's giving massages or putting out fires.
---
Paul Arnold, 30, Staff Attorney
Legal Services of North Florida, Quincy office
$49,000
Where did you get your formal education?
I went to UCF and my undergraduate degree was in psychology. I started law school at Barry but I transferred to FSU and did two years at Florida State Law School.
What type of a job did you have before going to law school?
I worked at the Swan and Dolphin Resort in Disney, doing banquet functions for large corporate events, for companies like Pfizer and Microsoft. I did that for three years but it got monotonous. It was the same week, every week. That's why I decided to go to law school in 2004.
Why did you want to work for Legal Services?
Initially I was in private practice. I was making $65,000 out of law school in 2009. But I didn't go to law school to make a lot of money. There was something different about Legal Services compared to private firms. I liked feeling like the good guy. I want to use my mind and abilities to make the world a better place.
What do you like about your current job?
It's not just helping the poor and elderly. The work is extremely diverse. The experience you get at a place like Legal Services is awesome. From the day I got here I got 50 of my own cases. They just hand it to you and say "run with it." You get to be in court, and every week is different from the last.
How often do you get to be in court?
A lot. That's a cool aspect of it. We try to settle our cases, because it doesn't do us any good to (work) additional hours. Our interest is in helping as many people as we can. The more people we help, the greater the impact on the community.
Christine Scheu, 48, Licensed Massage Therapist
Self-employed
$20,000
Is your salary typical for a massage therapist?
Massage therapists don't make so much money unless you work in a resort or a place where it's a factory-type setting, with one patient after another. And if you work for someone else you don't get paid the full amount the patient pays, you only get paid a percentage. I've had some dry spells and then a really good month comes and I get caught up.
What other jobs have you had?
I was a mom and did little part-time stuff. I sold Tupperware and Avon. That was another lifetime … almost 30 years ago in Oklahoma. I'm from Germany and I trained there to be an esthetician, which is skin care, and it includes massage therapy and facials and makeup.
What was the worst job you've ever had?
The worst job was probably cleaning stables. It was smelly. This was in Germany, and it wasn't exactly a job. I actually did it for free because I got riding lessons for it.
What was your first paid job?
I was in a dentist office, but the kind where they actually make things like crowns, more like a technical lab. The smell in that place … ugh. I was supposed to be the receptionist and then when I was done I had to do some (manual labor). I wasn't that good at it. It didn't last very long.
What is your favorite job?
The one I have now! I have been doing this for 19 years now. I am certified in Thai yoga massage; it was something I had to learn from scratch. But I don't claim to do just one style of massage.
What is your dream job?
To have a retreat in the country in a natural setting, which Tallahassee is, but I would like a large piece of land. That is my dream.
Jeff Brady, 23, Firefighter/EMT
Tallahassee Fire Department
$35,343
What do you like about your job?
It's not really one particular thing, I like the excitement, not knowing what to expect. And I just like the camaraderie of being around the guys at the big station. There are 11 people here on each shift, so there are a lot of people to hang around with and have fun with.
What is your schedule like?
It's 24 hours on, 48 off. I work at Station One.
How did you become a firefighter?
I worked for Leon County EMS for a year and gained some experience while waiting to get hired at the Tallahassee Fire Department. My goal was to get into the fire department. It's always been a dream to follow my grandfather's footsteps. I used to come up here when I was little. He worked at Station One and I would hang out with him for hours at a time, always been around it and always loved it.
How is the recession treating you?
It is treating me all right, I'm still single and don't have kids yet. I pay rent for an apartment, I have a truck payment, and insurance, and a cell phone and so I'm doing OK.
Rachel Gustafson, 25, Director of Media Relations and Social Marketing
CoreMessage
$65,000
What was your first job?
It was a part-time job when I was in high school. I worked at a pizza restaurant that is now a Starbucks in Fort Lauderdale. It was a small 10-table restaurant and I moonlighted as a delivery person, too. I liked that it was so small and I got to participate in every component. Short order cook, salad-making, grilled cheese sandwiches. We also had a drive-through, where you could pull up like McDonald's and order by the slice. It was minimum wage, around $5.75. But we got tips.
What do you like about your current job?
The flexible culture we have at CoreMessage. I have really grown with the company. I was given opportunities I don't think most people my age are given. My first year I got to work on the Republican primary presidential debates. We were assisting the Republican Party with media handling. And when I came here people were leaving and I was given opportunities to move forward and I took it. Cory (Tilley, owner of CoreMessage) is not ageist. If you are skilled, he rewards you.
You are a Democrat, and your boss is a Republican. How does that work?
I have always been a big believer in open partisan lines. My dad was a big influence on me. (Her father is former Florida House Speaker Tom Gustafson). The issues I work on have both Republican and Democratic ties. There are times when you look at an issue and personally it's not something you agree with, but you do what is best for the client.
What is the biggest challenge with your job?
We are small and sometimes it's difficult in convincing folks that our office is capable of moving mountains.
What is your dream job?
Something very closely aligned to what we do here. I would love to work with an elected official and help with speechwriting or community outreach.
Louis Garcia, 38, Chief Executive
Big Brothers Big Sisters of the Big Bend
$55,000
What was your first job?
Bagging groceries at Publix. I was probably 15. It was minimum wage back in the mid-'80s. I learned that having a smile does wonders for customer service.
What was your favorite job?
I had a career for 13 years working in residence halls, what most people call dorms, at large universities. I had tons of fun when I was in college working as an RA (Resident Advisor). And that was probably one of the greatest jobs I had. After college it became my professional career. I lived in a dorm for 10 years.
What are some unusual things you experienced working in dorms?
As I progressed professionally I was overseeing multiple buildings with 1,500 bed spaces and I dealt with serious issues like sexual assault and suicide threats. The weirdest thing that ever happened to me was a girl hitting me with her car because she didn't want to give up her boyfriend's key. The boyfriend had left for the summer. She was living in his dorm with her pit bull, which was not allowed. The dog gave her away in about a day.
What is your dream job?
Traveling the country in a Volkswagen and seeing a college football game at every Division 1 school. And then I'd write a book about it.
What was your worst job?
Delivering yellow pages in the middle of the summer. I had a dolly filled with yellow pages and would go street by street. It was in Phoenix where it was 120 degrees. That was in my late 20s and I purposefully left my job out there and lived in my car for six months and explored the Southwest. It was one of the greatest times of my life and I had to do odd jobs like that to survive.
What is the best part of your current job?
Being associated with an organization in which everyone believes in the mission. I truly believe in the mission, and the people I work with are incredible. The volunteers have a tireless devotion to doing something positive. I feed off that energy on a daily basis.
Rich Cichowski, 50, CEO
A Better Guitar Store — eBay and online stores
$130,000
Tell me about your eBay store. What do you sell?
I have an eBay store and a web page called abetterguitarstore.com. I just started it in July. I carry all types of musical instruments, from guitar strings and parts to guitars and basses and violins. Ukuleles are really big right now. You can sell anywhere from six to eight ukuleles to one guitar. The trend has really exploded.
Where do you store all of your instruments?
I have a room dedicated to it, and now it's more than one room. But once you reach a certain level of trust with a company, they will also allow you to put their product online and then when you do sell it, they will ship it to them.
Do you play an instrument?
I don't play any. I know about them all and know things inside of them. Knowledge is half the battle.
What was your first job?
I was a busboy at a Chinese restaurant.
What other jobs have you had?
I was a horticulture major and I taught school for a few years at adult centers for mentally challenged individuals. I spent 18 years on the road promoting concerts. I worked for the largest concert promoter in the country. I was a supervisor at Shoney's for training servers and working with cooks. And I traveled the road selling industrial equipment for a while, generators and things like that. The financial value was extreme but we spent nine months on the road.
What sort of musicians did you meet or work with as a promoter?
There were shows ranging from country to '50s rock. Whitney Houston, Reba McEntire, The Drifters.
What do you like least about your current job?
The uncertainty of what tomorrow will bring as far as sales and the economy.
What do you like most about your current job?
The biggest thing is I'm at home all day and all night with my other half. This job is awesome, you do have the inconvenience every day of having to get your postage done. But if that is the worst thing you have to deal with, you have no room to complain. It's just waiting in line.