What to Bring When It's Your Turn to Deliver the Classroom Treat
Snack Time Dilemma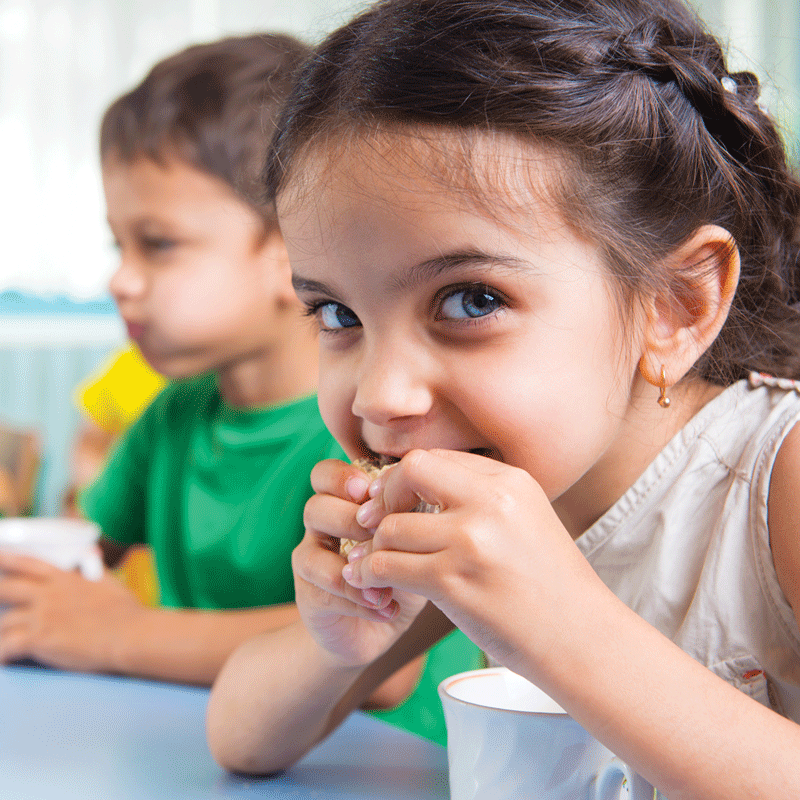 Caught smack dab in the middle of the traditional sugar-laden goody and the rise in childhood health concerns, parents are starting off another school year searching for the ideal classroom treat in what some dub "the cupcake debate."
No need to choose between grated carrots and a frosted doughnut — experts say there are plenty of appealing options that strike a balance between healthful eating and a fun treat.
Before you begin planning for your birthday boy or girl's classroom treat, double-check your school's rules concerning celebrations. Some schools only allow store-bought items, while others don't allow food at all. Coordinate with your child's teacher, and get a list of any food restrictions in the class.
Several registered dieticians have weighed in with thoughts and suggestions for classroom treats that please young palates without resorting to foods full of empty calories.
With 20 birthday parties per school year plus holiday parties in most classrooms, Jasminka Ilich-Ernst, a professor of Nutrition, Food and Exercise Science at Florida State University, admits that "yes, once in a while it's OK to indulge in sweets, but it becomes too often, unfortunately." So, what's a parent to do?
Explore fresh fruit as an option for a nutritional, sweet treat. Fruit salads and fruit with dip (apples with caramel is a kid favorite) are some easy options. Dietician and mom Reyna Franco encourages parents to get creative by having a "parfait party" with tubs of Greek yogurt, fruit and granola.
Choose fruits based on freshness and color, like oranges and blackberries for Halloween. "Freezing fruit can add variety, whether its freezing whole grapes or freezing bananas dipped in dark chocolate," says Allie Baker, dietician at Nutrition Services of Leon County Schools.
Crackers and cheese, trail mix and vegetables with dip are all great substitutions for other miscellaneous junk food items. Incorporating colors and shapes will keep the kids interested in these healthier alternatives.
If you enjoy bringing homemade snacks, you can put a healthy spin on your favorite recipes — and most of the time the kids won't even notice. Swap some of the all-purpose flour with white whole-wheat flour or substitute fruit purees for sugar and fats.
"You can also experiment with lower-sugar recipes by using date sugar, coconut sugar or even Stevia in your recipes. These options are less processed and provide some additional nutritional benefits," suggests Shannon Moore, nutrition coach at F.U.E.L. and a mother of four.
Dark chocolate or dried fruit are more ways to add sweetness and nutrients. To top it off, opt for a low-fat cream cheese frosting instead of buttercream.
Worried your junk food prince or princess will be upset at a change in menu? Simply reduce the portion size of their favorite treat. Store-bought items can be tricky because they often have adult serving suggestions. Adhering to these suggestions can lead to kids bouncing off the walls from a sugar overload (followed by a heavy crash) or half of your food getting tossed.
"Most of the time when you buy a big birthday cake, you end up cutting a 300 to 500-calorie piece of cake for a child, without even knowing," warns Moore. Quick tools when baking are using mini muffin tins or cookie cutters for petite portions.
Brownie bites, gelatin or pudding cups, and mini donut holes are fun-sized suggestions that would be a big hit at any class party.
Pleasing your child, and a classroom, is challenging in itself, but adding health-consciousness to the equation makes it even more difficult. "Balance is the key for food at celebrations," says Moore, "for all of us, young and old."
---
SENSIBLE SNACKABLES
Looking for snack day inspiration? Here are five suggestions from local dieticians:
Yogurt parfaits

Oatmeal raisin cookies

Cake pops/balls

Flavored popcorn/popcorn balls

M

ini cupcakes
---