What Parents Need to Know About Getting Into College in the New Millenium
The Big Decision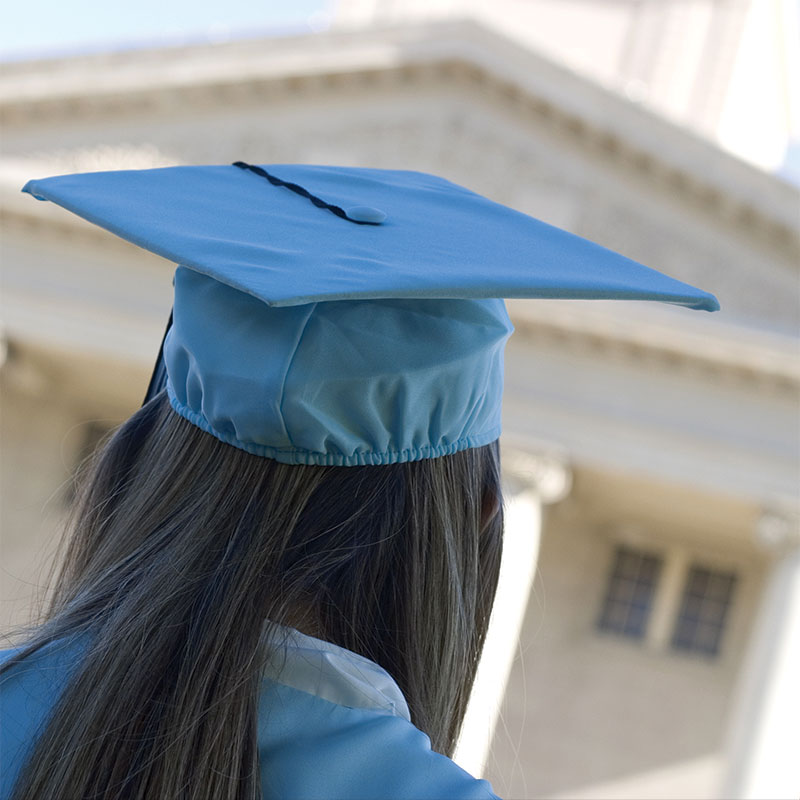 High school is in and your child is a senior. Time to start thinking about where young Michael or Ashley will be heading off to college, right?
Certified independent college consultant Nell Stranburg would beg to differ. According to her preferred schedule, you're three years late and, when it comes to getting into some of the most popular schools, you're sitting squarely behind the 8-ball.
"I like to get them in ninth grade because you can plan out their schedule," said Stranburg, who works individually with students and their parents on choosing which colleges to apply to. It's important to start early, she said, to assure a student with specific desires has the proper prerequisites. For example: "If you want to be an engineer and you want to go to a top-notch engineering school, it's really important that you get that calculus class in there," Stranburg said, adding that a student may have to double up on math classes. "If you haven't planned … you may be losing that option."
At Maclay School, which focuses on college prep, a counselor begins talking about higher education when youngsters are in the 8th grade, said Robert Webster, the private K–12 school's vice president and director of college counseling.
"We try not to put a lot of pressure on them," Webster said. But school officials do talk about the importance of starting out and staying focused in class. Because of early admissions deadlines, some schools may never even see any senior year grades before considering an application. "We tell them, 'You only have six semesters … to make your mark,' " he said.
Juniors at Maclay all get a printed guide with strategies for getting into college and have one-on-one sessions known as "Webster meetings." One of the questions he asks each student is, "If you had to go back and start all over again, would you change anything?"
Webster's advice to students: "Don't put yourself in the position where you have to respond by saying … 'I wish I'd worked harder in my freshman and sophomore year.' "
As any person who's been involved in the process during the last few years will tell you, college admissions today is not the same as the parents of the Class of 2014 remember from their own higher education experience two or three decades ago. In the 2000s, the process is more involved and more competitive than ever.
One trend that has cropped up within the past decade is the land rush to apply to Florida's state schools — and the accompanying competition for acceptance — which counselors credit to myriad factors. For starters, state schools are a good deal. A year's tuition for a Florida in-state student was about $3,800 in the 2008-09 school year, much less than the national state school average of more than $6,500 and considerably below private school tuitions of $25,000 or more. In the wake of this year's budget crisis, tuition hikes were approved by the Legislature; but there's a second incentive that still makes Florida's public universities hard to resist: Bright Futures.
Started in 1997, this program pays all or part of the tuition for students who maintain a certain grade point average and meet other criteria. As of 2008, more than 1 million students had been awarded
$2.4 billion in the program's 11-year history.
Webster said as recently as 10 years ago at Maclay, about 60 percent of the students went to private schools and 40 percent attended state schools. That percentage has flipped to 40 percent private, 60 percent state. The value offered by Bright Futures is a substantial factor, he said.
Another result of Bright Futures has been the increased difficulty young students have getting into Florida's high-profile universities. This year, the University of Florida had 28,000 applications for 6,000 spots. "Everybody's cutting back, the selectivity has increased," said Webster. "When UF announces that the middle 50 percent of students had weighted GPAs between 4.0 and 4.5, that's pretty heady stuff."
It's not uncommon for parents of college-bound students to say that they would never have the grades to make it into UF or Florida State University using today's criteria.
"When I went to college, I had two choices: Florida State or Vietnam," said local insurance broker Terry Bebout, only half-jokingly. His daughter, Avery, was in Leon High's class of 2009 and — after a two-year search process — she decided to attend Elon University, a mid-sized private college in North Carolina, this fall.
Elon wasn't even on the list when Avery started visiting colleges during the Spring Break of her sophomore year, Bebout said. After visits to University of Virginia (too big) and William and Mary (too cerebral), she began to figure out what sort of college she was interested in attending based on size, location and other, more intangible, standards.
Wake Forest was on Avery's short list — but fell off pretty quickly after a visit. "When my daughter went there she saw students studying at a sporting event," her father said. "I think that popped her balloon right there."
The Bebout family consulted with Stranburg during the selection process. "You don't have enough time or money to go visit all these schools, and so Nell whittled it all down," he said. "She analyzes the child's grades, test scores, school activities and the demeanor of the child and then will select several schools." The family's campus previews helped them narrow down the possibilities. "We gave her geographical borders — the more limitations, the less mind-boggling it is," he explained.
Stranburg said campus visits are important, particularly for private schools, because it gives students a preview — and tips off a college that you are interested in attending.
"Some colleges, even the hits on their Web site are recorded," Stranburg said. Don't just drive around, she advises, "Put your feet on campus. If you sign up and go on the tour, that is logged in." A "demonstrated interest" in a school can be a plus when admissions decisions are made.
Maclay's Webster said parents should consider working in a few college visits during family vacations all through high school. "If you're on a family vacation in Washington, D.C., why don't you visit American or Catholic University or George Washington or Georgetown?" he suggested. "If you're driving up there, stop in Macon and look at Mercer, or go to Athens and look at the University of Georgia."
If time and budget don't allow for trips prior to applying to college, Stranburg suggests going after the student is accepted because "you're not saying 'Am I good enough for them?' You're saying, 'Are they good enough for me? Do they have what I want?'" she said. When her own son was visiting the University of Central Florida campus, "this one kid said he was picking UCF over FSU because the engineering (school) was on the main campus," she recalled. "If you don't go to visit a school, you may not realize that you have to ride a bus to get to it." (As an interesting aside, at first Stranburg and her son began by looking at small, private liberal arts colleges, but he ended up selecting UCF, a state school that is the fifth-largest university in the U.S., with 50,000-plus students.)
Both Stranburg and Webster counsel parents not to get too caught up in trying to make sure their child gets in to the "best" school, as determined by rankings such as the annual report from U.S. News & World Report. Both say the criteria for ranking is subjective and subject to manipulation by savvy colleges looking to boost their numbers.
"It's a good starting point if you want to look at colleges and universities, but understand that probably the top 250 or 300 schools in that survey are all roughly equal, and they're all going to give you a good education," counseled Webster. "But there are so many factors in the decision-making process other than that."
Stranburg concurs: Just because a school is ranked in the top 50 or 100, "does not mean that is the school where your child will thrive."
Making a choice based on a school's name or ranking doesn't necessarily tell you if the university offers what a student is interested in studying or whether the campus life will suit a young person's personality.
"Only 50 or 60 percent of what you get is going to be an academic education," Webster tells his students. "The rest of the education that you're going to get is an awakening of you individually. You're on your own. You're outside the parental umbrella. You're making decisions and they may be simple ones (such as) 'Should I get up and go to class this morning?'"