What does a chef bring to a tailgate?
No Need to Wait, Florida's Bivalves Are Good Year Round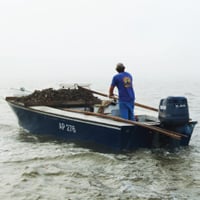 Oysters have a long history as a favored food dating back to the ancient Greeks and Romans, coveted throughout the millennia by lovers and romantics for their aphrodisiac properties. This was certainly true at a time when diets were deficient of many crucial vitamins and minerals, and eating oysters would improve aspects of overall health. Now we also know oysters contain dopamine, a chemical that influences desire in men and women.
But another myth associated with oysters needs to be cleared up. We've all heard the rule saying we should only eat oysters in the months that end with "R." This was true before widespread use of refrigeration, when oysters would spoil in the heat. Today, there's no real "season" for harvesting — Florida oysters are available year round and are tested and regulated to keep them safe for consumers.
Oysters feed mainly on single-cell plants and flourish in Florida's estuaries where nutrient-rich freshwater rivers meet coastal saltwater. With this plentiful food supply, Florida's Eastern oysters grow rapidly and can reach market size in less than two years.
Chefs and gourmet cooks alike have created many different recipes to showcase the slightly salty flavor of oysters. The extra lean meat that is tender-to-firm-textured can be baked, broiled, fried, grilled, sautéed or just served raw as nature intended.
Timineri is Florida's executive chef and culinary ambassador.
What does a chef bring to a tailgate?
Sage Owner and Executive Chef Terry White kicks off the football season the right way with "Asian style chicken wings in a sriracha chili sauce." And what else could go better with
a dozen wings but a complementary dip? "I'd probably make a creamy peanut dipping sauce to go along with it."
Spicy Jalapeńo Cheese and Bacon Oysters
» 36 Florida oysters, shucked, on the half shell
» Rock salt
» 12 ounces low-fat mozzarella cheese, grated
» 3/4 cup fresh lime juice
» 1/2 cup cooked bacon, crumbled
» 4 Florida jalapeño peppers, chopped
Directions: Arrange oysters on rock salt in a baking dish. Top each oyster with 1/2 teaspoon of the cheese, crumbled bacon and chopped jalapeno to taste. Bake in a preheated oven at 350 degrees for 10 minutes or until edges of oysters begin to curl.
Oyster 411
» Live oysters should close tightly when shell is tapped. Discard oysters that do not close.
» Oysters should have a mild sea breeze odor and shells free of cracks.
» Oysters should never be exposed to sudden temperature change. Do not store live oysters directly on ice or immersed in water.
» Store at a constant 41 degrees in the refrigerator in a container with the lid slightly open. They will remain alive for up to seven days. Drain excess liquid daily. Freshly shucked oysters have a fresh sea breeze aroma and a clear or slightly milky gray liquid in the container.
» Wash live oysters thoroughly under cold running water before cooking.
» Oysters become plump and opaque and the edges begin to curl when they're thoroughly cooked.
» Serve roasted and grilled oysters in shells with melted butter or a sauce.