What a Blast
Dial up a perfect clean under pressure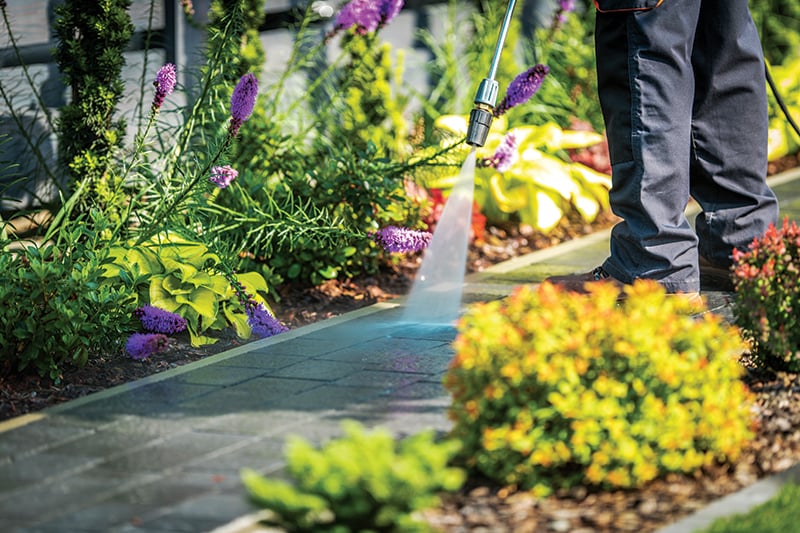 Mother Nature takes its toll on a house.
"Dirt, pollen, leaves and seeds blow against its siding, roof and deck," said Devarion Sieg of Emerald Clear Pressure Washing in Fort Walton Beach. "Stuff gets trapped in gutters and seams, and in humid climates like ours, mildew, algae and mold are common."
It's not just a matter of curb appeal, though.
"It's sensible maintenance," Sieg said. "Clean surfaces last longer than grimy, algae-covered ones."
It may be time for a pressure washing. Or power washing. Or soft washing. Which is best depends on the kind of siding or roof your house has, how your driveway and deck are constructed and the type of fence you have.
Here are some things to consider
Pressure washers are powered by electric motors or gas engines that run a pump that pressurizes the water from your garden hose to 1,000 pounds or more, then forces it through a spray wand. The higher the pressure — measured in pounds per square inch (psi) — the tougher the cleaning jobs it can handle. A steady supply of water — measured in gallons per minute (gpm) — is needed.
Electric pressure washers aren't as powerful as gas-powered ones, said Holly Kornegay, a Home Depot store manager in Tallahassee. So they're the best choice for light jobs, like washing cars or outdoor grills or furniture. Make sure to plug the electric washer into a grounded outlet, Kornegay warns.
Gas-powered pressure washers are best for big jobs like preparing siding for painting, deep-cleaning concrete or getting rid of old stains.
If you're buying or renting a pressure washer, select one that will dispense cleaning solutions in addition to water. A little bit of chlorine can go a long way in cleaning concrete and preventing the buildup of mildew and mold.
For safety's sake
The spray from a pressure washer can cause serious injury, both Kornegay and Sieg point out. Plus, the spray can propel objects that could strike someone. Before turning on the machine, make sure no one is around who could be hit by the spray. The spray alone can, with some machines, cut skin. To prevent that, grip the machine with both hands, and don't make any sudden movement. Also don't undertake the task on a windy day, and wear goggles, ear protection, boots and gloves.
In general, watch where you spray. Your roses might not look so gorgeous after they're hit by a blast of chlorine. Consider covering plants next to the foundation if you're using cleaning solutions on the siding, roof or deck.
Types of washing
Sieg is an advocate for soft washing.
"Pressure washing is great for durable materials such as concrete, pressure-treated decks, stone pathways and sidewalks," he said, "but for more fragile surfaces, such as those involving adhesives, soft washing is best."
He also recommends it for cedar shakes, vinyl, wood siding, roofs, stucco, pavers, brick and tile.
A soft wash involves the use of a special low-pressure nozzle or wand. A biodegradable chemical is used to remove biological elements like mold, algae, pollen dirt and moss without damaging surfaces or killing plants.
The third type is power washing, which is identical to pressure washing except the water is heated. "Extremely powerful" is how Sieg describes it.
"It's hard to think of a more dynamic grime fighter than a blast of high-pressure heated water," he said. "It'll break down organic matter in a flash."
Is it a DIY job?
Can you do the job yourself? Probably, if the project is modest and you are reasonably handy. But even confident DIYers should make sure they have the processes down pat before starting out.
Better leave the roof to the pros, Sieg and Kornegay agree. Climbing up on a ladder with a pressure washer is not a good idea for a DIYer, Sieg said, especially since roof cleaning requires extra skill and finesse, as well as moving on a sloping, wet surface.
The cost of hiring a pro depends on the size of the house and many other circumstances, of course, but Sieg said pressure washing a house in the Tallahassee area can run as high as $800.
---
Soft Wash
» Cedar shakes, vinyl, wood siding, roofs, stucco, pavers, brick and tile
Pressure Wash
» Concrete, pressure-treated decks, stone pathways and sidewalks
Power Wash
» Identical to pressure washing except the water is heated
---