We've Got Art in Public Places
We've Got Art in Public Places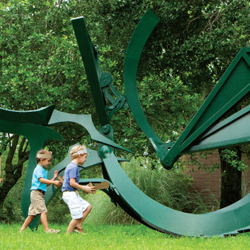 Scott Holstein
"Iron Warrior" is a steel sculpture by Charles Hook, based on imagery from Norse legends. You can find it at the Northwest Regional Data Center in Innovation Park.
Public art is all around us in Tallahassee. You just need to look up from whatever you're doing long enough to see and appreciate it. It's in our parks and on our sidewalks. It decorates City Hall and the airport. It enlightens us, gets us to ask questions and brightens our world.
"It's a local treasure, having this much artwork on display," said Amanda Thompson, education and exhibitions director for the Council on Culture and Arts (COCA), the local arts agency for Tallahassee and Leon County. "We're all so busy getting to work and doing our jobs and sometimes we forget to stop and look around, because art is everywhere and is for all of us to enjoy."
Around town there are more than 140 sculptures, murals and windows, memorials and monuments. For the first time, all these different forms have been collected into an online guide.
"No single organization has had all this information all in one place," Thompson said. "It's one reason we are so excited about it. It took a lot of time, energy and attention to pull all of these pieces of info together in one resource for our community."
The guide offers views of art that range from the quirky (the Tallahassee Fire Department's Hydrant Memorial Garden) to the historical (the Seminole family sculpture outside the R.A. Gray Building) and the reverent (the bronze boots of the Daniel Chaires Memorial). The stories behind each piece of art were painstakingly gathered over time, Thompson said, and with the creation of the online listing, their history will be preserved for generations.
"This is really the story of our town," Thompson said. "The story of our time, the story of all the people who live here. And if someone isn't recording it, it goes away."