Wedded Bliss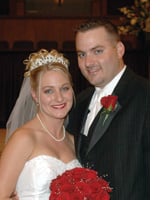 Three local couples share stories of their courtship, weddings and honeymoonsKeeping the FaithAfter each broke off a previous engagement, Ashley Dover and Brock Gholston trusted in God to bring them together.
By Ashley Kahn 
Three years ago, Ashley Dover and Brock Gholston were heading in entirely different directions. They had not seen each other in eight years and both were engaged to be married to other people. Neither could have imagined that just a short time later they would be walking down the aisle together, sharing a life rooted deeply in their religious faith.
"You always hear, 'When God made you, he made you for me,' and I truly, truly believe that," Ashley said of her union with Brock. "It's amazing how you can be going one way, then God just turns you around."
The couple, who later would plan one of the most extravagant weddings Tallahassee has ever seen, met when Ashley was in the seventh grade at North Florida Christian School. Brock was a high school senior, a football and baseball star. Ashley was a cheerleader who also kept stats for the baseball team.
"He and all his friends called me 'Little Dover,'" Ashley said. "He used to joke with me that I should call him when I turned 18. It took me until I was 21."
Brock and Ashley reunited during a night out with mutual friends at Café Cabernet. Having both recently broken off longtime engagements, neither was looking to begin a
new relationship.
"It's hard to start dating again when you've been with someone for so long," Brock said. "We related to each other so much."
It seemed to the pair that God knew what He was doing all along. Once they found each other, they understood. But it still would take some work before they went on their first date. In this case, it would take physical labor. At some point in their initial conversation, Ashley had mentioned she needed to cut her yard, and Brock was quick to offer up his lawn-care services.
The day Brock was scheduled to arrive, Ashley recalled, the Dover farm seemed more like a circus.
"Mom was up in the barn, Dad was on the tractor and Jason (an employee at Dover farm) was working on the property," she said. Thinking Brock could help him with his chores, Jason approached the young couple, and Ashley introduced Brock as Broccoli.
"Before I knew it, Jason went and told Mom he had just met the new guy and his name was Cucumber," Ashley said.
Horrified, Ashley told her mother that if she didn't get a second date, she would forever blame her family. Thinking quickly, Carol Dover, president and CEO of the Florida Restaurant and Lodging Association, gave Brock a gift certificate to Outback Steakhouse, with one stipulation. She said: "Thank you so much for your hard work, but you can only take my daughter!"
Nine months later, Brock proposed – on Dec. 23, 2005.
"I bought her the ring, and I wanted to give it to her at Christmastime, but she had no idea," Brock says. One night after dinner at the Dovers' home, Ashley went to bed while Brock stayed up talking with her parents. He showed them the gifts he had bought Ashley for Christmas, saving one for last.
"I got out the ring and said, 'This one, I'll only give her with your permission.'" Naturally, they said yes.
Ashley had been busy coaching cheerleading, so Brock lured her to dinner by explaining they hadn't been on a real date in a long time. It was the night before Christmas Eve.
When Ashley got to his house, there was a large present sitting on the coffee table. She was eager to open it, but Brock insisted she get ready for dinner, telling her he didn't want to be late.
"I was wondering what was wrong with him, because he wouldn't sit still and the dogs were running in and out and his face was red," Ashley said. "But I started getting ready like he asked. All of a sudden he said, 'I can't wait. You have to open your present now.'"
Exasperated, Ashley returned to the living room and opened the box. She looked in and immediately closed it.
"You would have thought I'd seen a snake," she said.
Brock had bought Ashley an outfit from one of her favorite stores, Trixie and Grace. The shirt had a brooch on it, and he had unfastened the pin and hooked the ring on it.
"There was a card that said 'Santa wants to know,' and I wrote underneath it, 'Will you marry me?'" Brock said.
When Ashley looked in, she only saw the ring. She was embarrassed, thinking that maybe she saw it only because she wanted it to be there. Not only was the ring there, but it was created specifically for Ashley.
"In eighth grade, I went to a Christian camp and they showed us a Trinity using a triangle," she said. "They told us if you keep God at the top and you and your husband at the other points and you work toward God, you will meet each other." Brock remembered her love of the symbol and had triangle diamonds incorporated in the design of her ring.
He captured the entire engagement scene on video.
When it was time to go to dinner, Brock told Ashley they were going to Nicholson's Farmhouse. He took her to Georgio's instead, where they were given two menus and led to a large room where both families were waiting.
The day after Christmas, the newly engaged couple went to Las Vegas to celebrate for a week. In January, the wedding planning began. With the help of Carol Dover and Brock's mother Kathy Gholston, Ashley and Brock orchestrated the event, which was to include 12 bridesmaids, 14 groomsmen and nearly 400 guests.
On Oct. 14, 2006, the wedding was held at North Florida Baptist Church, the church affiliated with the school the couple had attended. Brock and Ashley chose a traditional ceremony with a tender moment planned in addition to the Unity candle.
"Brock lost his sister at a very young age," Ashley said. "We wanted to do something special to remember Rachel and all the people who couldn't be with us on our wedding day."
They decided on a sand ritual. A glass globe engraved with their wedding date and the words 'Forever in Our Hearts' was filled with layers of colored sand, each representing a person they had lost.
After the ceremony, guests were ushered down a tree-lined drive to the WC Dover Farm, land that has been home to the Dover family for 65 years. The Dover-Gholston wedding reception marked the debut of the farm's brand-new pavilion – a 20,000-square-foot structure featuring a wet bar, movie theater, bedroom, restroom facilities and a full-size commercial kitchen. Carol and Walt Dover began construction on the pavilion more than three years ago, and both agreed it was an honor and a delight for the family to open their event showplace with their daughter's wedding.
At the well-equipped venue, Chef Rebecca Babbit of Keiser College Capital Culinary Institute served a Southern feast complete with gourmet hors d'oeuvres and a full buffet featuring shrimp, grits, collard greens, cornbread and several carving stations. There even was a children's table offering crustless peanut butter and jelly sandwiches and macaroni and cheese.
"Rebecca Babbit is phenomenal," Ashley said. "In addition to all our food, she also did our cakes."
The bride's cake was an exact replica of her parents' seven-tier cake at their 1978 wedding. The groom's cake matched the wedding cake of Brock's parents, Frank and Kathy Gholston.
Ashley and Brock arrived at the reception in a horse-drawn carriage. They enjoyed a 45-minute tribute concert by Quincy natives and award-winning recording artists Billy Dean and Marvin Goldstein, who selected the songs specifically for the bride and groom. The couple's first dance as husband and wife was to the tune of Joe Nichols' "That Would Be Her," a song they once had danced to after a day spent on the farm.
"We were riding around in the truck when the song came on," Brock recalled. "We jumped out and danced to it in the middle of the field." It was the first time Brock ever told Ashley he loved her.
Now he had told her in front of 400 people, and there were more treats to come. Later in the reception, the father of the bride, Walt Dover, serenaded his daughter.
"I'm a Daddy's girl," Ashley said. "My Dad always sang 'My Girl' to my mom, so for my wedding I wanted him to sing it to me." Next, the cheerleaders Ashley coached performed a routine for the newlyweds.
According to the couple, the hardest part of the wedding was finding time to greet everyone.
"There were so many people there, it was just a blur," Brock said. "The only thing I can really picture is us in the middle of the dance floor with a light on us, and no one around."
"It was pretty flawless," Ashley said. Brock added, "it was like a fairytale wedding."
The fairytale didn't end there. On their wedding night, the couple stayed at Melhana Plantation in a suite secretly decorated with candles and rose petals by Ashley's sister, Brittany.
"She forgot to give us a lighter," Ashley laughed.
For the honeymoon, it was off to St. Lucia, where Ashley and her new husband relaxed with two days at the spa, deep-sea fishing and horseback riding on the shore. For their last evening on the island, Brock custom-ordered food for a private dinner on the beach. The Gholstons returned home for two weeks, then left for their second honeymoon in Hawaii with the family for Thanksgiving.
It's a good thing they got their relaxing out of the way, because married life has been busy for the couple. In March, Ashley was given the opportunity to own and operate her own cheerleading gym. Having previously turned a team of four into a team of 70 at International Gold Gymnastics, she had enough experience to know how she wanted to run the new Cheer Company AllStars.
"It's a faith-based, Christian gym," Ashley said. "It's more than just cheerleading."
Brock, a property manager with Meeks Construction and Development, is very involved in the project. He even came up with the motto for the gym: "Becoming cheerleaders, building character."
"I couldn't do it without Brock," Ashley said. "We know God's will, and He has given us a lot."
"I'm very blessed to have her," Brock said.
Wedding Vendors
Event Coordinators: Sandy Moore and Cara Wynn
Bridal Gown: Oleg Cassini
Bridesmaids' Dresses: Bill Levkoff
Officiant: Dr. Randy Ray
Videographer: Video Specialties
Tuxedos: After Hours
Rings: Tallahassee Diamond Center
Hair: Tre' L Salon & Spa
Flowers: Elinor Doyle
Beverage: Jake Cox Professional Bartending Services
Ice Sculptures: Angelia Jones
Reception Venue: Eagle Hill Pavilion at WC Dover Farm
Entertainment: Billy Dean, Marvin Goldstein, Walt Dover, Kevin Dover, Nicolette Phillips, Acme Rhythm & Blues
Photographer: Eric Tournay
Invitations: My Favorite Things
Catering and Cakes: Chef Rebecca Babbit Catering & Andrew's
Transportation: Classic Limo
Valet: Mako Valet Service
Horse-Drawn Carriage: Black's Pony Farm
Reception Flooring: Brian Barnard's Flooring America
Patience is a VirtueAfter nearly a decade in love, Ken Powell Jr. and Amy Bass finally tie the knot in true Southern fashion.
By Ashley Kahn 
Fairy tales never include the chapter in which Snow White dated Prince Charming's best friend or the king broke up with the queen the day she moved to another castle to be near him. All anyone remembers is the couple riding off together in a beautiful carriage on their way to "happily ever after."
For Amy Bass and Ken Powell Jr., it was the same sort of unexpected plot twists that finally led them to the chapel. They met at North Florida Christian School. Amy dated Ken's best friend while he dated hers. As fate – or fairy tale – would have it, the couples went their separate ways. But Ken remained a good friend to Amy's brother, Eddie.
During Amy's birthday celebration at Bristol's Lake Mystic in 1997, Amy recalled a particular conversation with her girlfriends.
"Ken came walking down the hill with my brother," she said. "I said, 'That man's gonna be mine someday!'"
Turns out "someday" came sooner than she expected. That weekend, Ken suggested that Amy stay with her family at the lake instead of returning home as she had planned.
They began dating and have been together ever since.
"The first time we kissed we said we were going to marry each other," Amy said. "After our first year of dating, he bought me a promise ring."
It was a promise Ken would keep, but it would take time. Amy graduated from high school in 1998 and started her freshman year at Florida State University, while Ken moved to Gainesville. The couple lived apart for a year and a half until Amy decided to transfer to the University of Florida to pursue a degree in nursing.
"He broke up with me the day I moved to Gainesville," Amy laughed. "I think it was because we had lived apart. I got there and I cramped his style." The split lasted two days.
Five years later, the pair relocated to Jacksonville, where Ken would attend the University of North Florida and ultimately earn a B.S. degree in building construction management. This time there were no break-ups. On Dec. 30, 2003, Ken surprised Amy with a trip to the St. Augustine outlet mall.
"It was weird because he never volunteered to take me shopping," Amy said. The day would only get more surprising.
After the outlets, Ken drove Amy to the beach in St. Augustine, where they took a stroll on a public pier.
"We paid a dollar," Amy said.
As they walked back, Ken dropped down on one knee and asked Amy to marry him. Thinking he was only being spontaneous, Amy told him to get up.
"He asked me four times before I ever said yes," Amy remembered. All he had to do was pull out a tiny red box.
Though their families didn't know each other well, everyone was happy about the union. After six years together, it was no surprise Ken proposed. Still, he made sure to ask Amy's father for his blessing.
"He sat my parents down on Christmas Day and asked for my hand in marriage," Amy said. "Not many men do that these days."
The Bass family agreed on one condition: that Ken graduate before they got married.
Once Ken's graduation date was set for August 2006, the couple decided on a wedding date and began planning the elaborate event. On March 17, 2007, Ken Powell Jr. would marry Amy Bass in front of 375 guests, including the parents of the bride, Eddie and Karen Bass, Ken Powell Sr. and Deborah "Dewy" Powell, and Joan and Ken Collier.
To celebrate their engagement, Ken and Amy cooked a big dinner of lobster and steak at home and called everyone they knew with the big news. After Amy and the girls of the Bass and Powell clans enjoyed a bachelorette weekend in Key West, they began planning the wedding.
"I had a lot of help, and it was a lot of fun," Amy said. "I want to go back and do it again."
The Powell's St. Patrick's Day wedding would be a difficult day to duplicate.
"It was everything I could have ever dreamed," Amy said. The couple's parents and grandparents entered to the theme of "The Young and the Restless," Amy's favorite television program. Dressed in a crystal-flecked ivory gown, Amy walked down the aisle to the wedding march. She and Ken exchanged traditional vows in a 16-minute ceremony at East Hill Baptist Church in Tallahassee.
For the reception at Pebble Hill Plantation, Amy had two special requests of wedding planner Brandi Brown. She wanted a really good band and really good food. She got both.
Liam's Restaurant in Thomasville, Ga., catered the event in buffet style with a variety of stations. An Italian station served chicken marsala and cheese ravioli, while a traditional Southern station offered fried grouper and grits. There were fajitas and quesadillas, an array of fine cheeses, fresh fruits and – for Ken – steak and potatoes.
The Rupert's Orchestra, an Atlanta-based 12-piece dance band, provided the evening's entertainment. The couple's first dance was "It's Your Love" by Faith Hill and Tim McGraw.
"It was the first song we ever danced to back at the lake house," Amy said.
The wedding was a fairy tale, but fairy tales don't mention the part where the cake isn't the one Cinderella specified. Amy had saved a picture of her ideal cake for five years.
"My wedding cake was not my wedding cake," Amy said. "I said, 'Honey, this is not my cake,' and he said, 'Smile, it will be fine.'" It was even better.
Having always heard not to eat or drink, Amy made a point not to be that type of bride. After their first dance as a married couple, Amy and Ken got all the wedding rituals out of the way.
"We had our dance with our parents, cut the cake and made our toast because we wanted to be able to have fun," Amy said. She even ate grits.
At 10:45, the reception ended, but the celebration was only beginning. Amy and Ken flew to St. Lucia, where they spent their honeymoon in a private suite complete with their own pool and butler at the Sandals Regency Resort.
But not without another plot twist. This modern day princess and her charming prince missed their flight by just one minute and were delayed a half day. What's 12 hours when you've waited 10 years? If "happily ever after" takes a little longer than expected, it will likely be worth the wait.
Just ask Amy and Ken Powell.
Wedding Vendors
Welcome Reception: Miller's Ale House
Rehearsal Dinner: Schlitz Pond
Caterer: Cowboy Grillworks
Bartenders: Colonial Liquors
Disc Jockey: Vital Sounds
Church: East Hill Baptist Church
Reception: Pebble Hill Plantation
Bridal Gown: Amsale by Kenneth Pool
Bridesmaids' Dresses: Bari Jay
Planner: Brandi Brown Events
Photographer: McGinnis Leathers
Videographer: Unique Video Creations
Band: The Rupert's Orchestra
Florist: Missy Gunnels
Reception Caterer: Liam's Restaurant
Transportation: Astro Travel and Mike's Limousines
Printing: Harvest Printing
It's a Family AffairJanele Bullard and Daniel Parrish's courtship and wedding were characterized by a strong sense of family ties.
By Ayanna Shields 
Newlyweds Janele Adele Bullard and Daniel Joseph Parrish's courtship and wedding was characterized by their strong sense of family values.
Their love story began four years ago at a hip-hop concert. Daniel, now a criminal justice major at Florida A&M University, was working security at the concert. Janele, now a third-grade teacher at Bond Elementary School, went to the concert with her friends to see rap star Juvenile perform.
"I saw her out the corner of my eye and noticed she was admiring me … so I approached her and asked her if anything was wrong," Daniel joked. Janele, laughing, said she wasn't looking at him at all but was waiting for a friend who had gone to the bathroom. The two started talking and exchanged phone numbers. Daniel called the next day, and they talked on the phone for hours.
Their budding romance hit a rough patch, though, when Daniel missed Janele's graduation.
"I had to work that day, and she got real upset about that," he said. They stopped talking for a while. But fate stepped in when Janele ran into Daniel at a relative's birthday party. They started talking again, she forgave him, and they moved on from there.
Soon, Janele began to realize she was falling in love with Daniel because she was able to accept him completely for
who he was.
"I knew in my heart I wasn't going anywhere and he wasn't going anywhere," she said. In addition, their families got along perfectly, which was an added bonus for Janele, an only child who is close to her parents.
"We did a lot of stuff with our parents and his brother and nephew," she said.
Daniel said he started falling in love when he saw how comfortable they felt around each other's families.
"I just knew I was in love when I got to meet her parents and she met my parents and we went to family functions together with both (of our) families," Daniel said. Daniel, a veteran FAMU football player, admitted that he was surprised when he found out the identity of Janele's father. Joe Janele's voice introduces the famous FAMU Marching 100 at FAMU football games and is easily recognizable to university students and alumni.
Their families soon became so close that Daniel showed everyone the engagement ring he chose for Janele and even planned a surprise proposal. Janele blushed as she described the proposal.
"He proposed on his mom's birthday," she said. "We were planning this big birthday party for his mom's 50th birthday party, but (they) were really planning my engagement party. So everyone that came, they knew about it except for me."
Although the two had talked about marriage before, Janele became emotional when Daniel asked her to marry him.
"It was nice. It was a surprise. I cried a little," she said.
Janele and Daniel were married on Dec. 23, 2006, in a Christmas-themed celebration at Bethel Missionary Baptist Church. Janele wore a bejeweled ivory strapless gown with an embroidered bodice and scalloped, chapel-length train, a sparkling tiara with a scalloped veil, and opera-length ivory satin gloves. She carried a bouquet of crimson and cream calla lilies and roses, and she walked down a monogrammed aisle runner made of ivory satin and crimson velvet.
"It was fairytale from beginning to end," Janele said.
The couple chose the colors crimson and cream for their wedding ceremony and reception because the wedding was at Christmastime and because those are the colors of Janele's sorority, Delta Sigma Theta.
Before the wedding, Daniel was anxious about seeing his bride.
"I first arrived at the church about an hour before the ceremony," he said. "I went off in a room by myself. I wanted to see Janele and I wanted to talk to her because I didn't talk to her all day."
The football star admits that he cried as he watched his future wife walking down the aisle toward him.
"I finally got a chance to see her come down the aisle with her dress on and everything," he said. "It was really exciting and emotional and a very happy time all in one."
By the time Janele got to walk down the aisle, she already had cried out all of her tears.
"I didn't cry," she said. "I cried before. I had been crying since we put the invitations in the mail. So by the time I got down the aisle, I told myself I wasn't going to cry. I still felt all the emotions, though."
The newlyweds' winter wonderland-themed wedding reception was held at the Tallahassee-Leon County Civic Center. The bride's mother, Carolyn Janele, decorated the hall with Christmas trees and cakes that sat on all the guests' tables.
"Everyone we talked to said they'd never seen the Civic Center set up so nice," Daniel said.
Joe Bullard and the African Caribbean Dance Theater drummers introduced the wedding party to guests at the reception. The theater group performed a dance salute to the new married couple. Donnell Davis, a Tallahassee native and "American Idol" alumnus, serenaded Daniel and Janele for their first dance to "Can't Let Go" by Anthony Hamilton.
Janele's sorority sisters sang to her, and then there was a video tribute to her parents, who were celebrating their 30-year wedding anniversary.
The five-tier wedding cake had ornate scrollwork and pearl detailing, with crimson and cream calla lilies and roses between each layer and a crimson jeweled monogram on top. The guests' tables, draped in crimson tablecloths and rose petals, had matching miniature cakes that doubled as centerpieces. Also, Daniel had his own cake – a replica of FAMU's Bragg Memorial Stadium with digital images of the 2006 football team and stands filled with cheering fans.
The newlyweds honeymooned in the eastern Caribbean. They cruised for seven days on the Norwegian Jewel cruise ship and visited Antigua, the Virgin Islands, the Bahamas and Puerto Rico.
"We decided to go there because we went on a cruise with some of our family members (last summer) and we had a lot of fun, and we always said we wanted to go again," Janele said. "(We had) a lot of fun."
The Tallahassee natives plan to make their home here, close to both their families.
Wedding Vendors
Photographer: Eggleston Photography
Videographer: Unique Video Creations
Florist: Flowers by Vince
Reception: Tallahassee-Leon County Civic Center
Wedding Cakes: Myra Jean Cakes
Reception Mini-Cakes: Victoria Ellis
Bride's Gowns: SGBridal; designed by Mary's and Casa Blanca
Bridal Party Gowns: SGBridal; designed by Alfred Angelo
Bridal Party's Hair Stylist: Tia Henry, owner of Debonair
Bridal Party's Makeup Artist: Aprell Griffin
Tuxedos: Sacino's
Groomsmen's Barber: FADE Professional Barbershop
Reception Soloist: Donnell Davis
Reception Music: Vaughn "DJ Ace" Wilson of Mega Ace Productions
Reception Entertainment: African Caribbean Dance Troupe
Reception Concept and Design: Margo's
Wedding Bands: Friedman's Jewelers