Wearable Memories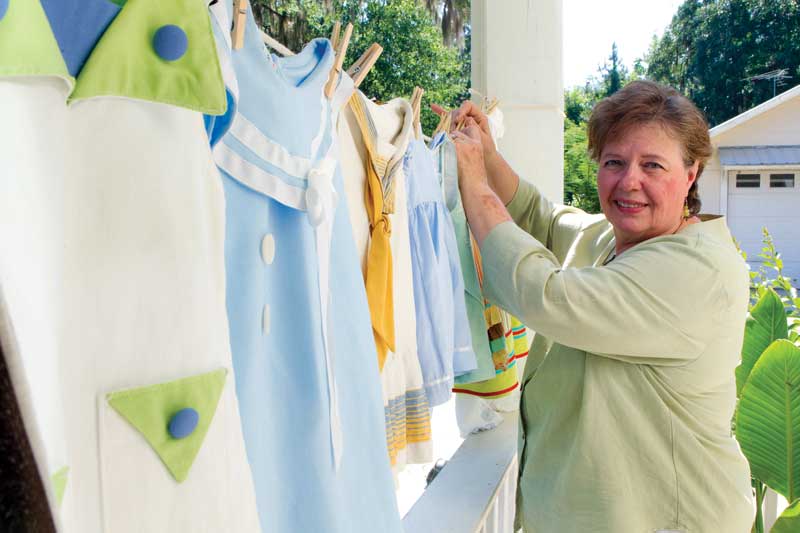 Sue Williams finds a new purpose for old fabricsWearable MemoriesMonticello's Sue Williams Transforms Vintage Linens into Heirloom Dresses By Carissa Neff
The dresses speak for themselves. And it's a good thing, too, because Sue Williams, their maker, is beyond modest, silent even, as I stand in her living room and gush over each handmade dress she sits out before me. Williams is the sole proprietor of Vintage Green Peas, which creates handmade dresses for infant and toddler girls from vintage materials.
Click to enlarge
She sells her pieces, for the most part, from under a plain white tent at local festivals and fairs and from her Monticello home. Since I cannot wait for the next Springtime Tallahassee or Watermelon Festival, I have traveled like a pilgrim to Monticello to buy dresses for my daughters, up the dirt road aptly called Rainbow's End, past the pastures and picturesque pond, round the bend and up the drive, to be there, in her home, the air smelling, honest to goodness, of homemade pie. I cannot help but enthuse. Ordinary dresses, these are not.
Williams began sewing vintage dresses for her seven granddaughters seven years ago. From there, the business grew organically as she had more and more requests for her work. She sews the dresses, oftentimes from antique dress patterns, both by machine and by hand. The garments are largely inspired by her impressive and ever-growing collection of vintage linen as well as decorative notions, buttons, lace and trim mined from other items of antique clothing and accessories.
"I fall in love with the fabric first," Williams says. Her business was borne out of her falling in love with a pillowcase at a yard sale. Or, more accurately, falling in love with the beautiful and intricate stitching at the hem of a vintage pillowcase that contained a hole where, apparently,
someone's head had rested for a good many years. The damaged case had no utility, obviously, but she wondered if it couldn't be salvaged somehow and given a second life.
"I love to create, and once I get an idea in my mind, I have to see it through," Williams has said to me more than once. In this case, her idea was to salvage the needlework on the pillowcase by grafting it onto a little dress. What was old, tired and damaged would become honored in a new and transformational way. Soon afterward, a one-of-a-kind business would be born selling one-of-a-kind dresses — literal fabrics of history pieced together to create something new, something utterly more remarkable than its individual parts.
"I probably have the largest collection of vintage pillowcases in the country," Williams says matter-of-factly. "Lots of people make dresses from pillowcases. They cut out a place for the neckline and arms, add a belt … ."
When reminded that her designs include tailoring and careful handwork, I interject: "No one in the world makes dresses like yours, though, with this much tailoring and care, this much handwork."
"The handwork is very time-consuming," she admits in characteristic understatement.
For Williams, there is no alternative to the handwork. It is this attention to detail, together with her skill and imagination, that elevates her work from homespun craftwork to true art. The dresses elicit, for their maker and others who can appreciate them, emotional power.
And Williams is just as in love with the details as her customers.
"I just love old buttons," she says. "I have a friend who says she has a jar of old buttons for me. Last time I saw her, she forgot to bring it with her. Oh, I just can't wait to get my hands on those buttons."
In fact, friends and family give Williams many of the vintage materials she uses to make the dresses.
"One of my daughters runs an antique business in Goshen, Ala.," she says. "And I find things at antique malls, estate sales, garage sales. I don't shop online."
Not that she's against online shopping.
"Part of the pleasure is finding everything. Different parts of the country will have different things," Williams says. "My sister even sent me some antique pillowcases from Singapore."
Williams also creates commissioned pieces, dresses made from vintage fabrics people have loved and cherished and want to see given a new life. When I gave her a tablecloth from the 1950s that I loved but rarely used, I asked her to make two coordinating dresses for my daughters with the only instruction being "Do what you do." I could never have imagined the result. I'm not ashamed to say, seeing my favorite tablecloth reinvented in such an honorable way brought tears to my eyes … and to my husband's. Our useless old tablecloth had become two heirloom dresses each girl could wear and keep and pass down, and on and on.
Williams also runs a sister endeavor called In The Picture. She paints, from photographs, oil and acrylic portraits of children in classic pastoral settings, caught in a natural and unstaged state.
When asked if any one dress she has ever made was more special than another, Williams is quick to respond.
"Thirty years ago, someone gave me a hand-crocheted Irish wedding dress, and I hung onto it and finally used it to make the most gorgeous christening gown you have ever seen," she says. "I used the lace from that dress, the leftover bits and pieces, for a long time.
"Sometimes I hate to sell the dresses because I know I cannot ever make that same dress again. Those exact materials — that fabric and those buttons, that lace — it's difficult to part with them. But that's the name of the game."
"I suppose there were many painters who never wanted to part with their paintings," I say in response.
But after our conversation ends, I think further about what I had said. For the composer, the painter, the writer, the sculptor, the singer and dancer — for all of them, their mediums, the raw materials from which their art comes, are in endless supply. There are always more words and clay, notes and paint. Then again, what makes art art is not the medium itself, but what is done with that medium. The irresistible urge. Seeing it through and letting it go. That's the name of the game.
Carissa Neff holds a Ph.D. in creative writing from Florida State University. She writes nonfiction, poems and plays. She now lives with her husband and two daughters in Austin, Texas.
Where to Get itIf you cannot find Sue Williams and Vintage Green Peas during one of the area's many local festivals and celebrations, you can set up an appointment by phone for a visit to her Monticello home. She can be reached at (850) 997-1573. Her dresses range in design from casual play dresses to special-occasion dresses, and most are priced around $40.