Wealth of Taste
Bank vice president favors classic lines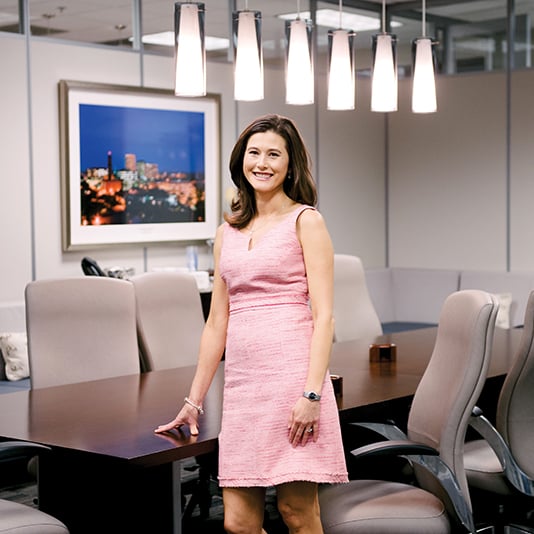 The exterior of the Hancock Bank building, on Mahan Drive, is imposing. Inside, the office of the vice president of private banking is equally imposing. A corner space that is filled with light, the office's glass walls put its occupant on stage for most of her working day. It is here that Diana Cureton develops relationships and conducts business with high-end clients who range from physicians, lawyers and lobbyists to anyone else whose needs require the personal attention of a banking professional.
But stereotypes stop at Cureton's door. Instead of a suit-wearing, sensible-shoed, plastic pocket-protected numbers counter, Diana Cureton is a youthful, stylish, animated dynamo who knows her own tastes and fearlessly carries off both the role of beautiful woman and consummate professional.
Encountered by a writer, Cureton is wearing a slim, sleeveless sheath of black with red scalloped eyelets and a pair of calf-high black suede boots. Sitting at her desk, she may be mistaken for a 20-something banking assistant; but Cureton, 44, is totally in command of both her business and her style.
"For me, style is not just about clothes or accessories," she says. "It's how you carry yourself. It's the professional appearance you project. It's really about having the confidence to be yourself."
With 18 years of experience in wealth management with Sun Bank and Sun Trust, that confidence is well founded. She became vice president at Hancock two years ago. 
"You know, when I first went into banking, I used to wear a lot of suits," she says. "At that time, that's how you signaled you were a serious professional. But that has changed. Now, I primarily wear dresses. They are perfect for the transitions I need to make in my banking duties." Going from office-time to afterhours receptions or dinners is all in a day's work, she says. "And a dress allows a little more opportunity for color and line."
But as much as Cureton loves meeting people and building relationships, she also knows that banking is serious business, and much of her self-presentation reflects that knowledge. "I would call my taste 'classic,'" she says. "I love Grace Kelly's style … and that of Princess Kate. I wear lots of black and white and bold colors. And I try to go by the motto, 'less is more,' when it comes to accessories."
And then there are the galas: "Well, then I really do dress up," she says, smiling. For this year's Tallahassee Memorial HealthCare Golden Gala, Cureton wore a form-wrapping, strapless, navy gown in silk organza from Narcissus. "It had lovely rose-gold embellishments that followed the body's lines. When you put your hair up and the jewelry on, it's a wonderful departure from the everyday." 
---
Weekend Wear
Diana Cureton may dress professionally all week long, but on weekends, even the casual clothing she wears is "high style."
"I love ponchos and capes, and long sweaters and scarves are perfect for turning simple jeans into something personal," she says. "And also boots … from ankle-height to higher, I'd wear them every day!"
Keeping healthy is important to the delicately fit Cureton, too. "I drink green or black tea daily and walk or do yoga," she says. And she doesn't obsess about make-up or hair. With thick, shoulder-length waves, she says she keeps her hairstyle as simple as her make-up. "I use Chanel and Clinique products and always have a 30 SPF sunscreen on beneath. But it's basically all about that confidence again. Be who you are, and you'll be beautiful."