Watercolor Society's Members Share Water Media Passion
The imprecise is a fascination for many in our region and provides an escape from the mundane.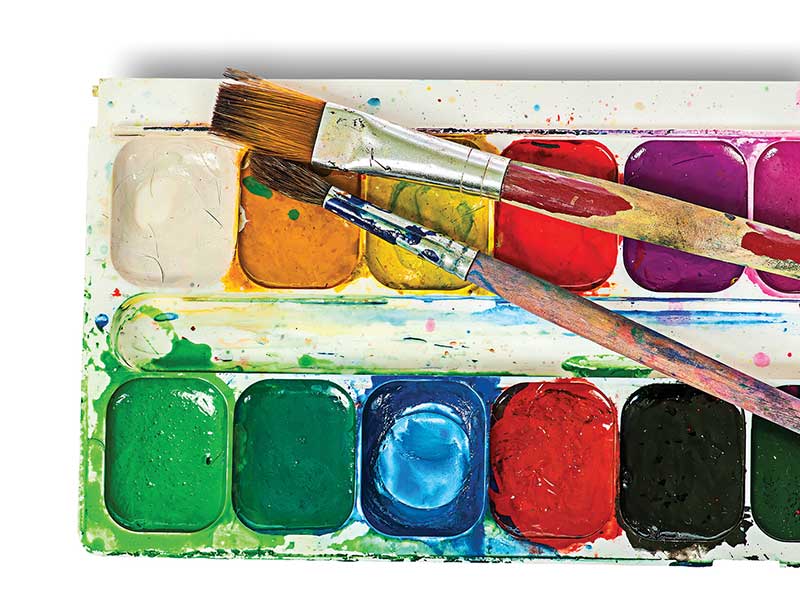 Tallahassee Watercolor Society is one of several dozen city and regional groups founded across the country to promote water media.
Many are very old; the American Watercolor Society, which began soon after the conclusion of the Civil War, recently celebrated its 150th birthday.
Founded in 1980, Tallahassee's group is regional. Karol Dover Selvaggio, the current president, has been a member of Tallahassee Watercolor Society for eight years and leads some 240 members from Florida and nearby Georgia and Alabama.
"We reach out in the community and help in schools, and we offer free ongoing exhibitions," Selvaggio said.
"A lot of us paint at the senior center," she continued, referring to the Tallahassee Senior Center. "Friendships develop out of our monthly meetings."
For the 30 or so members who attend meetings, open to the public and held on the third Sunday of the month at St. Paul's United Methodist Church, water media is a passion rather than an occupation.
Selvaggio studied art at Florida State University, but as office manager for a construction company, she found she didn't have time to paint until she retired.
William McKeown, who began painting in retirement, is a member of 10 different watercolor societies. He has helped set up exhibits at Montford Middle School and said he enjoys talking to students about watercolor.
"They ask so many questions," McKeown said with a chuckle. "The first one is usually, 'How long did it take you to do that?'"
In March, Selvaggio and other group members were busy gearing up for one of two large annual exhibits: the Tri-State Juried Water Media Exhibition, opening in the spring.
The show's juror, typically a well-known watercolor artist and member of a national group, selects between 65 and 70 paintings for exhibition from applicants living in Florida, Georgia and Alabama.
Selvaggio said she was pleased to have a well-known artist — Jaimie Cordero, based in Miami — choose the paintings this year. The Tri-State Juried Water Media Exhibition opened at Florida State University Museum of Fine Arts in May.
Each fall, Tallahassee Watercolor Society presents Brush Strokes, a members-only exhibition, with the support of the Council on Culture & Arts.
The group puts together smaller rotating exhibits around town, at Tall Timbers Research Station & Land Conservancy, Tallahassee Memorial HealthCare and Florida Cancer Specialists.
At monthly meetings, members offer up their work for a group critique, and then a local artist presents a technique workshop.
McKeown showed the group the image of an older, grizzled man in a red jacket, a painting called "Joe."
"Please, take pot shots," he said. "I have a thick skin."
Several in the group responded, with ideas to modify the painting's green background by adding red, or to "lose some edge" by blending the figure's shirt sleeve into the trees.
A registered nurse who retired and began painting two years ago, Carol Wilson was attending her first meeting and critique.
She said she began her painting "Purple Crane" at Tallahassee Senior Center, where she learned a technique of "wetting paper, using blotches of color and then putting Saran wrap on top" to produce an abstract image, which she used as a background for additional brushwork.
Among others who commented on Wilson's painting, Nina Freeman, a participant in many local and regional juried exhibitions, suggested the addition of color to make the crane's back more pronounced, and repeating the patterned marks found on the right side of the painting on its left.
"Repetition of shapes is a good thing," Freeman offered.
"I've never done (a critique) before," Wilson said, "but I find artists are kind to each other." Referring to the abstract foundations of her painting, she continued, "It's a process for me, an experiment. Any feedback is good feedback."
Following the critique, Freeman presented a brief workshop. "You go to doctor's offices, you go to law offices, you'll see (Nina Freeman's) work," said Eva Lynn Powell, the group's vice president, introducing the artist. "Sometimes we forget that we have rock stars among us."
A crowd gathered around a large table for a tutorial on creating monoprints with gouache, the process of producing a single print using an opaque watercolor paint.
As dozens watched, Freeman applied a coat of gum arabic, a solution used as a binder, to a glass plate, where she then painted an image of flowers using the gouache.
Freeman wet a sheet of hot-pressed watercolor paper and laid it gently against the plate. After using a brayer to apply pressure, she lifted up a print of brightly colored flowers.
Freeman has exhibited with the Experimental Watercolor Society, which she explained is for those who are fans of painting that isn't "straight up and down watercolor," such as mixed media and collage.
"If one paints after four glasses of wine, is that experimental?" a voice volunteered.
After explaining how to sign a monoprint — in pencil, below the print — Freeman used a watercolor pencil to enhance its colors. "See how simple it is?" she asked. "And how rewarding."