Watchman on the Wall
Radio Talk Show Host Preston Scott Talks About Faith, Politics and the 'Last Bastion of True Media'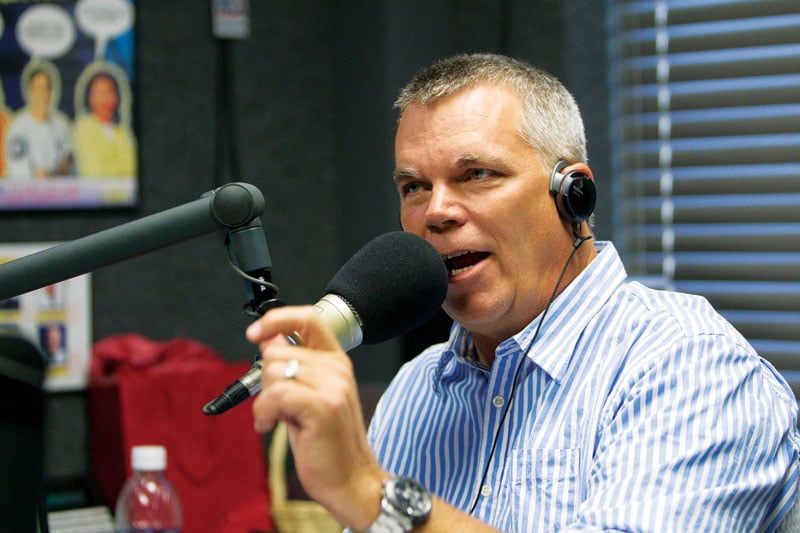 Tallahassee's most popular morning talk radio show host has a passion for community, faith, family ­— and doing the right thingWatchman on the WallRadio Talk Show Host Preston Scott Talks About Faith, Politics and the 'Last Bastion of True Media' By Jason DehartClick to enlarge
Joyfully biased. Delightfully annoying.
That's how Preston Scott describes himself in a nutshell.
"That's me. I am biased. I have a political mindset and philosophy that doesn't move or shape or change with the times," said the 51-year-old Pittsburgh native and host of "The Morning Show With Preston Scott" on 100.7 FM WFLA.
Scott is one of those guys lucky enough to find a job that isn't "work." His office is an intimate setting: a small, soundproof room with a glass partition separating him from his producer's control booth. Scott's workstation is a high-top table with microphones and a computer that's linked, obviously, to the Internet. A small refrigerator sits in one corner and keeps bottles of water chilled.
The son of National Sportswriters & Sportscasters Hall of Fame announcer Ray Scott (known as the "Voice of the Green Bay Packers"), Preston Scott had the street cred to seek national fame and glory, and followed in his father's sports broadcasting footsteps for several years. But a spiritual awakening, and the desire to stay close to home and family, urged him to go down a different path.
He and wife Cynthia together have a family of six children, plus three grandchildren, two dogs and one "granddog."
"Understand this. One of the reasons why I left broadcasting to begin with … was as I grew up … I saw my father more on television than I ever saw him in person 'til the day he died. Dad logged more miles than an average airline pilot. He was gone 300 days a year. And so as much as I loved my dad, I just didn't want to be that kind of father. I just wanted to be more accessible to my kids," who today range in age from 15 to 33.
Scott looks back and laughs at the first time he sat behind a microphone. He was a kid hanging out in a studio in Minneapolis where his uncle was a sportscaster. In those days, his dad and Howard Cosell were "chief rivals," and to "needle" his dad a little he'd get on the air and imitate Cosell's characteristic vocal cadence.
"My dad and he were NOT close friends. Dad was doing some sports call-ins for a radio station in Minneapolis, and I would call in as Howard. My dad would come home livid. And only in my mid-20s did I confess that it was me," Scott said.
His first professional radio gig came when he was a senior in high school reading afternoon drive news at a station in Phoenix, Ariz.
"I was doing the ultimate oxymoron: FM news. There was no such thing at the time because it was a Top 40 radio station," he said. But, "It was a pretty good gig for a high school senior."
He went from there to station KOY, an adult contemporary/sports station, also in Phoenix.
"Because I was Ray Scott's son, I had opportunities. I had a modest amount of ability, and so I was able to keep jobs and have opportunities because I had some degree of talent," he said. "But that's how I got first exposed to 'talk' radio. I was the show producer for the sports talk show that was hosted by Bob Buck at the time."
Scott said this job allowed him to host the program occasionally and do play-by-play for the Arizona Wranglers, a United States Football League team. Then, he felt the desire to answer another calling.
"I just felt like, from a spiritual side, that something better could come of my life, and so I got a little more serious about my commitment to my Christian faith," he said.
This change of heart led him to work for a small Christian radio station in Phoenix. A media critic called his move the "greatest backwards broadcasting step in Phoenix media history," Scott said. "From there, I went into fulltime vocational ministry." Scott gave up radio as a fulltime occupation in 1984 and came to Tallahassee in 1987 as an associate pastor of Christian Heritage Church.
"We had friends that accepted a job out here that we knew from Phoenix. They invited me to come out, and I got hired," he said. He served as youth pastor, then took on the responsibility of a private school and church in Gadsden County, which he did for seven or eight years. Today, he attends and serves at Every Nation Tallahassee.
For a time he also did some commercial and voice work but, for the most part, "I completely dumped the (broadcasting) business."
"Throughout that, I did voice work and so forth, but didn't really have a map or plan to get back into broadcasting," he said. "I just reached a fork in the road. You do a lot of counseling and you do a lot of funerals and sometimes you reach a point where you just kind of need a timeout from that on a vocational standpoint. And so I accepted a role with a friend of mine who was interim pastor of a church here in town. I did that for about a year. That would have been around 1998 or 1999. Then I did basically odd jobs for a couple of years."
Soon, Scott started to build a bridge back to broadcasting. He went on to become the sports director for WTXL, the local ABC affiliate, but radio beckoned soon after. In 2002 he became host of "The Morning Show" while also doing some television and other broadcasting part-time. However, the grueling routine got to him. He grew tired of getting only four hours of sleep every night from doing TV spots and other jobs, and left television for good in 2006 to focus solely on radio. It was a good call on his part because format changes switched "The Morning Show" and other news radio programs from AM to FM.
Scott said the switch to FM was a great boost for "The Morning Show," which currently can be heard from 6 to 9 a.m. weekdays at 100.7 WFLA.
"We had done well on the AM, but when you go FM that's a whole new ballgame," he said. "Now our show is heard by people other than just the immediate metro area. That was sketchy with the AM signal. And then the show really took off."
Along the way, Scott picked up a new producer, Eric Eggers, who's been with him since 2005.
Eggers, 29, said he first met Scott in 2004, when he was in the communications office of the Department of Education and wanted to break into television. Scott was doing "The Morning Show" and gave Eggers some career advice.
Eggers himself got his start in radio as a participant in "The Locker Room," a Saturday morning program at the same radio station. Some time after his meeting with Scott, Eggers got a call tipping him off to a job opening as producer of "The Morning Show." He accepted, although the irony doesn't escape him.
"I first met (Scott) because I wanted to work in TV and instead wound up working in radio with him," Eggers said. "My first day was Valentine's Day 2005. I joke that Valentine's Day is our anniversary."
Scott said his young producer works hard to make the show run well.
"Eric does the work of three people, a lot of unseen work," he said. "He's producer, but spends time on the air, which is unusual."
Eggers said he and Scott have a "very in-depth relationship."
"I would say we've had some heartfelt moments and some moments of disagreement. It's a complex relationship, grounded in love and respect," he said. "He's been there for me a couple of times … so anything I can do for him I will try to be there."
The producer describes Scott as "an incredibly committed father. He takes his responsibility as a father as seriously as anyone I know and enjoys being a father as much, or more, than anybody I know."
Scott said Eggers' helps give the show depth and scope.
"I see him as a bright young man (who) offers a perspective that broadens the show," he said. "We're broadcasters, not narrow casters. It deepens the demographics of the show. It makes for thought-provoking radio."
Conservative with a Dash of Libertarian
A faith-based sense of right and wrong, and a staunch conservative philosophy guide Scott's opinions as he takes local politicians and bureaucrats to task on the topics that concern him and, by extension, his audience.
"I am absolutely conservative. I would say I have a libertarian streak, though it would be very hard for me to define what that means. I would just say there are things that I hear libertarians say that resonate with me," he said. "I believe that conservatism, when practiced properly, is always correct. And always works."
Scott said there is a great difference between being a "conservative" and a registered Republican.
"I get asked to speak at Republican Party functions all over, and I tell them upfront, I'm a registered Republican but don't take that for granted because I'm not under your flag. I'm a conservative," he said. "For all of that, I'm a Christian and as much as anything else that drives my philosophy. I believe my faith is anchored to things that are immovable. In other words, if there is something wrong and unethical on Monday, it's wrong, unethical and immoral on Friday. In that regard, true conservatism pins itself to a philosophy, not a set of policies, to a philosophy that does not move."
Along those lines, Scott doesn't play favorites. This is the man who called former Gov. Charlie Crist a "political windsock." That doesn't mean he doesn't like Crist, he said.
"He's a nice guy. I was fortunate to meet Charlie long before any of this, when he came into the studio at ABC when I was doing sports," Scott said. "He's a great guy, a delightful man. But a rotten governor, because he had no compass. Even Democrats begrudgingly respect Jeb Bush because they knew what they were getting. This is what he believed, this is what he advocated, and you knew what you had whether you liked it or not."
And that's something he respects in others. Scott said he loves talking to former Leon County Commissioner Bob Rackleff, even though they couldn't be more different, politically.
"But I love talking to Bob because he's sincere, he believes it, he owns it and he never deviates from it. We get along great, and we have great discussions," Scott said.
Rackleff isn't the only Democrat Scott has had on the show. Past guests include Mayor John Marks, Leon County Commissioners Bill Proctor and Akin Akinyemi; Tallahassee City Commissioner Andrew Gillum, former Tallahassee City Commissioner (now ambassador to Portugal) Allan Katz, former chairman of the Leon County Democratic Party Rick Minor, former U.S. Sen./Florida Gov. Bob Graham, U.S. Sen. Bill Nelson, former U.S. Rep. Allen Boyd, former Florida CFO Alex Sink and many others.
"I could literally go on and on," Scott said.
The Last Bastion of Media
"Radio is the last bastion of true media," Scott said, comparing radio, television and newspapers. In the latter two forms, he complains, there's just simply not enough time or space available to hear the complete story, in context. That's why he loves "The Morning Show."
"What we do is give people a chance to talk. You'll hear a question, the answer will be unedited, you'll hear their voice inflection, you'll hear whether they're comfortable with the question or the answer, you'll hear their emotions delivering it," he said. "Radio has hit a niche in the American culture because it's a place where you can sit down and talk or listen. In my case I'm validating, or asking, the questions that a lot of people that listen would want to ask. So it's almost like a modern-day extension of the old-school discussion around the dinner table."
Like most talk radio shows, "The Morning Show" features guests as well as listeners who call in.
"We do have guests every morning, and we always take calls, but we don't always take them on the air," he said. "Sometimes, it's a matter of time available; other times, it's a matter of getting out as much info as possible. Since we try to keep moving through a lot of information we do not linger on any one subject for too long."
It's not always convenient for guests to actually come into the studio, so about 70 percent of guest interviews are done over the phone, Scott said. He tries to have good, civil discussions and rarely says or does something that prompts a strong reaction from interviewees.
"For example, several years ago I got under the skin of Bill Proctor to such an extent that he went on record at a county commission meeting demanding equal time," he said. "Needless to say, that did not go very far because they have no say in the matter, but I did eventually win him over to the point that he is now a frequent guest, and I think he enjoys his time on the program."
Scott does "show prep" at home every afternoon by reading anything and everything he can find. This allows him time to spend time with his family and help out with homework. He's a voracious consumer of local, state and national news; about half of the show's content is local, 35 percent is state news and the rest would be national or international.
"And all of that stuff falls into one of three categories: things that people are talking about, things that people will be talking about and the things that I think people need to be talking about," he said.
The format seems to be working, Scott said, because when Clear Channel Communications downsized a few years ago, cutting thousands of jobs nationally, they elected to keep the Tallahassee station, even though it wasn't a large urban market.
"Let's face it, we may be Florida's state capital, but this is considered a small-market radio station. I think the fact we survived the cut, and then flourished in the midst of a very difficult economy, speaks to why Clear Channel kept us," he said. "They didn't keep a lot of small markets."
Scott said that during the last Arbitron ratings period, the show placed first in the key demographic (men, ages 25 to 54). He said it consistently ranked first in most ratings over the last several years and has been second "once or twice." In the last rating period for all persons ages 12-plus, his show was ranked second.
"That's a huge accomplishment for talk radio," he said.
The People's Advocate
Government waste and wrongdoing really tick Scott off.
"There's a larger span of space between what is legal and what is right. Now more than ever before," he said. "Years ago, what was legal and what was right were pretty close together. And now, look at the ethics investigations from the state government on down and from the federal government on down. Look at the people that are found to be not guilty. What they did was wrong, but technically wasn't illegal. I don't care.
Do what's right. Hold yourself to a higher standard than the law. You know, my dad used to say that 'character is what you do when no-one's looking.' And that to me defines where we are today."
When he's not hammering down on waste and inefficiency, Scott is turning the mic over to those brave souls who seek political office. He has a special fondness for election cycles, and his interviews with political candidates are the hallmark of "The Morning Show." He greatly respects anyone willing to run for office, with all its personal exposure and the relentless personal attacks candidates often face. It doesn't matter if he agrees with them or not, or if they have a shot at actually winning.
"It's about honoring somebody willing to say 'I'll try'," he said.
However, he doesn't consider himself a "kingmaker" or "power broker."
"Kingmaker? That would be funny because I don't think we've gotten anybody elected. Someone could say I was pretty successful in my analysis of Marco Rubio's candidacy, but from a local standpoint I would describe myself as a … watchman on the wall," he said. "I believe what I believe. And I'm paid to give my opinion. The only reason my opinion carries any more resonance than anyone else's is because it's broadcast.
I'm just a person out there who believes we can do better, regardless of who's in office, Republican, Democrat, liberal or conservative. We can do better."
Legendary Tallahassee public relations guru Ron Sachs — who makes a living influencing public opinion himself — admits Scott probably wields more influence than he realizes.
"He almost single-handedly boosted the fortunes of (Tallahassee city commission candidate) Erwin Jackson. He agreed with his positions on issues and, frankly, helped legitimize Jackson. It was a reflection of his power. He's a newsmaker now," Sachs said. "You can take a little-known personality, and they can become bigger much sooner if Preston Scott likes him as a guest. Marco Rubio enjoyed a good audience with Preston before he was a candidate for U.S. Senate."
Sachs said he listens to Scott's show on a regular basis, but that doesn't mean they meet eye-to-eye on the issues.
"I have cut myself shaving more than once, listening to him in the morning and he says something that surprises me, some opinion that he has in strong terms. I got to keep the styptic pencil ready," Sachs quipped.
He may strongly disagree with Scott's opinions, but Sachs said he still respects Scott.
"We developed a friendship over the years, and while I differ with Preston's political philosophy wildly at many times, I love his passion for our community, for family and for the right thing," Sachs said. "I will say he is one of the nicest people I've ever met and a very spiritual man. One of my favorite things is this man comes from a broadcast pedigree. He could be a star in any major urban market and could be a broadcast star nationally but he continues to opt for Tallahassee because it's such a great place to live."
Sachs' nickname for Scott is the "morning star".
"I think in all the media in our community he is a great jewel, and consider him the dominant giant in morning radio in this region," he said. "Preston has taken the morning program to a peak that few radio programs of its kind ever reach."
Eggers said Scott is consumed with thinking of ways to improve the show.
"At the end of the day, the focus is the show," he said. "It's definitely been an asset to my career to work with someone with his level of experience and his professional approach. He's embraced my strengths and he's managed to deal with my weaknesses, and that speaks to his generous nature. At the end of the day he's filled with strong opinions but filled with genuine Christian love and, yeah, I think it's been a blessing to me to be a part of that."
Said Sachs, "My dream would be to own a radio network and to take Preston and give him that larger stage from Tallahassee, a national or statewide link. He would rock the political world with that kind of program."