Wally, an Alligator
Muralist adds colorful critter to collection in Thomasville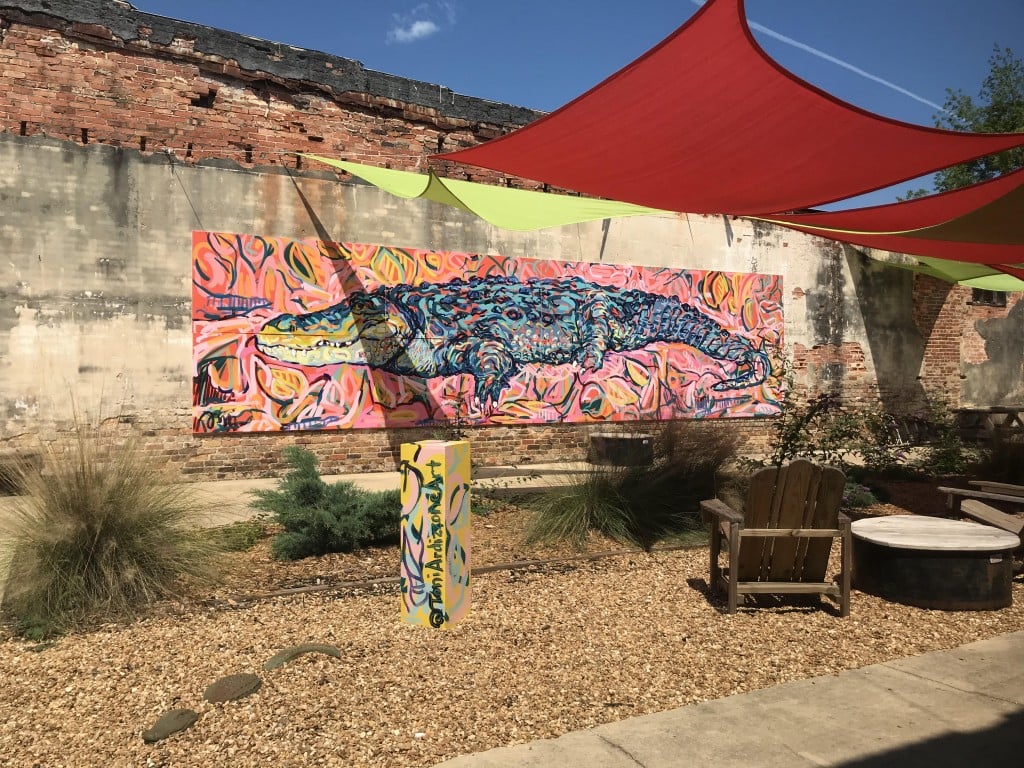 The gator appears happy, and why wouldn't it be?
At 32 feet, it surely has nothing to fear or worry about. Its eye suggests mischievousness and its hide, all but devoid of green, is given instead to mostly blues and reds.
Created at the rate of a little less than two feet per hour, this gator lives in Thomasville at the UnVacant Lot, a space once weedy and ignored, but today chockablock with public art. We will call it Wally Gator, and it is the mural of this story.
Darlene Crosby Taylor, the public art director for the Thomasville Center for the
Arts, got to know the artist Toni Ardizzone last December when the center hosted an exhibition of her work. 
"I really hit it off with them," Ardizzone said. "It's a really cool place and they're doing cool stuff."
Things went so swimmingly that Ardizzone received an outsized commission. That is, the center enlisted her to fill boards affixed to an exterior wall at the UnVacant Lot with art.    
Taylor and Ardizzone brainstormed a few ideas. The boards had been arranged so as to create a strongly horizontal space. Probably a landscape, the women thought, until the notion of a gator — Aha! — occurred to them.
Wally's gestation period had begun.
"Maybe because I am not from the South, alligators are still so intriguing to me," Ardizzone said. "Sometimes, I go down to St. Marks and see one, and that is so cool. They are fun with all their different textures and their form."
Ardizzone is never heard in speech to shorten "alligator" to "gator." Like she said, she's not from around here.
She grew up in Indianapolis, earned her bachelor of fine arts degree there and moved to Austin, Texas, 10 years ago. It's more artsy than Indy. Three years ago, she moved to Tallahassee to begin work on her MFA at FSU.
At FSU, Ardizzone stayed in the art zone, spending 60 hours a week or more in a studio on campus. She is grateful that she had such unlimited access to a studio, an advantage she said she would not have enjoyed at bigger art schools. She graduated in May. 
Ardizzone likes to infuse dark subjects with bright colors from the vibrant palette she favors. Wally was no exception. She has a thing for skulls and buzzards. Her first mural, in Austin, was a blue-haired Frankenstein.
"I'm very happy with it," Ardizzone said of Wally. "It turned out. The weather was perfect and it happened smoothly."
Going forward, Ardizzone hopes to exhibit in New York or Los Angeles, to continue to widen her audience, and to paint murals internationally.
But one suspects that she will retain a fondness for the South.
And for Wally.