Volunteer Corinne Mathis Brings Beauty and Whimsy to the Jumps at Red Hills Horse Trials
The Dresser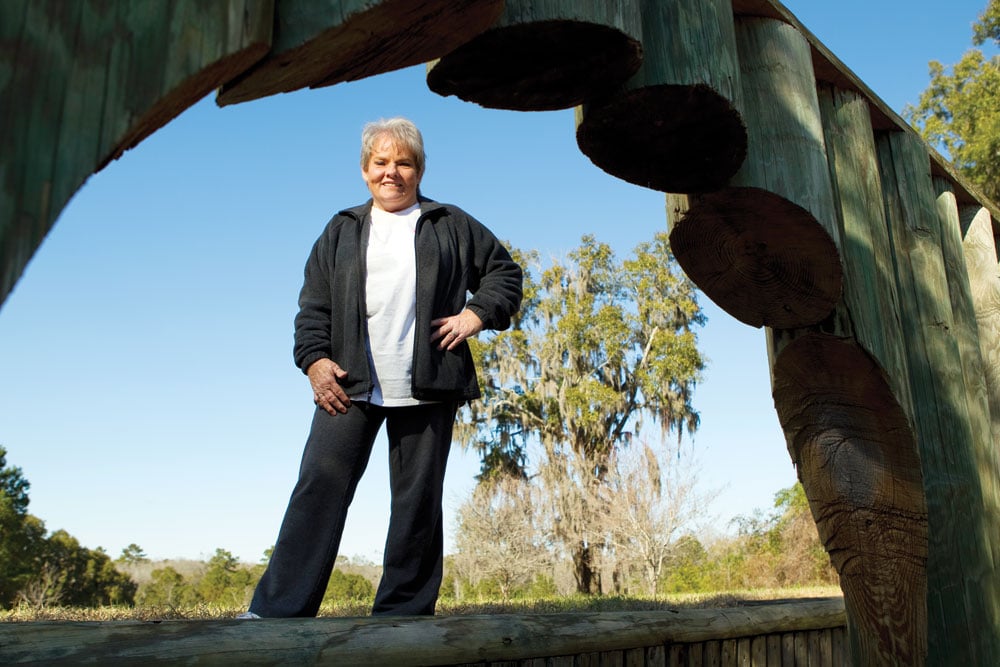 When Corinne Mathis assembles a list of items she needs for the upcoming Red Hills Horse Trials March 11–13, it won't include hay or oats or blankets or currycombs. Instead, it looks something like this:
Stuffed chickens
Large inflatable bugs
Bowling balls
A porcelain toilet
Three huge stuffed bears
Plants. Hundred and hundreds of plants.
As the volunteer jump "dresser" for the horse trials, Mathis is always on the lookout for unusual objects to add color and character to the various jumps on the cross country course.
"The bowling balls make perfect cannon balls, and the chickens can be used anywhere. You just staple their feet to the fence," she says matter-of-factly.
Sure, it's an odd job — with the even odder name of "titivation" — but somebody's gotta do it. And according to Hugh Lochore, principal designer and builder of the Red Hills cross country course, nobody does it better than Corinne Mathis.
"I probably don't tell her often enough, but we couldn't do this without her," he says. "She is an absolutely superb jump dresser."
But to hear Mathis tell it, she has little or no qualifications for the job other than an earnest desire to help and a spirit that is willing even when the flesh … doesn't exactly have a green thumb.
"I'm not a plant person at all," says Mathis, a retired labor union coordinator. "I don't have a background in riding, though my daughter used to ride and compete, and I don't know a thing about gardening. I just wanted to volunteer because I thought it would be fun." So 14 years ago she joined the Red Hills team as a jump judge and was drafted as a jump dresser seven years later, when the previous volunteer who filled that role left.
"We give her a very tiny budget," says Lochore, "and she goes out to all the nurseries around town and borrows hundreds and hundreds of plants and flowers. She's just amazing!"
And resilient. During her tenure as course decorator, Mathis has fought several battles with skin and breast cancer. This past October, she underwent another round of aggressive surgery and treatment for a rare form of skin cancer. But, she's still planning to be at her post when it's time to get to work.
"My job doesn't really kick in until the end of January after all the jumps are built," she says. "And I really do feel like I've beaten the cancer this time."
But even before those jumps are finished, Mathis will walk the course several times with Lochore to get a sense of what he is trying to do at each site.
"I often draw from local history and natural elements when I design a jump," says Lochore. Hence the "Semi-knoll" jump, which Mathis complements with garnet and gold flowers. The chicken-coop jump is adorned with … stapled chickens, of course. And one of the more fanciful jumps is an 8-foot-wide picnic table featuring three huge, stuffed bears enjoying a leisurely picnic lunch. "I have a lot of fun with that one," Mathis laughs.
But, before she gets to the point where she can "glam up" the jumps, she has to spend hours on the course taking notes, measuring heights and widths, and conferring with Lochore about safety requirements and aesthetics.
"Then I spend a lot of time riding around the nurseries looking at different plants and shrubs, trying to imagine what might work at the various jumps."
Though she is given almost free rein to be creative, her design goals go beyond fashioning a picture-perfect site. "I design for the spectators, but mostly I design for the horses," she says. "If there's a ditch on the other side, I'll put a 6-foot-tall tree there to divert the horse, or I'll fill in the space under a fence because the horses are not supposed to be able to see daylight under it."
The exciting cross country competition is the highlight of Red Hills Horse Trial's second day. This "off road" event tests the endurance of horses and riders as they dash through fields and woodlands hurtling challenging jumps along the way. (The precise movements of dressage are tested on the first day and the more controlled stadium jumping is held on the last day of competition.)
Some jumps require a lot of dressing, while others rely entirely on their natural elements. The water sites are Mathis' favorites because they are always the biggest and most dramatic jumps to dress.
"It's very rewarding to make something that's bare come to life" she says. "But it's also physically exhausting because we only have from Monday (when they deliver all the plants) until Thursday (when the technical delegates arrive) to get the course ready. We literally work from sunup to sundown, in any and all kinds of weather, and usually don't even break for lunch."
By "we" Corinne means herself, her retired husband, Cliff, and their grown daughter, Candi Uren. Sometimes another volunteer will pitch in for an hour or so, but for the most part it's a family affair hauling the plants and props in golf carts to each jump site, then arranging the shrubs and flowers and spreading acre upon acre of pine straw.
"I don't know how she does it," says Lochore. She says she couldn't do it "without the prison work crews." The crews usually come in on Monday morning to unload plants off the nursery trucks. Every plant is placed in the central staging area and accounted for before Mathis and her "team" begin ferrying them out to the jumps. A few jumps can be dressed in less than an hour, while more complex sites may take two or three hours to get the plants, flowers and prop placement correct. "We'll spend most of a day working on the main sponsor jump around the pergola," she says.
Finally, after each jump has been perfectly "dressed," the flower beds have been covered with pine straw, the chickens have been stapled to the fence, and the judges have finished inspecting the course, she breathes a sigh of relief.
At 5:30 the next morning, while the moon is still hanging over the pines, Mathis (flashlight in hand) is securing stuffed bears at the giant picnic table, checking each jump for signs of nocturnal visitors, and resetting pots blown over during the night. Shortly before the gates open and the Eventing begins, she walks to her assigned jump, and steps back into her original role as a jump judge.
"I just love doing it," Mathis says.
"It makes me feel, well … sort of important."
---
IF YOU GO
Red Hills Horse TrialsFri.–Sun., March 11–13 — Elinor Klapp Phipps Park
Suggested donation: $15 per day or $25 for a three-day pass, children under 12, free
Hours: 8 a.m.–5 p.m. Fri. and Sat., 8 a.m.–until on Sun.
Friday: Dressage
Saturday: Cross Country
Sunday: Stadium Jumping
In addition to the competitions, the event includes a multitude of activities, including food vendors, shopping, environmental and educational exhibits, and a kids' fun area. You can bring your own food and non-alcoholic beverages to enjoy during the event. Dogs can disturb the horses and you are encouraged to leave them at home. If you do bring a dog, it must be leashed at all times. Please remember there are no permanent facilities and the venue includes rough terrain. Accommodations can be made for people with disabilities. For more information visit rhht.org.