¡Viva Red Hills!
Riders and Spectators Return for the Region's Most Popular Equestrian Event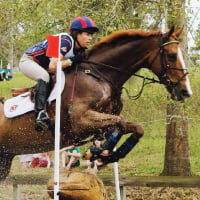 Photo by Scott Holstein
Riders and Spectators Return for the Region's Most Popular Equestrian Event — Red Hills Horse Trials.
With a salute to Florida's 500th anniversary — and the role that Spanish horses played in the state's development — the Red Hills Horse Trials are set to return in early March.
The three-day event is an equestrian triathlon that tests a rider's skill and a horse's endurance in dressage, cross country and stadium jumping, while attracting riders and spectators from across the country to Tallahassee each spring.
"It's truly a signature event for Tallahassee, and it generates a lot of publicity for us nationally and internationally," said Lee Daniels, executive director of Visit Tallahassee. "And almost all of our marketing (in 2013) for Leon County tourism ties into the VIVA Florida 500 theme. It's going to be Florida's 500th birthday — and the party is in Tallahassee."
The horse trials are an annual tradition held at Elinor Klapp-Phipps Park and have often attracted more than 200 riders, many of international renown, and up to 25,000 spectators over the three days of competition.
The majority turn out for the cross-country phase of eventing, which is a test of the true grit of horse and rider. Jumps resembling everything from an armadillo to a picnic table dot the landscape of a 1- to 4-mile course, which riders are given a certain amount of time to complete. Finishing the course over or under that optimum time results in penalties to the rider.
Part of the thrill for spectators is watching a horse and rider galloping up a hill, collecting themselves in front of the jump and then taking a mighty lunge over the obstacle. To accomplish that feat safely takes years of training for the horse and rider — and months of conditioning for the horse.
Horses and riders will arrive on Thursday, March 7, and begin competition the next day with dressage tests. Cross-country will be held on Saturday, March 9, and Sunday will be focused on stadium jumping. (Although some upper lever riders will compete in stadium jumping on Friday afternoon.)
Jane Barron, co-organizer of the event, said she's hoping more riders will attend this year because it isn't an Olympic year as it was in 2012.
"I think turnout may be greater because riders want to be bringing along their up-and-coming horses and won't be as focused on just their top competitive partners," she said.
While the Five Flags of Florida fly over the event, organizers plan to highlight the role horses have played in the development of Florida since the Spanish first brought them to our shores in 1521. The Florida Cracker Horse is a direct descendant of those first horses, retaining the gait and size of its ancestor.
"We hope to have a parade of breeds on that last day to highlight the Cracker Horse and others that evolved from the first Spanish horses," Barron said.
Spectators will also have the opportunity to check out a new cross-country course that will be officially unveiled during the 2014 horse trials. The new course is located on property owned by the Northwest Florida Water Management District.