Viva la Salsa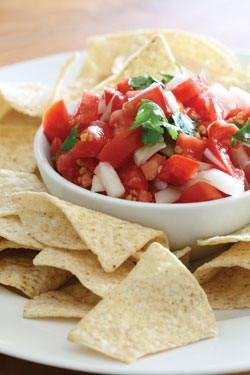 Celebrate the tradition of Cinco de Mayo with the traditional Mexican condiment, salsa. Its origins can be traced back to the Aztecs, Mayans and Incas. But it wasn't until the Spanish first encountered tomatoes — after they conquered Mexico in the 16th century — that it evolved into the red sauce we're familiar with.
In Spanish, salsa literally means "sauce" and the dish can be prepared in a variety of ways — from something that's smooth, cooked and served spicy or tangy to something hearty, raw and served mild or sweet.
Salsa works well as a dip with chips or spooned over grilled chicken or fish. When Americans hear the word "salsa" we usually think of the jarred, chunky red sauce — or the most common fresh form, pico de gallo (Spanish for "rooster's beak"), which is made with chopped tomatoes, onions, chili peppers, cilantro, lime juice, salt and pepper.
For a twist, salsa can also be mixed with different vegetables or even fruits. Variations include: salsa ranchera (add garlic to red salsa), apple habañero salsa (apples and habañero chilies) and mango salsa (mango and jalapeño).
Salsa does more than bring color, variety and a taste of Mexico to your food. When eaten raw, it is the ultimate healthy food — with low calories, high fiber and vitamin-enriched ingredients.