Visualizing Florida's History
You Can Contribute to the State's Online Photo Archive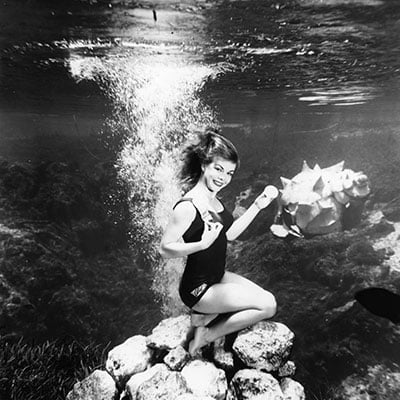 Browse the photos and videos on the Florida Memory Project website, and you're transported to a different world. Mermaids sip Coca-Cola in black-and-white videos. Sepia photos show cowboys riding though rows of palm trees. But this is not another world — it's a glimpse into Florida's past.
The Florida Memory Project is designed to bring a portion of the state archives directly to the people. With 180,000 photographs, the website boasts the most complete online history of the state.
"We're giving Florida residents access to the history that is, in fact, theirs," said Jon Grandage, an archives historian.
Before the Florida Memory Project began in 1995, people had to visit Tallahassee to see these remarkable memories. Now archivists choose the most popular and interesting photos, videos, documents and sound recordings to upload to the worldwide Web.
To spread the word about this window into history, the archivists have taken to social media. "There's an Archives Facebook," Grandage said. "We're on Twitter. We have a blog, which is on the homepage of the Florida Memory Project's website. We post photos on Flickr, Pinterest and Tumblr."
With all of these venues, it is possible to not only view the memories but also interact with them. You can comment on the pictures and share them with friends. The result is a more interactive relationship with history.
As public relations manager at Weeki Wachee Springs State Park, John Athanson frequently utilizes the site. "I follow them on Facebook," Athanson said. "We use pictures from the Florida Memory Project in our social media."
Photos from Weeki Wachee's early days as an amusement park are among the most popular in the Florida Memory Project. But Athanson feels a personal connection to the project.
"As a native Floridian, I love looking through the images," Athanson said. "I've spent some time looking for pictures of Six Gun Territory. My parents would take me there because I wanted to be a cowboy, and we would always ride the train in. Man, memories are flooding."
Athanson has found never-before-seen films and photos from Weeki Wachee that he wants to submit to the state archives, in hopes that these memories trigger a similar nostalgia in someone else.
You can donate some of your Florida memories to the archives as well.
"We're always looking for donations," Director Jody Norman said. "If you are going through your family photos and find something significant, we encourage you to make an appointment."
The state archives accepts all donations, but for the image to make it to the Florida Memory Project it must be special. Archivists look for photos that show an image of something that has changed or disappeared, like an old building that was torn down. They look for historically significant people in the photos or landmark places.
When you donate a photo or other piece of history to the archives, provide as much background as possible, such as names, dates and even anecdotes.
"The [Department of State] will take your original photos and create a digital copy," Grandage explained. "Then they will return the photo to you. You may also choose to permanently donate your photos."
But there is a caveat: "In either case," Grandage cautioned, "you will have to sign a waiver acknowledging that millions of people could potentially see your memories."
Your photo could end up on TV as well as the Internet because large media outlets, such as HBO Sports, "Burn Notice," "Oprah" and Simon & Schuster Publishing, use the photos on a daily basis.
If you don't have photos or don't wish to share, you can still be a part of the project by identifying unnamed photos. Become a historian and help put names to the faces of the Florida Memory Project. Or simply go to the website and experience our home state's vibrant history.
Once on the website, you can follow Florida's history from the Civil War to Gov. Rick Scott's inauguration. Or you can trace the evolution of photography, from daguerreotype to digital. See Tallahassee's transformation from swamp to city. Every facet of the Sunshine State is covered with the Florida Memory Project.
The archives online are free to use; the state only asks that you cite the Florida Memory Project and the photographer if you use them.
"I challenge anyone to go to the site and not find something that surprises them, excites them or connects to them," Norman said. "I don't know what your connection will be, but you'll have a connection."